Top News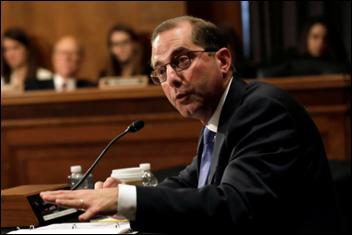 HHS Secretary nominee Alex Azar appears before the Senate HELP Committee in the first of two confirmation hearings. Azar made it clear he would push to lower drug prices if confirmed, despite criticism he'd be disinclined to do so given price hikes for insulin and other diabetes drugs during his time as an executive at Eli Lilly. He evaded the question of whether or not pharma executives should be held personally accountable for matters like price fixing. Azar also stressed that, if confirmed, his top priorities will be addressing the opioid epidemic, Medicare innovation, and expanding access to affordable healthcare.
---
Webinars


November 30 (Thursday) 1:00 ET. "Making Clinical Communications Work in Your Complex Environment." Sponsored by: PatientSafe Solutions. Presenters: Steve Shirley, VP/CIO, Parkview Medical Center; Richard Cruthirds, CIO, Peterson Health. Selecting, implementing, and managing a mobile clinical communications platform is a complex and sometimes painful undertaking. With multiple technologies, stakeholders, and disciplines involved, a comprehensive approach is required to ensure success. Hear two hospital CIOs share their first-hand experience, lessons learned, and demonstrated results from deploying an enterprise-wide mobile clinical communications solution.
December 5 (Tuesday) 2:00 ET. "Cornerstones of Order Set Optimization: Trusted Evidence." Sponsored by: Wolters Kluwer. Updating order sets with new medical evidence is crucial to improving outcomes, but coordinating maintenance for hundreds of order sets with dozens of stakeholders is a huge logistical challenge. For most hospitals, managing order set content is labor intensive and the internal processes supporting it are far too inefficient. Evidence-based order sets are only as good as their content, which is why regular review and updates are essential. This webinar explores the relationship between clinical content and patient care with an eye toward building trust among the clinical staff. Plus, we will demonstrate a new evidence alignment tool that can easily incorporate the most current medical content into your order sets, regardless of format, including Cerner Power Plans and Epic SmartSets.
Previous webinars are on our YouTube channel. Contact Lorre for information.
---
Announcements and Implementations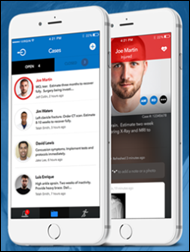 SirenMD adds health data management capabilities from Mach7 Technologies to its athletic care coordination technology for easier referrals, patient-caregiver communication, and access to patient records.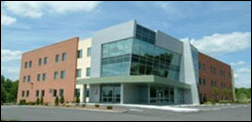 VillageMD New Hampshire will roll out Geneia's Theon analytics and care management software to physicians at Derry Medical Center and Southern New Hampshire Internal Medicine Associates – both of which manage ACOs and insurance plans.
---
People

Mark Froimson, MD (American Association of Hip and Knee Surgeons) joins Clarify Health Solutions as a strategic advisor and consulting chief clinical officer.

Laura Kreofsky (Stanford Health Care) joins Pivot Point Consulting as VP of advisory services.



Fertility-focused predictive analytics company Univfy hires Kelsey Rush (Change Healthcare) as VP of product, Kristin Shadick (Natera) as VP of sales, and Kamal Gelya (Citrix) as VP of finance.
---
Government and Politics
Reminder: CMS will host a call tomorrow (Thursday), November 30, from 1:30-3pm ET for providers interested in learning more about the Quality Payment Program Year 2 Final Rule.
---
Research and Innovation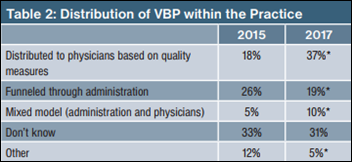 An AAFP follow-up study on physician acceptance of value-based payment models shows that acceptance and successful participation have increased since the study was first conducted in 2015. Fifty-four percent participate in some form of VPM, and 50 percent feel such models encourage greater care coordination between primary care physicians and specialists. A similar percentage are investing in health IT to better enable their value-based programs.

The US is in regrettably good company when it comes to extremely brief visits with the doctor. According to a new Reuters report, 18 countries offer average appointment times of less than five minutes (Bangladesh comes in at 48 seconds), while another 25 nations give patients just under 10 minutes. It's not all doom and gloom, however. Appointment times on the US have increased 12 seconds each year, moving from 15 to 20 minutes in a comparatively short period of time. Researchers recommend looking into how that extra five minutes impacts patient health in terms of addressing preventative measures after dealing with acute concerns.
A JAMA Internal Medicine study finds that patient satisfaction plummets when physicians deny patient requests related to prescriptions and tests. The authors point out that physicians may have set themselves up for satisfaction failure by giving in to patient demands too many times prior, and should spend time thoroughly explaining their reason for denying the request.
---
Sponsor Updates
The Washington Stat Health Care Authority certifies consumer decision aids from Healthwise for knee osteoarthritis and hip arthritis.
AdvancedMD Cares makes 600 quilts for three Nashville charities during its Evo17 conference.
---
Contacts
More news: HIStalk, HIStalk Connect.
Get HIStalk Practice updates.
Contact us online.
Become a sponsor.