Top News

Kipu Systems sues Sanomedics subsidiary ZenCharts for allegedly stealing the intellectual property behind its EHR for behavioral health providers. The $30 million lawsuit goes on to state that Solutions Recovery (FL) owner Dan Callahan enlisted his software developer son to copy Kipu's proprietary software. The ZenCharts website lists Callahan as co-founder and (presumably) son Sean as a contributing blogger.
---
Webinars
January 24 (Wednesday) 1:00 ET: "Location, Location, Location: How to Deploy RTLS Asset Management for Capital Savings." Sponsor: Versus Technology. Presenter: Doug Duvall, solution architect, Versus Technology. Misplaced or sub-optimally deployed medical equipment delays patient care and hampers safety-mandated preventive maintenance. It also forces hospitals to buy more equipment despite an average utilization that may be as low as 30 percent, misdirecting precious capital dollars that could be better spent on more strategic projects. A real-time locating system (RTLS) cannot only track asset location, but also help ensure that equipment is properly distributed to the right place at the right time. This webinar will provide insight into the evaluation, selection, and benefits of an RTLS-powered asset management solution.
Previous webinars are on our YouTube channel. Contact Lorre for information.
---
Acquisitions, Funding, Business, and Stock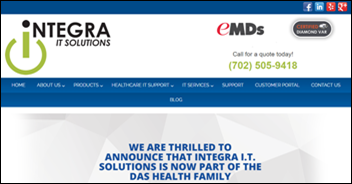 Aprima reseller Das Health acquires EMDs reseller Integra IT Solutions for an undisclosed sum. Tampa, FL-based DAS will merge its West Coast operations with Integra's Las Vegas office.
Dermatology Associates of Northern Virginia joins the US Dermatology Partners network. The arrangement marks the Dallas-based practice management company's first foray into the state.

Biometric remote patient monitoring company Biotricity announces plans to hire 12 salespeople in Q1 2018 ahead of the launch of its Bioflux remote cardiac monitoring system.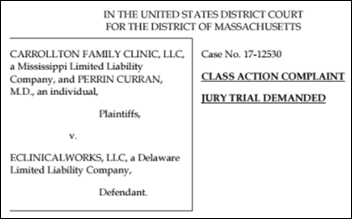 Carrollton Family Clinic (MS) files a class-action lawsuit against EClinicalWorks in an effort to recoup lost Meaningful Use incentive money and related IT expenses incurred after CMS found the EHR vendor's software to be deficient for Meaningful Use.
---
People

Brent Rasmussen (Halo Group) joins online vision test company Opternative as CEO.
---
Government and Politics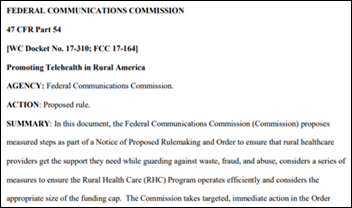 The FCC seeks comments on a proposed rule that would increase and potentially reallocate funding for the Rural Health Care Program. The program, which includes the Health Connect Fund, provides funding to eligible providers for broadband and telecommunications services.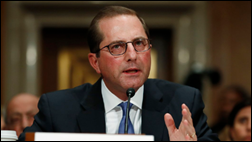 Senate Finance Chairman Orrin Hatch (R-UT) announces that HHS Secretary nominee Alex Azar's confirmation hearing will be held January 9. The former Eli Lily executive and HHS deputy secretary stressed that he will tackle drug prices during his November appearance before the Senate HELP Committee.
---
Research and Innovation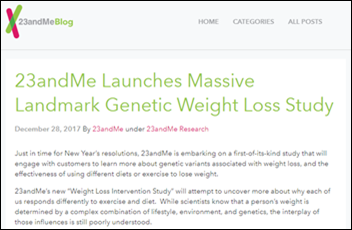 Coinciding with many a New Year's Resolution, 23andMe starts recruiting for a weight loss study that will ultimately involve 100,000 of its 1.3 million customers. Participants will be asked to report on the effectiveness of one of three randomly assigned diet and weight-loss plans over a three-month period. The company will use the findings to develop genetically tailored health and wellness plans it can add to its consumer genetic reports. It sounds a lot like what subscription food service Habit already provides.
---
Telemedicine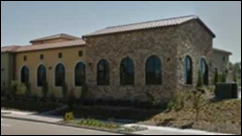 Denver-based direct primary care provider PeakMed selects text-based virtual consult technology from CirrusMD. PeakMed founder and CMO Mark Tomasulo, DO told me in a September 2017 interview that telemedicine was indeed on the horizon, courtesy of a $5.5 million funding round.
---
Other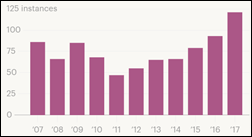 I'm not sure why they thought it worthwhile, but analysts pore over earnings call transcripts to determine that 2017 was one of the most profanity-filled on record – despite a fairly strong year for markets. Some believe that the "sweariness" stems from CEO attempts to be more relatable to stockholders, which isn't saying much about the professionalism of either party.
---
Contacts
More news: HIStalk.
Get HIStalk Practice updates.
Contact us online.
Become a sponsor.