Top News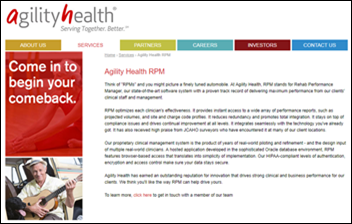 Alliance Physical Therapy Management will acquire Agility Health's US operations for $45 million. Agility manages 84 outpatient physical rehabilitation clinics in 16 states, and develops related PM software. The Canadian arm of its similarly named parent company operates 12 podiatry clinics and manufactures orthotics and prosthetics.
---
Webinars
February 13 (Tuesday) 1:00 ET. "Beyond Sliding Scale: Closing the Gap Between Current and Optimal Glycemic Management Practices." Sponsor: Monarch Medical Technologies. Presenter: Laurel Fuqua, BSN, MSN, EVP/chief clinical officer, Monarch Medical Technologies. The glycemic management practices of many hospitals and physician staff differ from what is overwhelmingly recommended by experts and relevant specialty societies. As a result, they are missing an opportunity to improve the quality, safety, and cost of care for their patients with diabetes and hyperglycemia, which commonly represent more than 25 percent of their inpatient population. Hospitals that transition from sliding-scale insulin regimens to consistent use of basal / bolus / correction protocols are seeing reductions in hyperglycemia, hypoglycemia, and costs. Making this shift more effective and efficient is the use of computerized insulin-dosing algorithms that can support dedicated staff using a systematic approach.
February 14 (Wednesday) 2:00 ET. "Time is Money: Aurora Health's Journey of Implementing and Advancing Cost Accounting." Sponsor: Strata Decision Technology. Presenter: Patrick Nolan, VP of finance, Aurora Health Care. Aurora Health Care's implementation of Strata's Decision Support module involved not only building an improved cost accounting model, but improving the process to engage a cross-functional team in cost development. It now has accurate, consistent cost data to support decision-making. Aurora's next phase will be to use actual procedure and visit times to allocate costs. This presentation will provide a detailed view into both the implementation and future direction of the Strata Decision Support program within Aurora.
Previous webinars are on our YouTube channel. Contact Lorre for information.
---
Announcements and Implementations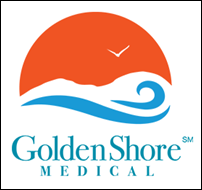 Golden Shore Medical Group (CA) enlists Apollo Medical Holdings subsidiary Network Medical Management to manage 100,000 health plan members across 17 clinics using AMH's population health management technology.

Health Endeavors develops the One Touch Health Smart Record app, giving patients the ability to send and receive data – including care prompts – from their provider's EHR via Direct messaging.

Sunwave adds a real-time communication tool to its software for substance abuse treatment providers.
---
Acquisitions, Funding, Business, and Stock

Pediatrics-focused health IT company Office Practicum secures an undisclosed amount of funding from Pamlico Capital.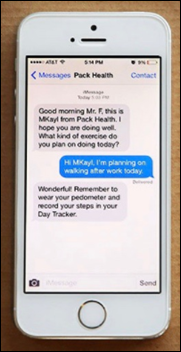 Digital health coaching company Pack Health will invest $2.9 million in a company expansion that will include renovating new office space in downtown Birmingham, AL and hiring another 175 employees over the next four years.

Oncology EHR vendor Elekta becomes a reseller of Equicare Health's Active Patient Portal and cancer care coordination technology. The reseller agreement comes on the heels of Elekta's agreement with IBM to offer Watson for Oncology as a complementary clinical decision support tool.
---
Government and Politics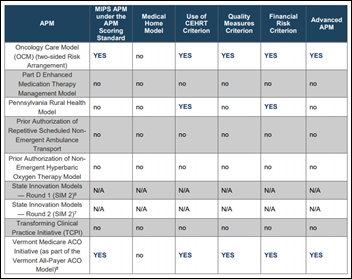 CMS creates a table of its Alternative Payments Models based on their MIPS or Advanced designations. Ten of the 39 qualify as both.
---
Sponsor Updates
The American Heart Association/American Stroke Association and Nordic help University of Colorado Health and Saint Francis Hospital – both Epic sites –  optimize quality measure reporting for stroke patients using the ASA's Get with Guidelines-Stroke program.
Medicomp Systems will host Medicomp U 2018 May 21-24 in Reston, VA.
Nordic will exhibit at the HIMSS Wisconsin Dairyland Event February 8 in Madison, WI.
Blog Posts
---
Contacts
More news: HIStalk.
Get HIStalk Practice updates.
Contact us online.
Become a sponsor.