The Future of Healthcare: Artificial Intelligence in 2018
By Jim Higgins
We've all seen it. What was once considered to be something only found in Sci-Fi movies is quickly becoming part of our daily reality. Artificial intelligence and machine learning are integrating themselves into all aspects of our lives. Studies show that 74 percent of Americans already use AI every day. Healthcare is not exempt. Variations of AI are starting to pop up in every corner of the industry. From robots that can interpret lab results to programs that help doctors make intelligent decisions during surgery to bionic hands that can "see and learn" in order to improve movement, it's hard to find an area of healthcare not impacted by AI. And although artificial intelligence is still in its infancy, 75 percent of healthcare executives say they have plans to invest in artificial intelligence, machine learning, and predictive analytics within the next three years. Here are the reasons I predict AI will be one of the biggest healthcare trends in 2018:
AI increases practice efficiency
Healthcare employees have been bogged down with repetitive, menial tasks for decades. These tasks take away from time spent with patients and increase burnout for employees. AI is finding ways to eliminate these challenges. According to reports from healthcare executives, the automation of these time-consuming tasks is one of the key ways they anticipate using AI. Some of the most popular AI systems include those that eliminate the burden of:
Routine paperwork (82 percent).
Scheduling (79 percent).
Timesheet entry (78 percent).
Accounting (69 percent).
By eliminating these time-consuming tasks, healthcare employees will be able to spend more time building relationships with the people who matter most — patients.
AI makes life easier for physicians
According to the Association of American Medical Colleges, it is anticipated that the US will face a physician shortage of up to 88,000 doctors by 2025. With burnout rates for physicians already hovering above 50 percent, these added demands will only add to their burdens. AI is one way to reduce pressure on physicians while improving clinical care.
AI makes decision-making for complex care treatment much easier. We live in a world with an ever-growing number of diagnosable conditions as well as patients that now have two, three, four or even more diagnoses. With literally billions of people (and almost as many medical conditions), there are an infinite number of possibilities of overlapping diagnoses. Treatment that may work for one patient may not work for another. This puts a huge burden on physicians and can negatively impact outcomes for patients.
AI, used in conjunction with a physician's care, can help with this challenge. AI systems can now use algorithms to analyze data based on treatment decisions that have been (and are still being made) throughout the world. Add to that data analysis the ability to continue to learn and apply predictive analysis, and it's easy to see how AI will begin to help practices provide higher levels of safety and quality for their patients while potentially reducing the workload of physicians.
AI revolutionizes the patient experience
At first glance, AI seems to have the most application for physicians. However, it also provides ample opportunity to improve the patient experience. Today's patient has high demands of their provider — demands that are often difficult to meet. AI is one solution. Patients are already interested in medical-based AI. A study found that, as of 2016, 54 percent of patients were willing to embrace AI and robotics in their healthcare, and that number is growing every year. What are some examples of what AI can do for patients?
Improve outcomes—there are currently medical apps like PeerWell that help patients take a proactive role in their own care before or after surgery. These programs give patients specific daily plans for care. As the patient enters their information each day in the app, the program can make adjustments to their recovery plan based on the results.
Enrich communication—AI offers the potential to reach out to patients in a much more detailed and individual way. Through machine learning and AI algorithms, practices can easily reach out to patients when and how they prefer with more customized communications, whether it's for simple reminders or diagnosis-specific education.
AI combined with human touch is the key to success
AI is an incredible tool to help meet the evolving complexity of healthcare and needs of modern patients. Despite all the hype, AI will not replace physicians, but instead enhance the quality of care offered by them.  As Wipro CTO K.R. Sanjiv put it, "While it can learn on a basic level, AI doesn't rise to the level of human intelligence or pose a meaningful threat to human workers. Once you understand what you can't solve with AI, you'll see just what you can." AI will not dehumanize the healthcare experience; instead, it will provide a more detailed and personalized experience for all involved.
While AI itself may not directly threaten a doctor's job, experts warn that physicians who take advantage of AI will eventually place physicians without AI technology at a significant disadvantage. Similarly, healthcare systems that are integrated with AI will eventually replace those healthcare systems without. Integration will become a necessity, not a luxury. As with all technology, it is important to balance the benefits of AI with the vital need to engage and connect. Finding ways to leverage AI in order to put more of an emphasis on the human component of healthcare is key to long-term success.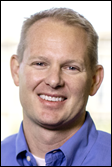 Jim Higgins is the CEO and founder of Solutionreach in Lehi, UT.
---
Contacts
More news: HIStalk, HIStalk Connect.
Get HIStalk Practice updates.
Contact us online.
Become a sponsor.