Top News
Practice Fusion will soon start charging providers for its EHR software, which has thus far been free thanks to revenue gleaned from embedded pharmaceutical ads. Providers could see monthly subscription charges of $100 as early as next month, according to a company spokesperson who did not indicate if the ads would remain. The decision comes six weeks after Allscripts announced it would acquire the company for $100 million – a fraction of its former valuation. Competitors have been quick to chime in, pointing out that Practice Fusion's changing business model makes for an opportune time to look for new solutions. Others wonder if the company will flip to a data-selling model akin to Flatiron Health.
---
Webinars
None scheduled in the coming weeks. Previous webinars are on our YouTube channel. Contact Lorre for information.
---
Acquisitions, Funding, Business, and Stock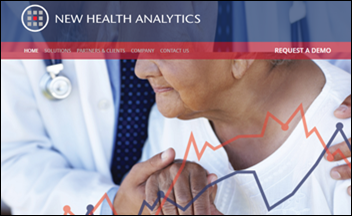 In an effort to tap into the healthcare market, EnterBridge Technologies acquires healthcare analytics and benchmarking business SMA Informatics Partners. It has named the newly combined company New Health Analytics. EnterBridge co-founder Todd Nuckols will become CEO of the 10-employee company.
---
Announcements and Implementations
Hands On Technology will integrate Ability Network's RCM application into its TheraOffice rehab EHR/PM.
Apex Revenue Technologies adds expanded physician branding capabilities and more custom patient payment options to its MySecureBill software.
NextGen will add OptimizeRx's prescription messaging service to its EHR next month, alerting physicians in real-time to prescription savings and educational content.
Amion adds PerfectServe's clinical communication and collaboration platform to its physician scheduling software.
Fertility Pro adds Azalea Health's RCM capabilities to its EHR for fertility specialists.
---
Telemedicine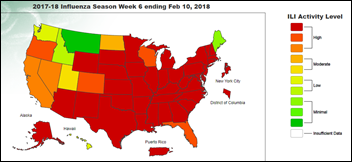 This year's record flu season prompts Teladoc to provide over 300,000 virtual consults in the last five weeks. Flu cases accounted for 1 in 5 Teladoc visits in the peak month of January – quite a bit higher than the CDC's reported 1 in 15 in-person visits for the same time period and perhaps a solid indicator that providers and patients are turning to telemedicine before darkening the doors of germ-ridden clinics. Recent reports indicate the flu may have plateaued, with the season expected to possibly last into May.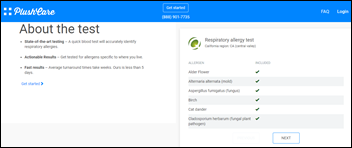 PlushCare offers allergy sufferers advanced diagnostic tests from Thermo Fisher Scientific and participating labs as part of its virtual consult services.
---
Research and Innovation

Researchers determine that retrospective claims data is more beneficial than EHR data when predicting a patient's medication adherence. Prescription fill gaps of at least six days were found to be the biggest indicator of a lack of future adherence.
---
Other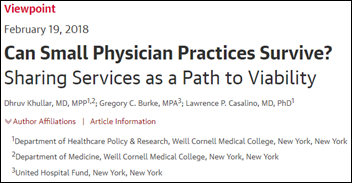 A JAMA editorial highlights the ways in which small physician practices can leverage service-sharing arrangements in an effort to keep their doors open and patients well-cared for. While these types of arrangements have been around for several years (if not longer), they are experiencing heightened interest as today's practices struggle with burdensome regulatory programs, IT costs, decreased reimbursements, and burnout. The authors suggest that, though many questions remain related to ROI, such arrangements may be the best bet for practices who want to stay afloat.
---
Contacts
More news: HIStalk.
Get HIStalk Practice updates.
Contact us online.
Become a sponsor.