Top News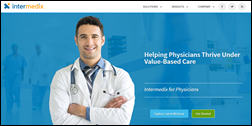 Revenue cycle technology company R1 RCM will acquire Intermedix's healthcare division, which includes physician and EMS RCM, practice management, and analytics service lines, for $460 million. R1 President Joseph Flanagan believes the acquisition will give the company better leverage in serving the physician practice networks of its hospital customers.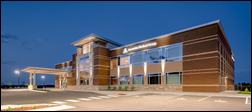 And speaking of hospital customers, Ascension (MO) has decided to expand its contract with R1 RCM to include its medical group, which has facilities in 22 states.
---
Webinars
None scheduled soon. Previous webinars are on our YouTube channel. Contact Lorre for information.
---
Announcements and Implementations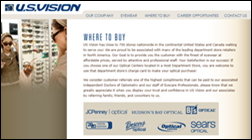 US Vision and its Nationwide Vision affiliate implement First Insight's MaximEyes EHR at 100 locations, with plans to go live at their remaining 500 US locations within the next two to three years.
In an effort to help community providers more easily exchange health data, DSS will embark on a Direct Messaging pilot program with The Sequoia Project's EHealth Exchange data-sharing network. The pilot will give federal agencies on the exchange access to Direct addresses of physicians and hospitals in rural areas.
---
People

Healthcare Administrative Partners hires Rick Grodin (Premier Urgent Care) as EVP.

Scott Howell, MD (Heritage Provider Network) joins Advantmed as CMO.
---
Telemedicine

Orthopedic care management company SwiftPath develops a telemedicine service line for patients undergoing and/or recovering from outpatient joint replacement.
---
Government and Politics
CMS invites physicians to participate in a year-long study of burdens associated with the reporting of quality measures in exchange for full credit for the 2018 MIPS Improvement Activities performance category. The study will study clinical workflows and data collection methods using different submission systems, seek to better understand physician challenges associated with collecting and reporting quality data, and recommend changes to reduce burdens and improve reporting and care. Applications are due March 23.
---
Research and Innovation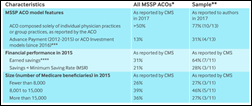 The New England Journal of Medicine observes that ACOs made up of independent primary care practices are more nimble, interested in experimentation, and focused on resource conservation than their larger, hospital-affiliated peers – qualities that have, in fact, led to greater savings. Money, being the great equalizer that it is, was cited as the biggest pain point for ACOs looking to purchase analytics tools and more robust EHRs. A consequential lack of interoperability also reared its ugly head. The study's authors point out that IT investments don't have to happen right off the bat for success; an emphasis on leadership, staff roles, and building relationships with participating practices should be first priority.
This survey finds that provider interest in implementing patient payment portals has jumped from 40 percent to 63 percent in the last year. I blame my health IT bubble (and penchant for Amazon-like retail experiences) for being surprised that there are healthcare organizations out there that haven't yet invested in consumer-friendly payment tech.
---
Other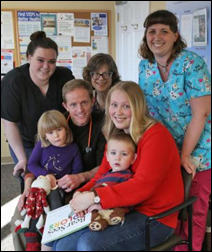 No technology needed: Lincoln Medical Partners (ME) gives away its 20,000th free book to a two year-old patient through the statewide Raising Readers program, which promotes early childhood literacy through book donations to children at birth and annual well visits. PCPs also spend time with parents discussing the benefits of reading aloud to their children. I get the feeling that it's becoming a lost art as devices seem to take over many of the more traditional social interactions.
---
Sponsor Updates
Blog Posts
---
Contacts
More news: HIStalk.
Get HIStalk Practice updates.
Contact us online.
Become a sponsor.