Top News
AdvancedMD, Drchrono, Epic Systems, NextGen, NetSmart, Modernizing Medicine, and SIS Amkai score top rankings in Black Book Research's latest customer satisfaction survey on specialty EHRs.
---
Webinars
April 10 (Tuesday) 3:00 ET. "Using Socioeconomic Data, Not Just Demographics, to Create a Healthier Patient Population." Sponsor: LexisNexis. Presenters: Erin Benson, director of marketing planning, LexisNexis Health Care; Eric McCulley, director of strategic solutions consultants, LexisNexis Health Care. Did you know that 25 cents of every healthcare dollar is spent on health conditions that are caused by changeable behavior? Use of social determinants of health (SDOH) — including information on households, neighborhoods, relatives, and assets — can directly improve care management and risk stratification. However, it's important to first define what SDOH is and isn't. A recent LexisNexis Health Care CIO survey found that only 50 percent of organizations are using SDOH data at all, and even then, they have only limited information from their EHR or from patient surveys. The question is: what are you going to do about it? This webinar will reveal the myths and truths that will help you avoid answering, "Not enough."
Previous webinars are on our YouTube channel. Contact Lorre for information.
Here's the recording of last week's webinar titled "Succeeding in Value-Based Care Via a Technology-Driven Approach," sponsored by Health Fidelity.
---
Announcements and Implementations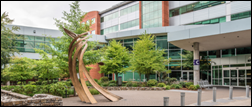 Oregon Oncology Specialists will implement Navigating Cancer's patient relationship management software that includes remote monitoring and patient education, triage, and symptom management tools.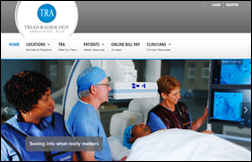 Triad Radiology Associates (NC) selects billing, coding, and practice management services from Healthcare Administrative Partners.
---
People

Tyson McDowell (Lead Wingman) joins blockchain-based PHR startup MintHealth as CTO.


NueHealth promotes John Palumbo to executive chairman and names Carl King CEO.
---
Acquisitions, Funding, Business, and Stock

App-based house call company Remedy secures an early-stage investment from JF2 Capital Partners. Before founding the Texas-based startup, founder Jeremy Gabrysch, MD spent three years as CMO at Soddo Christian Hospital in Ethiopia.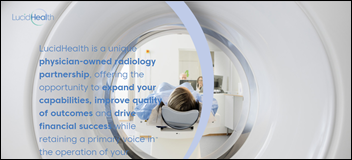 Radiology practice management and technology company Premier Imaging Ventures rebrands to LucidHealth.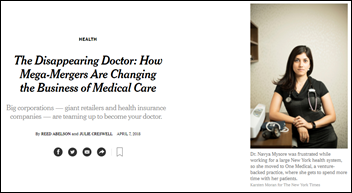 The New York Times looks at the changing landscape of primary care, highlighting the convenience-based business models of urgent care and retail clinic chains like Healthy Now (WA) and technology-enhanced models of groups like One Medical. While all eyes wait to see what the "mega-mergers" of CVS/Aetna, Amazon/Berkshire Hathaway/JPMorgan, and Walmart/Humana will mean for primary care, hospitals are continuing to encroach on the footprint of independent practices by opening up their own urgent care facilities. "Everyone is fighting for the primary care patient," concedes Summit Medical Group CEO Jeffrey Le Benger, MD. Summit Medical has also opened up urgent cares, a move Benger refers to as being a "loss leader" for its unprofitability but importance in maintaining patient market share.
---
Telemedicine
Doctor on Demand leverages Change Healthcare's Intelligent Healthcare Network to offer patients lab testing facilities based on location and cost.
---
Other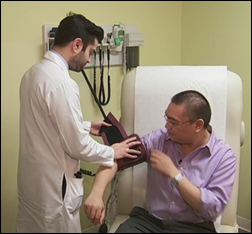 A man suffering from shortness of breath credits his visit to a telemedicine kiosk at a local pharmacy for saving his life. (He hadn't been to the doctor's in years.) Consulting from nearby New York-Presbyterian Lower Manhattan Hospital, the telemedicine doc advised the patient to check himself into the ER, where he was diagnosed with congestive heart failure, fluid in his lungs, and diabetes. While the availability of a virtual visit was indeed fortuitous, the story is more of a cautionary tale about the dangers of missing regular health checkups.

The AMA and Google launch the Health Care and Interoperability Innovation Challenge to uncover new ways of monitoring and sharing health data between chronic disease patients and physicians using mobile technology. Up to $50,000 in Google Cloud credits will be awarded to the top three winners.
---
Sponsor Updates
PerfectServe will present at AONE 2018 April 14 in Indianapolis.
Blog Posts
---
Contacts
More news: HIStalk.
Get HIStalk Practice updates.
Contact us online.
Become a sponsor.