Top News
A two-phased study in Health Affairs finds that primary care offices in 10 states made appointments available to self-pay patients who could commit to paying in full at the time of service. Appointment availability was far less, however, for patients that inquired about payment plans – a indication not only of the access issues faced by the uninsured, but of the thin margins these practices continue to operate under.
---
Webinars
May 9 (Wednesday) 2:00 ET. "How to Make VBC Work for You: The Business Case to Transform Into the Health System of the Future." Sponsor: Philips Wellcentive. Presenters: Mason Beard, co-founder and chief product officer, Philips Wellcentive; Scott Cullen, MD, principal, ECG Management Consulting; Seema Mathur, director of strategy, Sage Growth Partners. How well is your organization funding its transformation to VBC? This free webinar explains how to achieve ROI as your organization transforms to meet the future. You'll learn how VBC is impacting healthcare system management, three strategies for funding your transformation, and what the healthcare system of the future will look like.
May 24 (Thursday) 1:00 ET. "Converting Consumers into Patients: Strategies for Creating Engaging Digital Experiences People Demand." Sponsor: Healthwise. Presenters: Antonia Chappell, director of consumer solutions, Healthwise; Josh Schlaich, senior product manager, Healthwise. Nearly three-quarters of US adults use a digital channel to manage their health and the internet to track down health information. It's clear that consumers have come to expect online interactions as an integral part of their overall patient experience. In fact, the Internet may be the first way people come in contact with your organization. They have more choice than ever on where to get healthcare services, and their decisions are increasingly influenced by how well organizations connect with them in the digital space. This webinar will show you how to create engaging digital and web experiences that convert casual consumers into patients and keep them satisfied throughout their entire patient journey.
June 5 (Tuesday) 1:00 ET. "Increase Referrals and Patient Satisfaction with a Smarter 'Find a Doctor' Web Search." Sponsors: Phynd Technologies, Healthwise. Presenters: Joseph H. Schneider, MD, MBA, FAAP, retired SVP/CHIO, Indiana University Health; Keith Belton, VP of marketing, Phynd. A recent survey found that 84 percent of patients check a hospital's website before booking an appointment. However, 'Find a Doctor' search functions often frustrate them because their matching functionality is primitive and the provider's information is incomplete or outdated. Referring physicians need similarly robust tools to find the right specialist and to send the patient to the right location. Attendees of this webinar will learn how taxonomy-driven Provider Information Management improves patient and referrer satisfaction by intelligently incorporating the provider's location, insurance coverage, specialty and subspecialty, and services offered that can be searched via patient-friendly terms.
Previous webinars are on our YouTube channel. Contact Lorre for information.
---
Announcements and Implementations

Behavioral health and youth services organization Excelsior (WA) selects CareLogics EHR software from Qualifacts. The technology will also be offered to members of the new Integrated Managed Care Collaborative being formed by Excelsior in Washington State. Behavioral health and human services company Xpio Health will assist with implementation, training, and population health management programs.

Intermedix develops performance analytics for physician practices that include practice volume, patients per hour, comparative rankings, documentation quality, and revenue analysis.
---
Acquisitions, Funding, Business, and Stock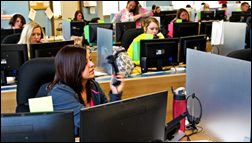 Remote patient monitoring company VRI will hire up to 75 new call center employees at its facility in Franklin, OH.
---
Telemedicine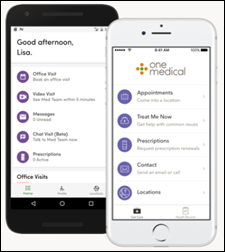 Membership-based primary care company One Medical selects technology from TokBox to power virtual consults within its mobile app.

This tweet from the American Telemedicine Association's annual conference caught my eye. I'm surprised "machine-learning" wasn't also part of the solution. After digging through the first full day's tweet stream, it looks like the exhibit hall and sessions don't offer much for independent practices. Practice-focused EHR vendors include EClinicalWorks and Azalea Health.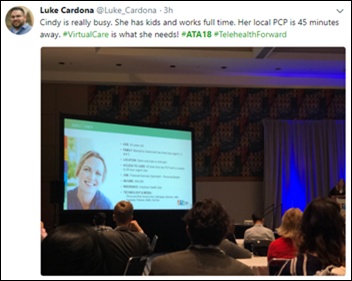 This #ATA18  tweet also caught my attention. I can certainly identify with "Cindy," but at some point a busy mom is going to consider where to go for in-person care, and then wonder how to transfer her virtual care history over to her brick-and-mortar physician. An iPhone might help, if it's on the latest operating system and if her physician is in a network that participates in Apple's app-based medical record sharing. I'm a big fan of telemedicine, as I've documented, but I can imagine it's these types of data-sharing barriers (not to mention reimbursement issues) that keep smaller practices on the sidelines of virtual care business models.
---
Contacts
More news: HIStalk.
Get HIStalk Practice updates.
Contact us online.
Become a sponsor.