Top News
Suki raises $15 million in a Series A funding round led by Venrock, bringing its total raised to $20 million. The 14-employee startup is piloting its virtual assistant technology in a dozen practices in Georgia and California, and claims to have reduced paperwork at those offices by 60 percent.
---
Webinars
May 9 (Wednesday) 2:00 ET. "How to Make VBC Work for You: The Business Case to Transform Into the Health System of the Future." Sponsor: Philips Wellcentive. Presenters: Mason Beard, co-founder and chief product officer, Philips Wellcentive; Scott Cullen, MD, principal, ECG Management Consulting; Seema Mathur, director of strategy, Sage Growth Partners. How well is your organization funding its transformation to VBC? This free webinar explains how to achieve ROI as your organization transforms to meet the future. You'll learn how VBC is impacting healthcare system management, three strategies for funding your transformation, and what the healthcare system of the future will look like.
May 16 (Wednesday) 1:00 ET. "You Think You Might Want to Be a Consultant?" Sponsor: HIStalk. Presenter: Frank Poggio, CEO/president, The Kelzon Group. Maybe you just got caught in a big re-org and don't like where things are headed, or, after almost a year of searching for a better opportunity your buddy says, "You've got decades of solid experience and you're a true professional, you should become a healthcare IT consultant." Now you start thinking, "This could be my ticket to success. I know the healthcare industry and can show people how to do things right. The sky's the limit!" Not so fast. Consulting offers many advantages, and many pitfalls. This webinar will discuss both the rewards and the risks of moving into a full-time consulting role, as an independent, or part of a large firm. It will present a checklist you can apply to assess whether consulting is a good fit for you, and present the ground work necessary to be a successful consultant.
May 24 (Thursday) 1:00 ET. "Converting Consumers into Patients: Strategies for Creating Engaging Digital Experiences People Demand." Sponsor: Healthwise. Presenters: Antonia Chappell, director of consumer solutions, Healthwise; Josh Schlaich, senior product manager, Healthwise. Nearly three-quarters of US adults use a digital channel to manage their health and the internet to track down health information. It's clear that consumers have come to expect online interactions as an integral part of their overall patient experience. In fact, the Internet may be the first way people come in contact with your organization. They have more choice than ever on where to get healthcare services, and their decisions are increasingly influenced by how well organizations connect with them in the digital space. This webinar will show you how to create engaging digital and web experiences that convert casual consumers into patients and keep them satisfied throughout their entire patient journey.
June 5 (Tuesday) 1:00 ET. "Increase Referrals and Patient Satisfaction with a Smarter 'Find a Doctor' Web Search." Sponsors: Phynd Technologies, Healthwise. Presenters: Joseph H. Schneider, MD, MBA, FAAP, retired SVP/CHIO, Indiana University Health; Keith Belton, VP of marketing, Phynd. A recent survey found that 84 percent of patients check a hospital's website before booking an appointment. However, 'Find a Doctor' search functions often frustrate them because their matching functionality is primitive and the provider's information is incomplete or outdated. Referring physicians need similarly robust tools to find the right specialist and to send the patient to the right location. Attendees of this webinar will learn how taxonomy-driven Provider Information Management improves patient and referrer satisfaction by intelligently incorporating the provider's location, insurance coverage, specialty and subspecialty, and services offered that can be searched via patient-friendly terms.
Previous webinars are on our YouTube channel. Contact Lorre for information.
---
Announcements and Implementations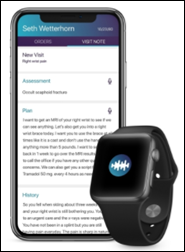 Denver-based Sopris Health develops an AI-powered medical transcription app that captures pertinent information during a patient encounter and converts it into an EHR-friendly SOAP note.
Independence Physician Management will implement Tonic Health's real-time digital survey and payments software across its ambulatory network. IPM is a United Health Services business unit offering practice management and consulting services to physicians in the acute care, behavioral health, and ambulatory surgery center markets in 37 states.
The Recovery Platform integrates access to LabCorp testing services and results into its opioid recovery and medication management tools for PCPs.
---
People

Adrianna Iorillo (CSI Tech) joins Encoda as director of RCM services.

Chronic Care Management promotes Mark Douglas to chief operating and finance officer, and Lisa Owens, RN to VP of care management and client success.

DaVita promotes David Roer, MD to VP of medical affairs at its VillageHealth subsidiary.

Henry Schein promotes Brad Connett to president of its US Medical Group.
---
Telemedicine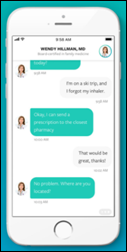 98point6 launches a chatbot-based virtual consult app in 10 states, and plans to expand availability to all 50 states by the end of the year.
---
Other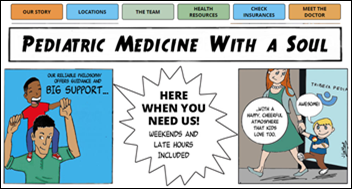 Pediatrician Michael Cohen, MD attributes his successful independent practice in Manhattan's Tribeca neighborhood to relentlessly chasing claims. That attention to detail, plus a strong commitment to fitting in with the neighborhood and giving back to the community, will enable Cohen to open 10 more practices in underserved areas "where there are no hipsters" within the next 18 months. The globetrotting surfer and restaurateur attributes his continued independence to high energy:
"In New York, the three- or four-doctor groups will go away except for the concierge model, which limits services. But that model does not attract me. And I'm too big to be bought by a hospital. At one point I was negotiating with NYU and Cornell. Hospitals bank on doctors being tired. They say, "You will make the same money, but we'll do your billing. You'll have vacation and a great retirement plan." But I'm not tired. I'm actually very energetic."
---
Sponsor Updates
AdvancedMD will exhibit at APA's annual conference May 5-9 in New York City.
Aprima will present at Asembia's 2018 Specialty Pharmacy Summit May 2 in Las Vegas.
GCS Medical College, Hospital & Research Centre in India selects the EClinicalWorks Hospital Management Information System.
Blog Posts
---
Contacts
More news: HIStalk.
Get HIStalk Practice updates.
Contact us online.
Become a sponsor.