Top News
Local healthcare leaders consider the breakaway of 100 Mecklenburg Medical Group physicians from Atrium Health (NC) as the start of a small but growing trend of physician groups becoming frustrated with hospital employment and opting instead for independence. The former Atrium-affiliated physicians claimed they had no wiggle room to refer patients outside of the health system's network, and ultimately opted for a somewhat high-profile lawsuit against Atrium after contract changes reduced their compensation and RN staffing levels, and added a 30-mile radius non-compete clause.
Research from Black Book also confirms the trend: Providers working for independent or physician-led organizations increased from 67 to 72 percent between 2016 and 2017, reversing a six-year decline. The research company's latest analysis has also found that 68 percent of physician groups of 10 or more will seek outside financial and clinical help to transition to value-based care business models by Q2 of next year.
---
Webinars
May 24 (Thursday) 1:00 ET. "Converting Consumers into Patients: Strategies for Creating Engaging Digital Experiences People Demand." Sponsor: Healthwise. Presenters: Antonia Chappell, director of consumer solutions, Healthwise; Josh Schlaich, senior product manager, Healthwise. Nearly three-quarters of US adults use a digital channel to manage their health and the internet to track down health information. It's clear that consumers have come to expect online interactions as an integral part of their overall patient experience. In fact, the Internet may be the first way people come in contact with your organization. They have more choice than ever on where to get healthcare services, and their decisions are increasingly influenced by how well organizations connect with them in the digital space. This webinar will show you how to create engaging digital and web experiences that convert casual consumers into patients and keep them satisfied throughout their entire patient journey.
June 5 (Tuesday) 1:00 ET. "Increase Referrals and Patient Satisfaction with a Smarter 'Find a Doctor' Web Search." Sponsors: Phynd Technologies, Healthwise. Presenters: Joseph H. Schneider, MD, MBA, FAAP, retired SVP/CHIO, Indiana University Health; Keith Belton, VP of marketing, Phynd. A recent survey found that 84 percent of patients check a hospital's website before booking an appointment. However, 'Find a Doctor' search functions often frustrate them because their matching functionality is primitive and the provider's information is incomplete or outdated. Referring physicians need similarly robust tools to find the right specialist and to send the patient to the right location. Attendees of this webinar will learn how taxonomy-driven Provider Information Management improves patient and referrer satisfaction by intelligently incorporating the provider's location, insurance coverage, specialty and subspecialty, and services offered that can be searched via patient-friendly terms.
Check out the recording of last week's webinar titled "You Think You Might Want to Be a Consultant?" with Frank Poggio.  Additional previous webinars are on our YouTube channel. Contact Lorre for information.
---
Telemedicine

Ambulatory management company Nobilis Health will add telemedicine services at its 30 facilities in Texas and Arizona.

Therachat adds EHR data exporting-capabilities to its mental health-focused app.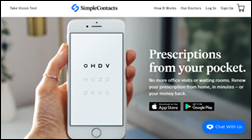 New York City-based eye car telemedicine startup SimpleContacts raises $16 million, bringing total funding to $26 million.
The Washington Post highlights the ways in which mental health professionals and dieticians are using telemedicine to help patients with eating disorders successfully navigate trips to the grocery store. "Grocery store therapy" (also known as exposure therapy) aided by video conference tech like FaceTime has been found to significantly reduce eating disorder symptoms, according to a recent Stanford University study.
---
Other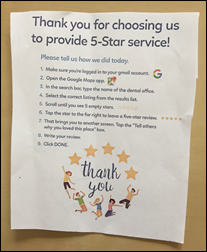 I almost laughed out loud when my dental hygienist handed me this slip of paper at the end of an appointment last week and asked me to leave a (presumably) positive review. Note to providers: Patients you've kept waiting 35 minutes beyond their scheduled appointment time aren't the best ones to ask.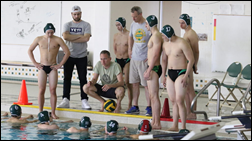 Jeremy Topin, MD recounts the steady drip, drip, drip of "subtle and insidious" burnout that led him to cut back hours and ultimately work part time.
"As I adjust to my new normal, I am also adjusting my sense of self. Before, I was a partner in a successful though crazy busy practice, providing for myself and my employees. I was a teammate with seven other doctors, taking on challenges as they came. But now that I am no longer that partner, that provider, that teammate, did I fail?

I don't think so, but that's something I am still processing.

And as I do, I am enjoying being a parent taking my kids on college visits. I am applying to study health policy and management at the Johns Hopkins Bloomberg School of Public Health, where I hope to start next January. I am a high school water polo coach, working with an amazing bunch of teenagers, and a goalie for my master's team. I am a triathlete training for another Ironman this fall. I am a husband celebrating and tackling these midlife challenges, together with my wife.

And I am a part-time doctor who still loves the challenge and privilege of taking care of patients when they are at their sickest and most vulnerable.

I am not broken. I am just getting started."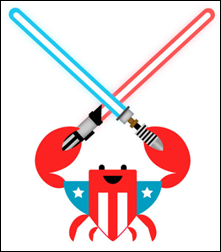 Kudos to Slate for uncovering the origin story of the US Digital Service's new Twitter avatar, introduced on my favorite sci fi holiday, May the 4th. Perhaps even more interesting to me is that USDS designer Mollie Ruskin, whom the crab is named after, came to the agency after a digital design stint at Marvel. As Mr. H noted when the group was created in 2016 under President Obama, its ties to healthcare were already evident: "It … developed a new VA benefits appeals system, created a consolidated website at Vets.gov, and figured out a way for the VA and DoD to exchange scanned documents. Everybody loves the groups except fat cat IT contractors and the internal federal government bureaucracies that created the messes the kids are sent to clean up."
---
Contacts
More news: HIStalk.
Get HIStalk Practice updates.
Contact us online.
Become a sponsor.