Top News
Health IT reseller and consulting company DAS Health raises $6 million to further its acquisition strategy. The Tampa, FL-based company has bought five companies in the last three years, including EMDs reseller Integra IT Solutions.
---
Webinars
May 24 (Thursday) 1:00 ET. "Converting Consumers into Patients: Strategies for Creating Engaging Digital Experiences People Demand." Sponsor: Healthwise. Presenters: Antonia Chappell, director of consumer solutions, Healthwise; Josh Schlaich, senior product manager, Healthwise. Nearly three-quarters of US adults use a digital channel to manage their health and the internet to track down health information. It's clear that consumers have come to expect online interactions as an integral part of their overall patient experience. In fact, the Internet may be the first way people come in contact with your organization. They have more choice than ever on where to get healthcare services, and their decisions are increasingly influenced by how well organizations connect with them in the digital space. This webinar will show you how to create engaging digital and web experiences that convert casual consumers into patients and keep them satisfied throughout their entire patient journey.
June 5 (Tuesday) 1:00 ET. "Increase Referrals and Patient Satisfaction with a Smarter 'Find a Doctor' Web Search." Sponsors: Phynd Technologies, Healthwise. Presenters: Joseph H. Schneider, MD, MBA, FAAP, retired SVP/CHIO, Indiana University Health; Keith Belton, VP of marketing, Phynd. A recent survey found that 84 percent of patients check a hospital's website before booking an appointment. However, 'Find a Doctor' search functions often frustrate them because their matching functionality is primitive and the provider's information is incomplete or outdated. Referring physicians need similarly robust tools to find the right specialist and to send the patient to the right location. Attendees of this webinar will learn how taxonomy-driven Provider Information Management improves patient and referrer satisfaction by intelligently incorporating the provider's location, insurance coverage, specialty and subspecialty, and services offered that can be searched via patient-friendly terms.
Previous webinars are on our YouTube channel. Contact Lorre for information.
---
Announcements and Implementations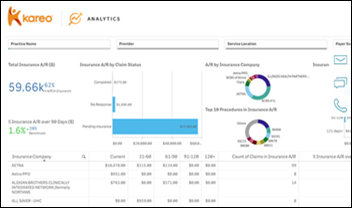 Kareo develops analytics tools for billing professionals.

AdvancedMD adds appointment reminder capabilities to its new cloud-based suite of clinical, financial, and patient engagement software.
In New York, the Adirondack Health Institute will use social services-focused care coordination technology from Unite Us in the management of the Performing Provider System it runs as part of the state's Delivery System Reform Incentive Payment Program.
---
Acquisitions, Funding, Business, and Stock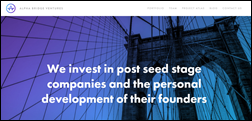 Healthy founders equal healthy returns: Alpha Bridge Ventures wants to invest in promising companies and the health of their CEOs. As a condition of funding, the fairly new San Francisco-based venture capital firm will allocate up to $50,000 in services that CEOs must use to stay on top of their health and wellness. The company's ultimate goal is zero-percent founder burnout rate by 2022.
---
Government and Politics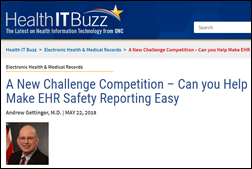 ONC announces the Easy EHR Issue Reporting Challenge to entice developers to create apps that will help users identify, record, and report potential health IT safety issues in real time. Winning entries, due October 15, will receive up to $80,000 in prizes.
---
Telemedicine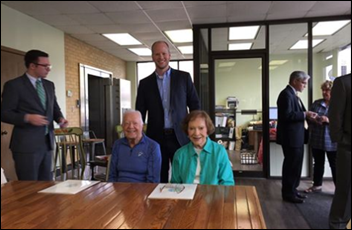 Former President Jimmy Carter and wife Rosalynn meet with representatives from the Global Partnership for Telehealth and Mercer University School of Medicine in his hometown of Plains, GA to discuss bringing a virtual consult-based clinic to the town.
TeleWellnessMD adds text alerts to its virtual wellness services.
---
Other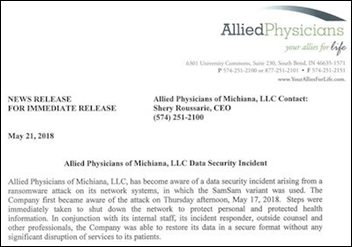 Allied Physicians of Michiana (IN) remains mum on whether or not it paid a ransom after experiencing a SamSam cyberattack that shut down its network last week.
---
Sponsor Updates
CompuGroup Medical will exhibit at COLA – Symposium for Clinical Laboratories May 30-June 2 in Miami.
Blog Posts
---
Contacts
More news: HIStalk.
Get HIStalk Practice updates.
Contact us online.
Become a sponsor.