Top News
Rite Aid decides to give virtual consults another go, announcing it will add telemedicine software from InTouch Health to health kiosks already installed in its pharmacies. The retail clinic has dabbled in telemedicine over the last several years. It partnered with OptumHealth to offer virtual visits in its clinic exam rooms in 2012, and piloted 25 HealthSpot kiosks in 2015. HealthSpot unexpectedly closed its doors six months later.
---
Webinars
July 26 (Thursday) 1:00 ET. "The Patient's Power in Improving Health and Care." Sponsor: Health Catalyst. Presenter: Maureen Bisognano, president emerita and senior fellow, Institute for Healthcare Improvement. Patients, even those with chronic diseases, only spend a few hours each year with a doctor or a nurse, while they spend thousands of hours making personal choices around eating, exercise, and other activities that impact their health. How can we get patients to be more engaged in their care, and help physicians, nurses, and healthcare providers transition from a paradigm of "what's the matter" to "what matters to you?" This webinar will present stories of patients and healthcare organizations that are partnering together with tools, processes, data, and systems of accountability to move from dis-ease to health-ease.
July 31 (Tuesday) 12:30 ET. "How to Proactively Troubleshoot End User Experience Issues in Healthcare IT." Sponsor: Goliath Technologies. Presenter: Goliath Technologies engineering staff. An early warning system for EHR access problems helps prevent downtime and user access problems before they impacts patients and collects objective technical evidence of the issue's root cause. This webinar will describe how hospitals protect their investment in Allscripts, Cerner, Epic, and Meditech EHRs by anticipating, troubleshooting, and preventing end user experience issues and collecting the technical data needed to collaborate with their vendors on a solution.
Previous webinars are on our YouTube channel. Contact Lorre for information.
---
People

Daryl Rolley (PRGX) joins Medicat as CEO. The Atlanta-based company provides EHR and practice management software to colleges and universities.

Payformance names Alicia Torres (Altarum) president and CEO.
---
Acquisitions, Funding, Business, and Stock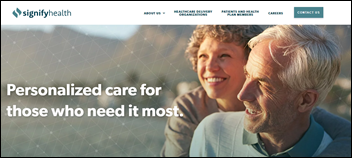 After combining and recapitalizing late last year, Advance Health and CenseoHealth rebrand as Signify Health. The technology-enabled care management company hired former Athenahealth Chief Product Officer Kyle Armbrester as CEO in April.
---
Telemedicine

NuPhysicia Health of Texas and AMD Global Telemedicine launch The Working Clinic, a new telemedicine joint venture aimed at giving small employers easy access to on-site care.
CoreHealth adds telemedicine capabilities from EDocAmerica to its wellness software for employers.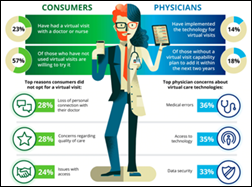 A Deloitte survey of 624 physicians reveals that the biggest barriers to telemedicine adoption are potential medical errors, a lack of access to technology, and the security and privacy of patient data. Survey takers cited "interoperability of virtual care technologies" as their top requirement for increased adoption.
---
Other
Multi-state addiction treatment facility operator Sunspire Health notifies affected individuals of a phishing email scam that compromised several accounts, some of which may have contained patient information.
---
Contacts
More news: HIStalk.
Get HIStalk Practice updates.
Contact us online.
Become a sponsor.