Top News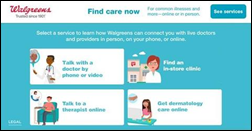 Walgreens launches an online marketplace to help customers find healthcare services at their local stores; and from provider partners that include brick-and-mortar health systems, and urgent care and lab-testing facilities. Tech-based providers include telemedicine vendors MDLive and DermatologistOnCall, and app-based house call company Heal. The marketplace will no doubt boost business for its partners, given that the Walgreens app sees 5 million visitors each month. Aside from Baptist Health (FL) and UnitedHealth's MedExpress, it seems all of the marketplace's providers are on Epic. Walgreens began transitioning its Healthcare Clinics to Epic in 2016.
---
Webinars
July 31 (Tuesday) 12:30 ET. "How to Proactively Troubleshoot End User Experience Issues in Healthcare IT." Sponsor: Goliath Technologies. Presenter: Goliath Technologies engineering staff. An early warning system for EHR access problems helps prevent downtime and user access problems before they impacts patients and collects objective technical evidence of the issue's root cause. This webinar will describe how hospitals protect their investment in Allscripts, Cerner, Epic, and Meditech EHRs by anticipating, troubleshooting, and preventing end user experience issues and collecting the technical data needed to collaborate with their vendors on a solution.
Previous webinars are on our YouTube channel. Contact Lorre for information.
---
Announcements and Implementations
ACO management company MedLink Advantage will offer its customers access to The Garage's population health management software and services.

Modernizing Medicine adds electronic prior authorization, real-time prescription benefit, and inventory management capabilities from Surescripts to its EMA EHR for dermatologists.
PatientPoint adds educational content from Migraine Again to its digital content for patient waiting rooms. The companies will soon offer similar content for exam room touchscreens.
---
Government and Politics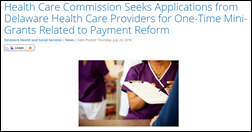 The Delaware Health Care Commission seeks provider applicants for 10 grants of between $25,000 and $250,000 each as part of its State Innovation Model initiative. Applicants must be willing to launch pilot projects aimed at increasing data integration, improving care coordination, and/or transitioning to an Alternative Payment Model. Applications are due August 30.
---
Research and Innovation

An AMGA survey of 270 medical groups finds that physician productivity and compensation lagged in 2017 – the first year in over a decade that compensation increased by less than 2 percent. Productivity across all specialties decreased by 1.63 percent, while compensation increased by just under 1 percent. Primary care providers saw similar percentages. The study's authors point fingers at the typical culprits – burdensome EHRs, and administrative and compliance efforts.
---
Other
Blue Springs Family Care (MO) notifies patients of a May 12 ransomware attack and its efforts to prevent similar attacks in the future, including the installation of a new firewall and the transition to a new EHR with stronger encryption capabilities. Privacy Officer Melanie Peterson told me that the practice's switch from EMDs to EClinicalWorks coincides with a transition to new ownership.
This act of generosity is bittersweet: Staff at Oasis Family Medicine (KS) join other area physicians in donating $10,000 to the Midwest Direct Primary Care Alliance, which then used it to cover $1.4 million in unpaid medical bills that had been sent to collections. Oasis RN Holly Cobb said the donation was made because she and her colleagues realize "health care, medication, and lab work are too costly. Healthcare costs passed on to patients are often big and bloated. As clinicians, we care about making healthcare costs reasonable."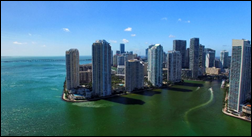 And then there's this: Ritz-Carlton Residences decides to throw in a year of free concierge medical services from The Agatston Center for Private Medicine to buyers who close on one of their properties in Miami, which sell for between $2 million and $40 million. Project lead Ophir Sternberg believes the healthcare services will attract "even the most jaded of buyers."
---
Contacts
More news: HIStalk.
Get HIStalk Practice updates.
Contact us online.
Become a sponsor.