Top News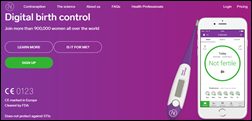 In an agency first, the FDA approves marketing of the Natural Cycles birth control app as part of its fast-track approval program for digital health devices. The approval prompted the FDA to create new criteria to be used for similar apps in the future that outline expectations of accuracy, reliability, safety, and effectiveness at pregnancy prevention. The app, which is also the first of its kind to receive regulatory approval in Europe, came under fire in Sweden when 37 users became pregnant. Company founders (and husband and wife) Elina Berglund and Raoul Scherwitzl have stressed that the app is only as reliable as its user's behavior, which, like taking a birth control pill on a daily basis, must comply with the app's temperature-based suggestions. "In the end," says Scherwitzl, "what we want to do is add a new method of contraception that women can choose from without side effects."
---
Webinars
August 15 (Wednesday) 1:00 ET. "Raising the Digital Trajectory of Healthcare." Sponsored by: Health Catalyst. Presenter: Dale Sanders, President of Technology, Health Catalyst. Healthcare ranks lowest in McKinsey's Digital Quotient (data assets x data skills x data utilization) of all industries except mining and has largely ignored the digitization of patients' state of health, but that's changing. This webinar will describe the empathetic components of healthcare digitization strategy; the AI-enabled encounter; why today's digital approach will never work and instead sucks the life out of clinicians; the role of bio-integrated sensors, genomics, and the "digitician;" and the technology and architecture of a modern digital platform. It's going to happen, so let's make it happen the right way.
Previous webinars are on our YouTube channel. Contact Lorre for information.
---
Acquisitions, Funding, Business, and Stock

Practice management software vendor MedEvolve reports a 38-percent increase in Q2 bookings over the same period last year, making the quarter the company's most successful to date. 
---
People


Kareo names Kyle Ryan (PwC) CTO and Andrea Kowalski (Athenahealth) VP of product.
---
Announcements and Implementations
Sunbelt Anesthesia Services implements Plexus Technology Group's EHR at several ambulatory surgery centers in Jacksonville, FL.
---
Government and Politics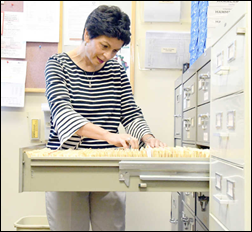 A $743,470 from the Missouri Foundation for Health enables 14 county health departments in the southeastern part of the state to move from paper to digital medical records. Cape Girardeau County Health Department Director Jane Wernsman tells me stakeholders selected Patagonia Health's EHR. The three-year grant covers all of the software and training in the first year, 80 percent in the second, and 20 percent in the third. Go live for all counties will likely be towards the end of September.
---
Telemedicine
FCC Commissioner Brendan Carr visits several provider sites in Alaska in support of his efforts to increase Internet subsidies Alaskan providers rely on to deliver care through virtual consults. The commission increased the subsidies from $400 million to $571 million after a rate review prompted by the inability of one hospital to pay its $1 million Internet bill. Check out Carr's tweet stream for an entertaining and picturesque look at the ways in which Alaskan officials are working to keep their rural communities connected to services.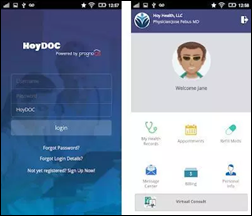 Hoy Health releases a bilingual telemedicine app for English and Spanish speakers. The Morristown, NJ-based startup also offers medication discount and chronic condition management programs.
---
Research and Innovation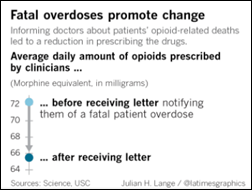 In an effort to get physicians thinking about their prescribing habits, the San Diego County medical examiner sends letters to 388 physicians involved in the care of 82 patients who had died from a prescription drug overdose, or complications arising from a prescription drug. The letters also included the number of such deaths seen by the examiner each year, prescribing tips, and online resources. A similarly-sized group with comparable patient outcomes did not receive a letter. The prescribing habits of both groups were tracked for three months after the letter-writing campaign. Those that did receive a letter reduced their prescription of opioids by 10 percent.
---
Other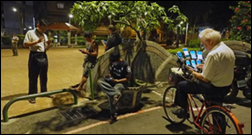 A grandfather in Taiwan becomes known as "Uncle Pokemon" after the local news discovers he uses 11 smartphones attached to his bike to play Pokemon Go. Chen San-yuan told reporters the game has helped him to make friends and fight off Alzheimer's. He plans to add four more phones to his collection soon.
---
Contacts
More news: HIStalk.
Get HIStalk Practice updates.
Contact us online.
Become a sponsor.