Top News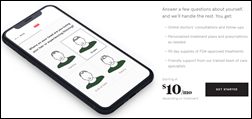 Digital health company Thirty Madison will launch a telemedicine service for migraine sufferers later this year. The New York City-based company announced a $15 million Series A funding round last week, which it will use for the new product launch and to further develop its telemedicine-based prescription service for men's hair loss.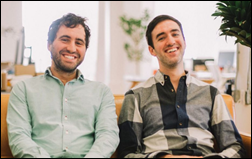 Co-founders Demetri Karagas and Steve Gutentag both hail from Google. They have raised $23 million since launching the company last year.
---
Webinars
October 30 (Tuesday) 2:00 ET. "How One Pediatric CIN Aligned Culture, Technology and the Community to Transform Care." Presenters: Lisa Henderson, executive director, Dayton Children's Health Partners; Shehzad Saeed, MD, associate chief medical officer, Dayton Children's Health Partners; Mason Beard, solutions strategy leader, Philips PHM; Gabe Orthous, value-based care consultant, Himformatics. Sponsor: Philips PHM. Dayton Children's Health Partners, a pediatric clinically integrated network, will describe how it aligned its internal culture, technology partners, and the community around its goal of streamlining care delivery and improving outcomes. Presenters will describe how it recruited network members, negotiated value-based contracts, and implemented a data-driven care management process.
November 7 (Wednesday) 3:00 ET. "Opioid Crisis: What One Health Plan is Doing About It." Presenter: Samuel DiCapua, DO, chief medical director, New Hampshire Health Families; and chief medical officer, Casenet. Sponsor: Casenet. This webinar will describe how managed care organization NH Health Families is using innovative programs to manage patients who are struggling with addiction and to help prevent opioid abuse.
Previous webinars are on our YouTube channel. Contact Lorre for information.
---
Announcements and Implementations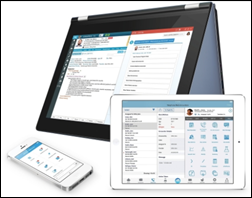 EClinicalworks adds an Opioid Risk Tool to its EHR, giving providers the ability via smart form to assess a patient's risk for drug abuse and offer alternatives that align with CDC recommendations.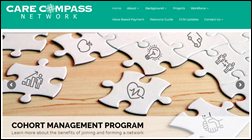 New York-based Care Compass Network will use care management technology from GSI Health to integrate the EHRs of its community health partners, and improve care delivered to Medicaid patients within its nine-country service area.
Athenahealth incorporates real-time prescription pricing and benefit information from CoverMyMeds with its AthenaClinicals EHR.
---
Acquisitions, Funding, Business, and Stock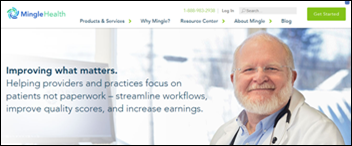 Medicare quality reporting company Mingle Analytics merges with care management software company SilverVue to form physician practice-focused Mingle Health. Mingle Analytics founder and CEO David Mingle, MD will become executive chairman of the new company. SilverVue founder and CEO Will West will take on the role of CEO.
---
People

Patrick Block (LeanKit) joins Relatient as CFO.

MGMA names Akash Madiah (DaVita Medical Group) CFO.
---
Government and Politics
President Trump signs the SUPPORT for Patients and Communities Act into law. The 660-page bill focuses on combatting the opioid epidemic. Among other things, it encourages telemedicine utilization for patients suffering from opioid use disorder, and the adoption of EHRs among behavioral health providers.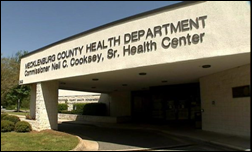 OCR extends the Mecklenburg Country Health Department in North Carolina an olive branch of sorts by not fining it for a 2017 HIPAA violation. The infraction occurred when the county responded to a local media outlet's records request with an Excel spreadsheet containing the PHI of thousands of health department patients. The county self-reported the violation, and has agreed to revise its policies, procedures, and training methods; and to purchase hardware and software that will help it better manage records requests.
---
Research and Innovation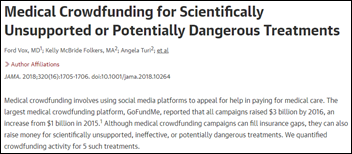 A JAMA study finds that people have crowdfunded over $4 billion sine 2015 to fund unproven medical treatments. The majority of money was raised through GoFundMe for homeopathic or naturopathic cancer treatments.
---
Other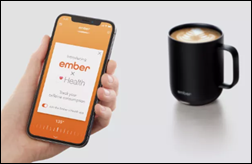 In HIMSS giveaway news: Smart mug manufacturer Ember connects its temperature- and quantity-sensing features with Apple's Health app, giving users the ability to track their daily caffeine consumption and to better understand how it impacts their heart rate and sleep patterns. The mugs retail for between $80 and $150.
---
Contacts
More news: HIStalk.
Get HIStalk Practice updates.
Contact us online.
Become a sponsor.