Top News
A survey of 300 physicians who have worked in the field for more than four years finds that those who are employed by hospitals experience higher levels of burnout than those who work in independent practices. Seventy-two percent of EPs report lower empathy for patients versus 57 percent of independent MDs. Physicians in all employment categories listed the increased demand for data reporting as the biggest detriment to the joy they previously found in practicing medicine.
---
Webinars
December 5 (Wednesday) 1 ET. "Tapping Into the Potential of Natural Language Processing in Healthcare." Sponsor: Health Catalyst. Presenters: Wendy Chapman, PhD, chair of the department of biomedical informatics, University of Utah School of Medicine; Mike Dow, senior director of product development, Health Catalyst. This webinar will provide an NLP primer, sharing principle-driven stories so you can get going with NLP whether you are just beginning or considering processes, tools, or how to build support with key leadership. Dr. Chapman's teams have demonstrated phenotyping for precision medicine, quality improvement, and decision support, while Mr. Dow's group helps organizations realize statistical insight by incorporating text notes along with discrete data analysis. Join us to better understand the potential of NLP through existing applications, the challenges of making NLP a real and scalable solution, and the concrete actions you can take to use NLP for the good of your organization.
December 6 (Thursday) 11 ET. "Make the Most of Azure DevOps in Healthcare." Sponsora few organizations across the country are demonstrating success using advanced technology tied to intuitive processes and procedures.: CitiusTech. Presenter: Harshal Sawant, practice lead for DevOps and mobile, CitiusTech. Enterprise IT teams are moving from large-scale, project-based system implementations to a continuously evolving and collaborative process that includes both development and business teams. This webinar will review healthcare DevOps trends and customer stories, describe key factors in implementing a DevOps practice, describe how to assess Azure DevOps, and lay out the steps needed to create an Azure DevOps execution plan.
Previous webinars are on our YouTube channel. Contact Lorre for information.
---
Announcements and Implementations

Updox adds secure patient texting and group messaging features to its healthcare CRM software.

Healthcare website and app development vendor Medical Web Experts announces GA of its new MWE Cloud hosting service.
---
Other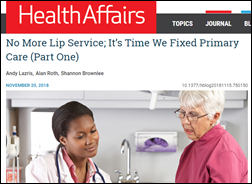 A Health Affairs blog bemoans the state of primary care, citing a workforce shortage, low pay, burnout, regulatory-induced IT burdens, lack of resources, and fee-for-service payment models that masquerade behind a value-based care façade as reasons for its precarious state. The authors say that public and private efforts to move to VBC business models actually make things worse:
"All of these solutions rest on, but do not fundamentally alter, fee-for-service compensation, imposing additional administrative burdens on practices and providers that serve mostly to distract from patient care. Moreover, many of the so-called "quality metrics" have not been validated and often promote overtreatment while being antithetical to shared decision making and individualized care. None of these solutions has been shown to bolster primary care, enhance patient satisfaction, improve quality, or meaningfully reduce costs."

This article highlights the lurch many patients are left in when their lab work is sent to out-of-network facilities, leaving them with a bill for services not covered by insurance. "I didn't ask where they were sending tumor samples to," says Allison Ritchie, who was left with a $600 pathology bill from an out-of-network lab. "It wasn't a question that was at the forefront of my mind," she adds. "It isn't necessarily the doctor's responsibility to look out for me. But at the same time, whose is it?"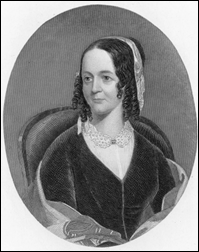 Time publishes an interesting profile of Sarah Josepha Buell Hale, a magazine editor and writer who waged a 36-year campaign to have Thanksgiving declared a federal holiday. As a result of her efforts, President Lincoln issued a proclamation declaring "a Day of Thanksgiving and Praise" in 1863, though it would be another 60-plus years until President Roosevelt made the fourth Thursday in November a bona fide federal holiday. Fun facts: Historians have called Hale a "crusader urging the admission of women to the practice of medicine, more thorough female education, [and] foreign missions."
---
Contacts
More news: HIStalk.
Get HIStalk Practice updates.
Contact us online.
Become a sponsor.