Top News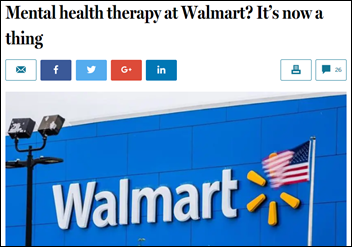 Managed care company Beacon Health Options creates a new subsidiary, Beacon Care Services, to spearhead the launch of mental health clinics in retail settings. The company opened its first clinic in a Texas-based Walmart Care Clinic earlier this month, and plans to open additional clinics in areas that are underserved and/or in rural locations. Virtual consults will be available to patients if clinic personnel need additional help. Beacon Health President and CEO Russell Petrella says the decision to open a clinic in a place like Walmart is part of the company's goal to mainstream behavioral health, offering easy access to services in a familiar environment.
---
Webinars
December 5 (Wednesday) 1 ET. "Tapping Into the Potential of Natural Language Processing in Healthcare." Sponsor: Health Catalyst. Presenters: Wendy Chapman, PhD, chair of the department of biomedical informatics, University of Utah School of Medicine; Mike Dow, senior director of product development, Health Catalyst. This webinar will provide an NLP primer, sharing principle-driven stories so you can get going with NLP whether you are just beginning or considering processes, tools, or how to build support with key leadership. Dr. Chapman's teams have demonstrated phenotyping for precision medicine, quality improvement, and decision support, while Mr. Dow's group helps organizations realize statistical insight by incorporating text notes along with discrete data analysis. Join us to better understand the potential of NLP through existing applications, the challenges of making NLP a real and scalable solution, and the concrete actions you can take to use NLP for the good of your organization.
December 6 (Thursday) 11 ET. "Make the Most of Azure DevOps in Healthcare." Sponsor: CitiusTech. Presenter: Harshal Sawant, practice lead for DevOps and mobile, CitiusTech. Enterprise IT teams are moving from large-scale, project-based system implementations to a continuously evolving and collaborative process that includes both development and business teams. This webinar will review healthcare DevOps trends and customer stories, describe key factors in implementing a DevOps practice, describe how to assess Azure DevOps, and lay out the steps needed to create an Azure DevOps execution plan.
Previous webinars are on our YouTube channel. Contact Lorre for information.
---
Announcements and Implementations
Project ECHO extends its telementoring services to primary care physicians in Washington, DC and Baltimore who care for diabetic patients. The program will offer participating providers educational sessions on how to manage complex diabetes cases and establish team-based care review meetings. George Washington School of Medicine students will also take part in preparation for opening their own independent practices after graduation.
---
Government and Politics

Governor Steve Bullock and the Montana Healthcare Foundation allocate $5 million to a behavioral health program that will improve access and outcomes for pregnant and postpartum women suffering from mental health issues and substance abuse. Funding from the Perinatal Behavioral Health Initiative will help eligible practices develop care coordination teams; foster peer support; and offer screening, intervention, and referral to additional treatment and social services, including the state's First Year's Initiative for young families. It seems likely that the program will encourage the use of telemedicine, given that Montana has just over 2,100 physicians providing direct care to just over 1 million residents, many of whom live in rural areas.
HHS OCR fines Allergy Associates of Hartford (CT) $125,000 after an AA physician improperly shared PHI with a television reporter in 2015, despite being warned not to do so by practice management. OCR Director Roger Severino points out what apparently wasn't obvious to the offending MD: "When a patient complains about a medical practice, doctors cannot respond by disclosing private patient information to the media."
---
Telemedicine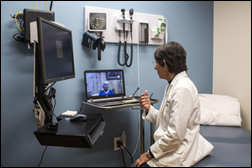 Wyoming's Labor, Health, and Social Services Committee hears from local providers advocating for expanded telemedicine funding beyond the currently allotted $40,000. Urologist and virtual visit advocate Lisa Finkelstein, DO told the committee (via Skype, no less), that educating physicians on the increasingly favorable reimbursement policies of public and private payers is almost just as pertinent as financing. "What we need is help," Finkelstein told the committee. "Whether it's in the form of marketing or advertising. Again, getting the buy-in from the providers is really what we need … This is the last mile. To answer your questions, a lot of these [reimbursement] barriers have been taken down. Not enough providers know this. That's where we're falling short."
---
Other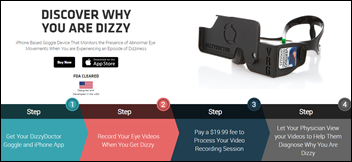 DizzyDoctor announces GA of an app that can in real time document vertigo-related symptoms and upload them to the company's website for diagnosis. Designer Ian Purcell, MD says the company's eye-tracking algorithm will be eventually be used to help diagnose other conditions.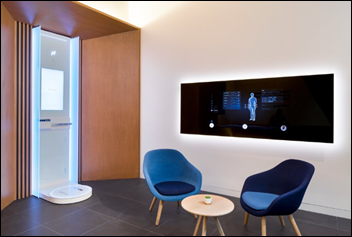 Business Insider runs a fairly fluffy piece on Forward, a membership-based primary care company that has added a New York location to its four facilities in California. Founder Adrian Aoun (a former Google executive instrumental in the launch of Alphabet's Sidewalk City Labs) seems a firm believer in automated care, blaming labor costs for the dismal state of today's healthcare system and boasting that much of the company's services take place via its app. "If you build a healthcare system on the foundation of technology," Aoun says, "you can scale it to billions of people. We want to build the world's biggest healthcare system. We're planning on launching more and more services until one day we're able to perform open heart surgery."
---
Sponsor Updates
Healthwise will exhibit at the NextGen Patient Experience November 27-29 in San Diego.
Blog Posts
---
Contacts
More news: HIStalk.
Get HIStalk Practice updates.
Contact us online.
Become a sponsor.