Top News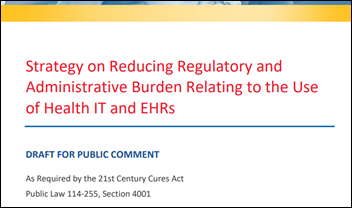 CMS and ONC release 74 pages' worth of recommendations on reducing regulatory and administrative burdens caused by health IT and EHRs. Based on stakeholder feedback and listening sessions conducted over the last year, the draft strategy focuses on three main goals:
Reducing EHR documentation time and effort.
Reducing the time and effort needed to meet regulatory reporting requirements.
Improving EHR functionality and ease of use.
Comments are due January 28.
---
Webinars
December 5 (Wednesday) 1 ET. "Tapping Into the Potential of Natural Language Processing in Healthcare." Sponsor: Health Catalyst. Presenters: Wendy Chapman, PhD, chair of the department of biomedical informatics, University of Utah School of Medicine; Mike Dow, senior director of product development, Health Catalyst. This webinar will provide an NLP primer, sharing principle-driven stories so you can get going with NLP whether you are just beginning or considering processes, tools, or how to build support with key leadership. Dr. Chapman's teams have demonstrated phenotyping for precision medicine, quality improvement, and decision support, while Mr. Dow's group helps organizations realize statistical insight by incorporating text notes along with discrete data analysis. Join us to better understand the potential of NLP through existing applications, the challenges of making NLP a real and scalable solution, and the concrete actions you can take to use NLP for the good of your organization.
December 6 (Thursday) 11 ET. "Make the Most of Azure DevOps in Healthcare." Sponsor: CitiusTech. Presenter: Harshal Sawant, practice lead for DevOps and mobile, CitiusTech. Enterprise IT teams are moving from large-scale, project-based system implementations to a continuously evolving and collaborative process that includes both development and business teams. This webinar will review healthcare DevOps trends and customer stories, describe key factors in implementing a DevOps practice, describe how to assess Azure DevOps, and lay out the steps needed to create an Azure DevOps execution plan.
Previous webinars are on our YouTube channel. Contact Lorre for information.
---
Announcements and Implementations
The North Carolina Department of Health and Human Services taps into Appriss Health's PMP Gateway to connect provider EHRs and pharmacy management systems with the state's Controlled Substances Reporting System. Users will also have access to the company's NarxCare patient risk score tool. 
---
Acquisitions, Funding, Business, and Stock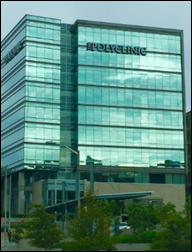 UnitedHealth Group will acquire The Polyclinic, a Seattle-based physicians group founded over 100 years ago, via its OptumHealth subsidiary. Polyclinic CEO Lloyd David cited a lack of funding and resources for new technologies as one of the reasons behind the clinic's decision to put itself up for sale. "We just realized a couple of years ago," he said, "doing our strategic plan, that it was going to take more capital than we have, than the doctors have, to finance what is ahead both in terms of growth and in terms of innovation." The clinic implemented Epic nine years ago through a software-sharing agreement with Swedish Medical Center.
---
Telemedicine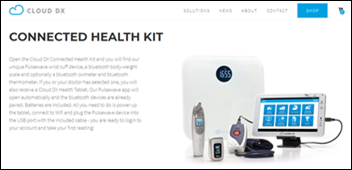 Global Partnership for Telehealth adds remote patient monitoring software and hardware from Cloud Dx to its line of managed telemedicine services.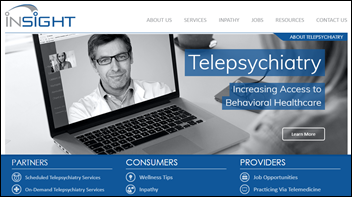 InSight Telepsychiatry secures funding from Harbour Point Capital through a recapitalization. The company, which has been around since 1999, offers virtual mental health services to consumers, community-based providers, and emergency departments.
---
Research and Innovation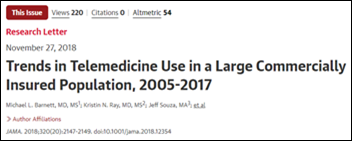 New research finds telemedicine utilization by commercially insured patients has grown over the last 12 years, but not by much (though there was a significant uptick last year in direct-to-consumer visits as a result of more payer-friendly reimbursement policies). Most virtual visits were initiated by patients living in metro areas for mental health and primary care services. It will be interesting to see if (and when) federal efforts to expand telemedicine services for Medicare beneficiaries result in increased access for patients living in rural areas where, some would argue, they are most needed. (Hat tip to Politico for digging behind the pay wall.)
---
Other
While this article highlights physician burnout at hospitals, it also offers a peek into the effects on independent physicians. A few highlights:
Independent group Atrius Health (MA) has taken to diverting unnecessary emails away from physicians to lower-level staffers as part of an effort to eliminate 1.5 million "clicks."
It takes 32 clicks to order and record one patient's flu shot at the internal medicine practice of Christine Sinsky, MD, a number made more onerous at practices where only the physician is permitted to enter the order.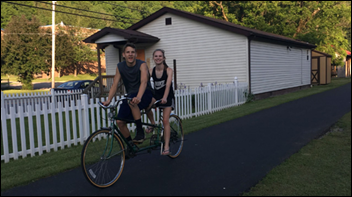 "Libraries are so much more than just books:" Health Affairs highlights a library in rural Hundred, West Virginia that allows patrons to check out bikes, helmets, horns, and baby trailers. Director Tina McBee hopes bike access will help the community tackle its high obesity rate. The town is one of a dozen across the country now offering the perk.
---
Sponsor Updates
Medicomp Systems publishes an e-book titled "Interoperability and the Quest to Solve Healthcare's Seemingly Unsolvable Problem."
Blog Posts
---
Contacts
More news: HIStalk.
Get HIStalk Practice updates.
Contact us online.
Become a sponsor.