Top News
A county-by-county analysis finds that opioid use and overdose deaths increased in places where pharma companies focused their marketing efforts, and that the number of interactions between pharma reps and MDs is a more telling indicator of opioid prescriptions than the dollar amount associated with the interaction. One in 12 US physicians are the recipients of opioid marketing, with one in five of those being family medicine providers.
"The widespread practice of taking doctors out to lunch or dinner to talk about opioid products is probably contributing more to the opioid crisis in the US than these less common instances of docs receiving really large-value payments," explained lead researcher and pediatrician Scott Hadland, MD. "Our findings suggest that direct-to-physician opioid marketing may run counter to national efforts to reduce overdose deaths," he added, "and that policymakers should consider limits on marketing as part of a robust, evidence-based response to the US overdose crisis."
---
Webinars
None scheduled in the coming weeks. Previous webinars are on our YouTube channel. Contact Lorre for information.
---
Acquisitions, Funding, Business, and Stock

EHR and practice management company EMDs consolidates operations and relocates its headquarters to new office space in Austin, TX. The vendor's Practice Partner and Plus 4.0 solutions earned ONC Health IT certifications earlier this month.
---
Announcements and Implementations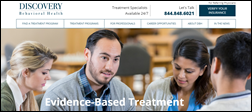 Discovery Behavioral Health, a substance use and addictive behavior treatment provider with 60 facilities across the US, selects KipuHealth's behavioral health-focused EHR.

DaVita Physician Solutions develops and implements CKD EHR by Epic at 20 DaVita practices in 12 states. The software was developed over nine months to help DaVita providers treat patients with chronic kidney disease, and was designed to work in tandem with their Epic systems. The company hopes to roll the new technology out to all DaVita providers by 2020.
---
People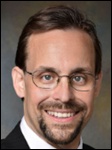 Paul Shenenberger (Summit Health Management) joins Privia Health as CISO and SVP of IT operations.
---
Government and Politics

MyPractice24 owner and CEO Ed Henry pleads guilty to to one count of government property theft as part of his involvement in a medical kickback scheme that defrauded Medicare using the chronic care management company's services and help from conspiring physicians.
---
Other
What a novel idea: Research surfaces that finds reading for pleasure relieves symptoms of physician burnout.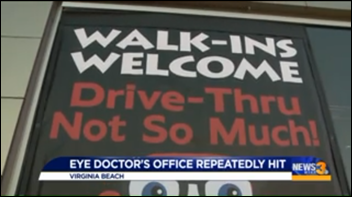 Oh the eye-rony: A patient on his way to an appointment at Gilbert Eyecare (VA) crashes his car into the practice after accidentally pressing the gas pedal instead of the brakes. Optometrist David Gilbert has since put up a sign that reads, "Walk-ins Welcome. Drive-Thru Not So Much."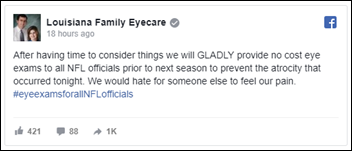 More eyecare humor: A practice in Louisiana offers free eye exams to all NFL officials after the New Orleans Saints championship loss to the Los Angeles Rams, a turn of events many have attributed to a botched call by referees.
---
Sponsor Updates
Blog Posts
---
Contacts
More news: HIStalk.
Get HIStalk Practice updates.
Contact us online.
Become a sponsor.