Top News
Researchers at Stanford University School of Medicine in California determine that life expectancy increased by 51.5 days for every 10 additional PCPs per 100,000 people over a 10-year period. More specifically, those 10 additional PCPs resulted in a 0.9-percent reduction in cardiovascular deaths, a 1-percent reduction in cancer deaths, and a 1.4-percent decline in respiratory deaths. Additional specialists increased life expectancy by 19 days. "The surprising result was how much PCP supply has declined despite so much emphasis on primary care over the last decade," says lead author Sanjay Basu, MD. "I think the problem comes down to money. We pay less for prevention than treatment — and the former is where primary care lives."
---
HIStalk Practice Announcements and Requests
While I can't say I missed the #HIMSSanity of HIMSS this year, I did miss getting to rub elbows with HIStalk readers and catching up with Lorre and the elusive Mr. HIStalk. (I still get a thrill when he covers a news item I've suggested.) Jonathan Bush's absence also seemed to have left a void. (One of my favorite HIMSS sessions was one several years ago that featured Bush and CIO/gentleman farmer John Halamka.)
Based on the reviews of Mr. H and Dr. Jayne, it seems there was definitely a lack of health IT celebrities this year, perhaps reflecting the post-MU era that has resulted in a consolidating industry controlled by big health systems, big vendors (some now without their founding fearless leaders), and faceless private equity firms. It seems attendees were more excited about sock giveaways than game-changing health IT concepts.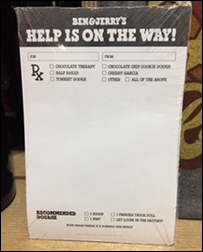 Speaking of giveaways, I came across this "prescription" pad at my local ice cream parlor and thought it would make for a good HIMSS giveaway next year, perhaps accompanied by a scoop of the attendee's choice. Warm scones in the morning followed by an ice cream pick-me-up in the afternoon could surely help HIMSS-goers survive the exhibit hall.
---
Webinars
March 6 (Wednesday) 1:00 ET. "Pairing a High-Tech Clinical Logistics Center with a Communication Platform for Quick Patient Response." Sponsored by Voalte. Presenters: James Schnatterer, MBA, clinical applications manager, Nemours Children's Health; Mark Chamberlain, clinical applications analyst, Nemours Children's Health. Medics at Nemours Children's Health track vital signs of patients in Florida and Delaware from one central hub, acting as eyes and ears when a nurse is away from the bedside. Close monitoring 24 hours a day integrates data from the electronic health record, such as critical lab results, and routes physiological monitor and nurse call alerts directly to the appropriate caregiver's smartphone. This session explores how the Clinical Logistics Center and more than 1,600 Zebra TC51-HC Touch Computers running Voalte Platform connect care teams at two geographically dispersed sites for better patient safety and the best possible outcomes.
Previous webinars are on our YouTube channel. Contact Lorre for information.
---
Announcements and Implementations

Fogo Data Centers adds medical record archiving, migration, and cloud-based hosting solutions to its line of EHR Express services.

CampDoc works with Applications Research Corp. to develop interfaces that connect its EHR with Jewish Community Center and YMCA operating software.
---
People



Practice management company United Rheumatology names Douglas Tardio (HealthCost) CEO, Bill Moore (HealthCost) CTO, and Jim Albano (JF Albano Health Care Services) as EVP of payer relations and operations.
---
Government and Politics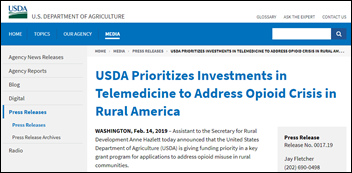 The USDA will give funding priority to Distance Learning and Telemedicine program applicants who propose projects that will provide opioid treatment services to patients in 220 at-risk rural areas. Applications are due April 15.
---
Telemedicine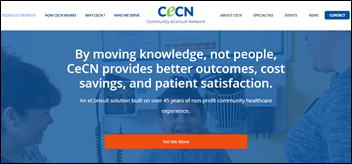 The local paper profiles Community eConsult Network, an offshoot of Connecticut-based Community Health Center that has, over the last decade, built up a robust e-consult network that helps low-income patients receive treatment in a more timely and convenient manner. Customers include public and private payers, and other healthcare providers. Dermatologist Chris Norwood, MD sometimes handles 20 e-consults a day through the network, netting about $35 a consult. "I wouldn't call it profitable," he admits, "but it's not an enormous money sink and I think it does help the community greatly. No one is buying a Ferrari with this." While luxury car dealers might not be profiting, Medicaid is definitely saving money through e-consults, as a CeCN study in Health Affairs last December showed: Patients who had e-consults in four specialties saved Medicaid $82 per patient, per month, versus those who had face-to-face visits with specialists.
---
Contacts
More news: HIStalk.
Get HIStalk Practice updates.
Contact us online.
Become a sponsor.