Top News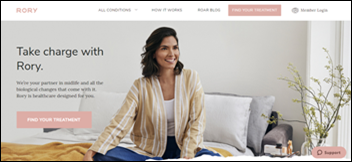 Men's health company Ro, known thus far for erectile dysfunction, hair loss, and smoking cessation services and products, launches virtual visits and prescription delivery services for women going through menopause. The new Rory vertical is guided by an all-female advisory board, including former US Surgeon General Jocelyn Elders, MD.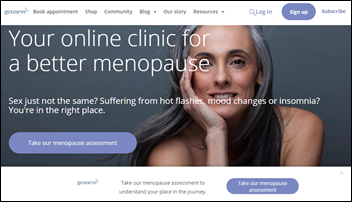 Ro's foray into the menopause market isn't as groundbreaking as some headlines would suggest: Seattle-based Geneve, which features an all-female team, launched a similar service late last year.
---
HIStalk Practice Musings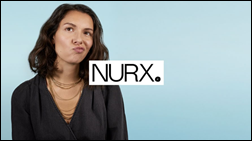 It's interesting to note that the women in the first two screenshots are most likely models. Neither look as if they've suffered a hot flash or any other menopause-related discomfort – ever. Nurx, a fast-growing telemedicine company largely known for its birth-control services, decided to eschew the too-beautiful-to-believe aesthetic in favor of using real customers in its non-Photoshopped advertising campaigns. "For us, we wanted to capture the emotions in our customers but do that in a real way versus trying to say that we are doing something and not really doing it," explains Nurx VP of Marketing Katelyn Watson.
---
Webinars
March 27 (Wednesday) 2:00 ET. "Waiting on interoperability: What can payers and providers do to collaborate?" Sponsored by Casenet. Presenter: Amy Simpson, RN, director of clinical solutions, Casenet. A wealth of data exists to identify at-risk patients and to analyze populations, allowing every payer and provider to operate readmissions intervention and care management programs. Still, payer and provider care managers are challenged to coordinate and collaborate to improve outcomes because of the long road ahead to interoperability. Attend this webinar to learn what payers and providers can do now to share information and to coordinate their efforts to create the best healthcare journey for members and patients.
Previous webinars are on our YouTube channel. Contact Lorre for information.
---
Acquisitions, Funding, Business, and Stock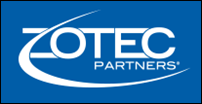 Medical billing and practice management company Zotec Partners plans to build a five-story headquarters near its current location in Indianapolis. Zotec also has offices in California, Florida, Georgia, Nevada, New York, Pennsylvania, and Texas.
---
People

Practice management company US Urology Partners names Jay Rom (Professional Radiology) VP of ASC operations.

The American Osteopathic Association names Kevin Klauer, DO (TeamHealth) CEO.



Aledade moves co-founder and CTO Edwin Miller to chief product officer, and promotes Brady Richards to CTO and Emily Maxson, MD to CMO.
---
Announcements and Implementations
Aprima adds RavePoint's automated patient engagement and messaging, and appointment scheduling and management technology to its EHR and practice management software.
---
Sponsor Updates
AdvancedMD will exhibit at NATCON March 25-27 in Nashville.
Aprima will exhibit at the AIMSVAR Annual Conference March 21-22 in San Antonio.
EClinicalWorks publishes a case study of the implementation of ECW's population health management tools at Adult Medicine of Lake County (FL).
Culbert Healthcare Solutions will exhibit at AMGA March 27-30 in National Harbor, MD.
Nordic will exhibit at Texas HIMSS March 25-26 in Austin.
Blog Posts
---
Contacts
More news: HIStalk.
Get HIStalk Practice updates.
Contact us online.
Become a sponsor.