Top News

Mental health telemedicine and analytics company Telemynd announces plans for an $8 million IPO. Based in Mission Viejo, California, the vendor was spun off earlier this summer from parent company Mynd Analytics before it was sold to Emmaus Life Sciences.
---
HIStalk Practice Musings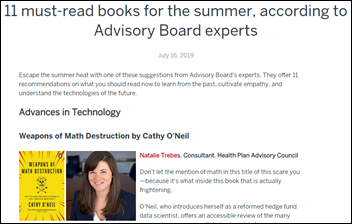 Check out the Advisory Board team's suggested summer reading list. It's full of suggestions for a wide range of interests. As a huge Star Wars fan, I will definitely check out(!) "The Princess Diarist" by Carrie Fisher.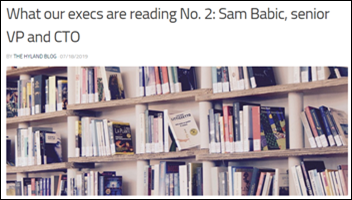 The folks at Hyland have also started a blog series about their favorite business, technology, leadership, and professional development titles.
Does your practice or company share reading recommendations? Email me with your lists and I'll share them in an upcoming post. Happy reading!
---
Webinars
July 25 (Thursday) 2:00 ET. "Meeting patient needs across the continuum of care." Sponsor: Philips Population Health Management. Presenters: Cindy Gaines, chief nursing officer, Philips Population Health Management; Cynthia Burghard, research director of value-based healthcare IT transformation strategies, IDC. Traditional care management approaches are not sufficient to deliver value-based healthcare. Supplementing EHRs with advanced PHM technology and a scalable care management approach gives health systems proactive and longitudinal insights that optimize scarce resources in meeting the needs of multiple types of patients. This webinar will address the key characteristics of a digital platform for value-based care management, cover the planning and deployment of a scalable care management strategy, and review patient experience scenarios for CHF and diabetes.
July 31 (Wednesday) 1:00 ET. "Modern Imaging Technology for the Enterprise: Mercy's Approach That Improved Imaging Cost, Speed, Capacity, and Care Quality." Sponsor: Mercy Technology Services. Presenter: Jim Best, executive health IT consultant, Mercy Technology Services. Enterprise imaging has become as critical as EHRs for transforming patient care, but many health systems are struggling with the limitations and costs of dated, disconnected PACS even as imaging volumes grow and radiologists report increasing levels of burnout. Radiologists at Mercy were frustrated by its nine disparate PACS, which required them to toggle between workstations, deal with slowdowns and poor reliability, and work around the inability to see the complete set of a patient's prior images, even as demands for quick turnaround increased. In this webinar, MTS — the technical backbone of Mercy — will describe the lessons they learned in moving to a new best-of-breed PACS platform that increased radiology efficiency by 30%, with the next phase being to take advantage of new capabilities by eliminating third-party reading services and distributing workload across radiology departments to improve efficiency, capacity, and timely patient care.
Previous webinars are on our YouTube channel. Contact Lorre for information.
---
Announcements and Implementations
NextGen adds OptimizeRx's point-of-care digital prescription savings software to its Enterprise EHR.

HealtheConnections combines its New York-based HIE data with information from state and national healthcare databases to develop the MyData platform, which includes community health dashboards, quality measures, and data discovery capabilities.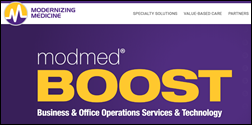 Modernizing Medicine announces GA of bundled EHR, practice management, and business services software.

ESimplify develops Practice Analytics for family medicine providers and internal medicine groups.
CVS Health will work with social services software vendor Unite Us to develop a portal that Aetna Medicaid patients in Florida, Kentucky, and Louisiana can use to find and connect with local resources. The project is part of the $100 million Building Healthier Communities initiative, through which CVS and Aetna are working to improve community-based health and wellness over the next five years. CVS acquired Aetna late last year for $70 billion.
---
Other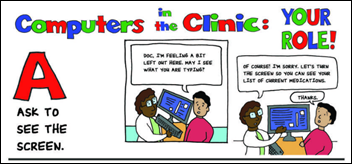 Kaiser Health News covers the work University of Chicago Medicine PCP Wei Lee, MD is doing to help providers develop better "computer-side" manner. Lee and her colleagues have developed a curriculum to help physicians use EHRs in a way that makes patients feel included, including an ABC mnemonic for patients: Ask To See The Screen. Become Involved. Call For Attention.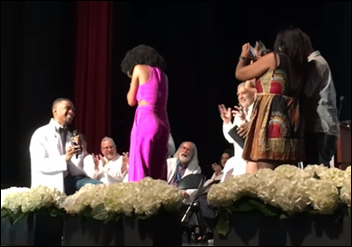 So sweet: Medical student Odolphe Augustin proposes to his girlfriend on stage after receiving his white coat at Touro College's special ceremony. She said yes!
---
Sponsor Updates
Blog Posts
---
Contacts
More news: HIStalk.
Get HIStalk Practice updates.
Contact us online.
Become a sponsor.