Top News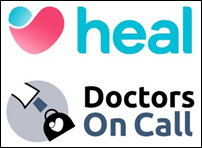 App-based house call and telemedicine company Heal acquires New York City-based Doctors on Call for $15 million. The acquisition, Heal's first, will enable it to tap into DoC's Medicare clientele.
---
Webinars
September 26 (Thursday) 2 ET. "Patient Education Data: A Key Ingredient for Improving Quality and Patient Experience." Sponsor: Healthwise. Presenters: Victoria L. Maisonneuve, MSN, RN, director of the Nursing Center for Excellence and Magnet program, Parkview Health; Marta Sylvia, MPH, senior manager of quality improvement and outcomes research, Healthwise. Healthcare data is everywhere! It's scattered across various systems and in countless formats, making it difficult to collect and glean actionable information. Knowing where to start depends on what your organization wants to accomplish. By focusing on your patient education data, you can drive quality improvement across your organization. Vicki Maisonneuve will share how her team analyzes data around the use of patient education. By combining different data sets, she can easily identify trends, gaps, and opportunities to improve quality and patient experience across Parkview Health.
October 2 (Wednesday) 1:00 ET. "Conversational AI in Healthcare: What About ROI?" Sponsors: Orbita, Cognizant. Presenters: Kristi Ebong, SVP of strategy and GM of healthcare providers, Orbita; Matthew Smith, AVP and conversational AI practice leader, Cognizant. Conversational AI holds great promise to drive new opportunities for engaging consumers and customers across all industries. In healthcare, the stakes are high, especially as organizations explore opportunities to leverage this new digital channel to improve care while also reducing costs. The presenter experts offer a thought-provoking discussion around conversational AI's timeline in healthcare, the factors that organizations should consider when thinking about virtual assistants through chatbots or voice, and the blind spots to avoid in investing in those technologies.
Previous webinars are on our YouTube channel. Contact Lorre to present your own.
---
Acquisitions, Funding, Business, and Stock

Tryon Medical Partners CEO Dale Owen says he fully expects to see employed physicians continue to break away from hospitals to form or join an independent practice. North Carolina-based Tryon, which was borne out of the exodus of several dozen physicians from Atrium Health, is working with a handful of MDs breaking away from CaroMont Health to form its first family practice expansion in the area. Owen insists, "The whole area is better served from a cost and value standpoint on the patients' behalf if there are more independent doctors, rather than controlled referral patterns."

Great Hill Partners sells behavioral health technology vendor Qualifacts to Warburg Pincus for an undisclosed sum. The majority investment will allow the company to focus on product development and sales and marketing efforts.
---
People

Ryan Anschuetz (Coverall North America) joins behavioral health EHR and practice management vendor Therapy Brands as VP of sales.


E-consult software company RubiconMD names Sarah Alexander (Lumeris) COO and Fred Ronnau (CareAllies) CTO.
---
Announcements and Implementations

Compulink Healthcare Solutions announces GA of MyEyeStore, an online retail store and management system optometrists can add to their websites to generate new revenue streams.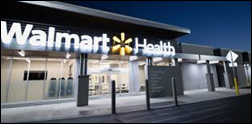 Walmart Health implements Zotec's RCM software at its new pilot clinic in Dallas, GA.
Symplast adds patient engagement and relationship management capabilities from Red Spot Interactive to its EHR and practice management software for plastic surgeons.
---
Telemedicine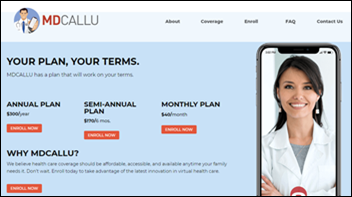 MDCallU launches a membership-based telemedicine service for consumers powered by MDLive. A service like this seems like a perfect fit for those healthy, tech-savvy consumers looking for a way out of the traditional world of never-affordable insurance. Aside from the need to have some sort of policy that covers unforeseen issues (and hopefully prevents medical bankruptcy), I bet business models like this one become more popular in the coming months.
---
Other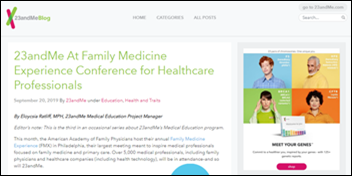 I find it interesting that 23andMe is exhibiting at the AAFP's Family Medicine Experience Conference this year. I can't tell if they've exhibited before. The company plans to highlight "how our service works and how family doctors can help their patients use genetic information to make more informed decisions about their health." I have to wonder how often family physicians field DNA testing questions from their patients, and how much misinformation they have to deal with. I'm also wondering if 23andMe is trying to lure physicians into selling their kits to patients. I'd love to hear from physicians who've had conversations with patients about the validity of consumer genetic testing results. Email me if you have stories to share, or if you're attending FMX and spot anything our readers may find post-worthy.
---
Sponsor Updates
EClinicalWorks will exhibit at the AMA's 2019 FMX September 25-27 in Philadelphia.
Madison Magazine names Nordic as the best place to work in Madison, WI.
Blog Posts
---
Contacts
More news: HIStalk.
Get HIStalk Practice updates.
Contact us online.
Become a sponsor.