Top News
Matter, a health IT startup accelerator based in Chicago, announces plans to develop an innovation center in New York City through a partnership with the NYC Economic Development Corp. Matter has helped launch 200 startups since opening its doors five years ago. Given its Chicago roots, it has developed a strong relationship with the neighboring AMA, resulting in an AMA Interaction Studio and physician feedback on developing products.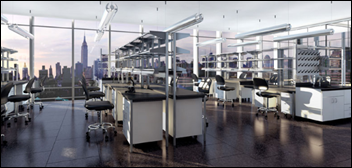 Matter plans to open its NYC center in 2021.
---
HIStalk Practice Musings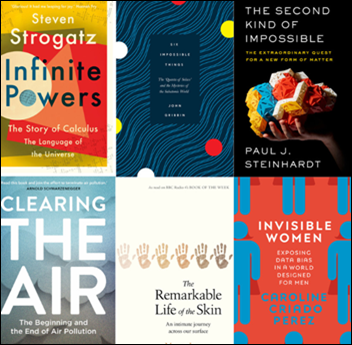 I came across this list of the six books shortlisted for the 2019 Royal Society Insight Investment Science Book Prize. I'm not a huge non-fiction fan, but may take a peek at "Clearing the Air" by Tim Smedley solely based on Arnold Schwarzenegger's top-of-cover enticement.
Aside from "The Immortal Life of Henrietta Lacks" by Rebecca Skloot, I can't recall reading a riveting, science-based book that I then recommended to everyone I knew. Please turn me on to new titles via a quick email.
---
Webinars
October 2 (Wednesday) 1:00 ET. "Conversational AI in Healthcare: What About ROI?" Sponsors: Orbita, Cognizant. Presenters: Kristi Ebong, SVP of strategy and GM of healthcare providers, Orbita; Matthew Smith, AVP and conversational AI practice leader, Cognizant. Conversational AI holds great promise to drive new opportunities for engaging consumers and customers across all industries. In healthcare, the stakes are high, especially as organizations explore opportunities to leverage this new digital channel to improve care while also reducing costs. The presenter experts offer a thought-provoking discussion around conversational AI's timeline in healthcare, the factors that organizations should consider when thinking about virtual assistants through chatbots or voice, and the blind spots to avoid in investing in those technologies.
Previous webinars are on our YouTube channel. Contact Lorre to present your own.
---
Acquisitions, Funding, Business, and Stock
Canada-based Well Health Technologies consolidates its Open Source Clinical Application Resource (OSCAR) EHR assets into a new division called Well EMR Group. Built on the acquisitions of KAI Innovations, NerdEMR, OSCARprn, and OSCARwest, the new group has released OSCAR McMaster Professional Edition EHR software.
---
Government and Politics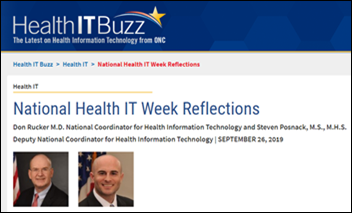 National Coordinator Don Rucker, MD and Deputy National Coordinator Steve Posnack reflect on ONC's progress over the last year, and share their patient-access and interoperability to-do list for 2020. Highlights include releasing a final strategy and recommendations for reducing health IT-related burden on clinicians, and working with HHS OCR to ensure patients have ways to access and share their PHI.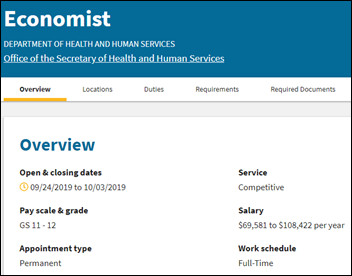 And speaking of ONC, the office is hiring a Washington, DC-based economist to conduct research on the adoption, use, and impact of health IT and related HHS policies and programs. The role will also entail the development, implementation, and evaluation of public health programs and policies.
---
Telemedicine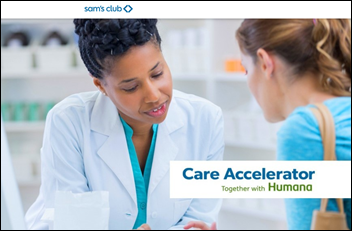 Sam's Club will use 98point6's software and services to provide telemedicine to members who sign up for its new health-related discount bundles. Developed through a partnership with Humana, the bundles will include free prescriptions for popular generics, unlimited $1 virtual visits, dental discounts, free lab tests, and prepaid health debit cards.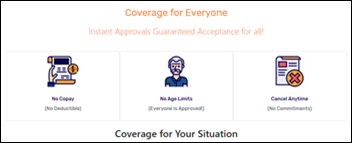 Insurance software startup Jauntin' launches a membership-based telemedicine service that offers unlimited visits for $15 per month and 33 free medications. The company has created buzz in insurance circles by creating software that allows traditional payers to automate the process of offering extremely short-term policies that cater to freelancers.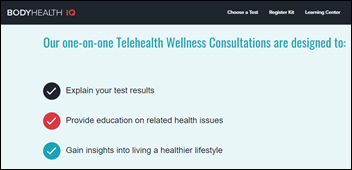 At-home testing company BodyHealth IQ adds online wellness consults to its list of services, giving consumers the ability to talk with a physician about their results.
---
Other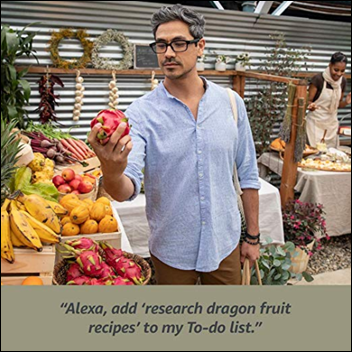 Dr. Jayne's latest Curbside Consult catches us up on the latest in voice-recognition technology for the exam room. Google Glass is apparently far from dead, as her conversation with Glass-powered scribing company Augmedix founding chairman Ian Shakil reveals. Given Amazon's forays into healthcare, I wonder if it will soon enter this territory, given last week's news that the company is introducing Echo Frames. Priced at $180, the specs give users access to Alexa, which providers and vendors have already been toying with as part of an invite-only developer program.
---
Sponsor Updates
Blog Posts
---
Contacts
More news: HIStalk.
Get HIStalk Practice updates.
Contact us online.
Become a sponsor.