Top News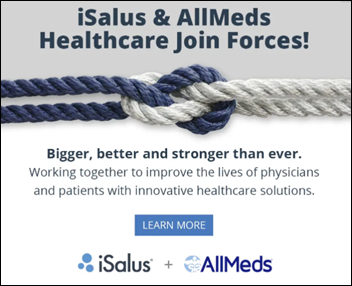 EverCommerce announces that it will combine two of its subsidiaries – EHR and practice management software developer ISalus Healthcare and RCM business AllMeds. Both are focused on specialty practices. The newly integrated company will expand offerings in telemedicine and chronic care management, and open a new facility in Knoxville, TN later this year.
---
Webinars
October 24 (Thursday) 1:00 ET. "The power of voice: Will AI-drive virtual bedside assistants become mainstream?" Sponsor: Orbita. Presenters: Nick White, co-creator of DeloitteAssist and principal in Deloitte's Smart Healthcare Solutions practice; Bill Rogers, CEO and co-founder, Orbita. Conversational AI and virtual health assistants are bringing new opportunities to care facilities to improve patient journeys and yield radical workflow efficiencies. Will the hospital rooms of the future continue to provide traditional bedside call buttons? Or will these be replaced with digitally reimagined, AI-driven, voice-powered agents? Learn from the expert who created today's industry-leading, market-proven, virtual bedside assistant.
Previous webinars are on our YouTube channel. Contact Lorre to present your own.
---
Acquisitions, Funding, Business, and Stock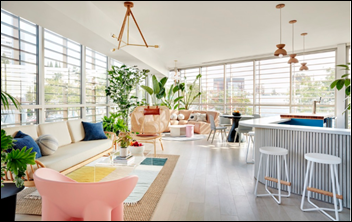 Less than a week after announcing $26 million in new funding, New York City-based Parsley Health opens its first membership-based primary care office in Los Angeles. The $150 monthly fee includes five office visits, five health coach visits, unlimited online messaging, and telemedicine capabilities.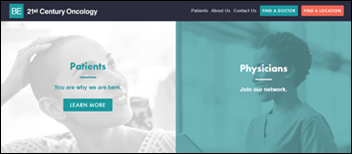 Cancer care company 21st Century Oncology is reportedly looking for a buyer. The Florida-based chain of treatment centers emerged from bankruptcy two years ago with a new CEO, Kim Commins-Tzoumakas, focused on helping it recover from a $2.3 million HIPAA violation and an investigation into improper Meaningful Use reporting. Insiders say a deal could value the company at as much as $1 billion.
---
Announcements and Implementations
The New Jersey Primary Care Association will work with LabCorp and population health management company HealthEC to develop a database and information exchange platform that will connect NJPCA's 23 community health centers.
---
Government and Politics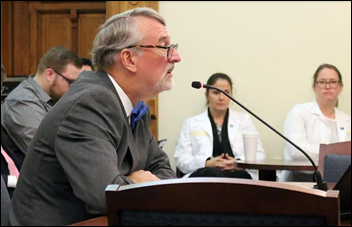 Members of the Indiana State Medical Association argue for exemptions from the January 1 deadline that will mandate the electronic prescribing of controlled substances within the state. Testifying before a committee at the Statehouse, Steve Tharp, MD pointed out that, "Our concern is for those practitioners who work in small practices or outside a large health system that have not yet adopted e-prescribing due to financial or technological barriers." He proposed exempting physicians who write no more than 100 prescriptions annually. Over 80 percent of the state's physicians already use e-prescribing.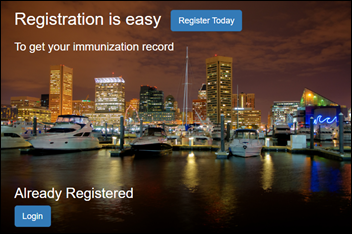 The Maryland Department of Health launches a portal that residents can use to access vaccination records without requiring physician consent. The portal, linked to the state's ImmuNet registry, is part of a pilot program funded by the HHS Office of the Chief Technology Officer.
---
Telemedicine

Avera Health's ECare telemedicine network will use a $4.3 million grant to develop a telehealth certificate program that, once completed, will help providers demonstrate training in the delivery of quality virtual care.

A study of 200 post-partum mothers finds that lactation consults via video can lead to higher breastfeeding rates. As someone who has had a lactation consultant on speed dial, I can just imagine the benefits video consults can bring to moms – especially those new to breastfeeding. Seeing the football hold versus hearing about it over the phone could make all the difference to an anxious mother who is ready to give up.
Cytta Corp. successfully conducts a real-time telemedicine consult between researchers at the Amundsen–Scott South Pole Station in Antarctica and stateside physicians.
---
Other
Charlotte Hornets owner Michael Jordan helps to open the new Michael Jordan Family Medical Clinic in Charlotte. The NBA legend donated $7 million to build the facility, which, as part of the Novant Health network, will cater to the needs of the under- and uninsured. Jordan's donation will also help to open a second facility.
---
Sponsor Updates
EClinicalWorks will exhibit at the TACHC Annual Conference October 21-22 in The Woodlands, TX.
Healthwise will exhibit at Allscripts ACE HHS October 21-23 in Dallas.
---
Contacts
More news: HIStalk.
Get HIStalk Practice updates.
Contact us online.
Become a sponsor.