Top News
Dialysis clinic operator Fresenius Medical Care North America announces GA of TheHub, a connected care platform offering patients, providers, and home therapy nurses access to real-time care coordination and remote monitoring tools.
---
Webinars
None scheduled soon. Previous webinars are on our YouTube channel. Contact Lorre to present your own.
---
My Walmart Health Experience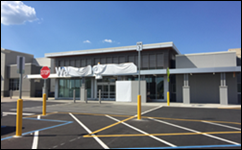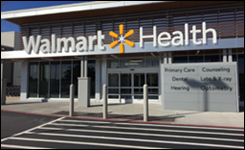 Imagine my surprise when I found out several months ago that Walmart would be opening its pilot Walmart Health clinic in my hometown of Dallas, GA. Of all the practices in all the towns in all the world … Professional curiosity prompted me to make the 12-minute drive to check it out before its official opening in late September. Necessity saw me take advantage of its services twice in nearly as many weeks, with both visits being on behalf of family members.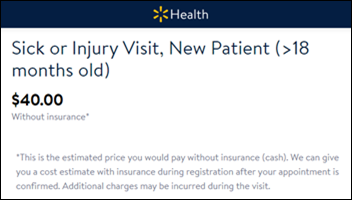 Thanks to media coverage of the clinic, I was already aware of its flat-rate, up-front pricing – a definite bonus for patients like me who don't have traditional insurance and thus always anticipate hidden charges and undisclosed fees any time I set foot in a healthcare facility.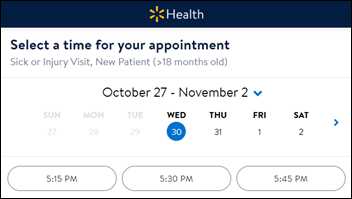 Setting up the appointments was easy. The Zotec-powered scheduling software made things quick and painless, even though I was registering a new patient. Appointment times were plentiful for our first visit. and I was thankful they were able to work us in on the same day for our second (even though no appointments were listed as available on the website).
Upon our first arrival, I noticed that the clinic's reception area was bright, spacious, and very modular in design – most of the furniture and décor looked as if it had come from Ikea. The waiting area had a children's nook, a self-serve beverage station, and several benches with built-in charging stations. What looked like a Silver Sneakers chair aerobics class was going on in an adjoining community room. Though there was a reception desk, I was greeted by an attendant, tablet in hand, who walked up to ask for ID, and then bade me have a seat. The only thing that made me aware I was at Walmart was the fact that the clinic's "back door" opened into the main store, prompting some customers to wheel their shopping carts through the waiting area.
During the short wait to be seen during our second visit, the attendant told me the clinic uses three software systems – Athenahealth and Orchard for labs. She couldn't remember the third, and so I can only speculate that it's a separate system for optometry, behavioral health, or dental.
After being called back, a medical assistant came in to the exam room to attend to vitals and patient history. I noticed on the way in that the clinic's inner office looked much like any other practice in terms of layout. I did think it odd that the director's office was made entirely of glass, affording no privacy or place for quiet contemplation.
The family physician who saw us was in fact the director, Anand Mehta, MD who came to the company after a stint with Wellstar – one of the largest health systems in the state. I appreciated his great bedside manner, and the fact that he asked me my thoughts about the clinic, many of which aligned with his reasons for taking the job – the ability to provide more affordable care to patients who would otherwise fall through the pricing/coverage cracks, and less bureaucracy for patients and providers alike.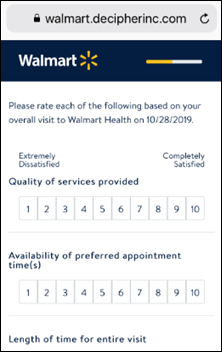 Checkout was easy, and the final cost was indeed the $40 listed on the website. The clinic texted me a post-appointment survey within several hours of my visit. I'll certainly recommend the clinic to family and friends, especially those who aren't attached to long-time providers.
Much has been made in the media of retail's attempts to get into healthcare. Walmart certainly has the size and scale to make the attempt, but that doesn't necessarily equate to success. Walgreens' decision to close many of its clinics highlights the fact that not every retailer's business model will work. From my experience, it seems like Walmart definitely has a shot.
---
Announcements and Implementations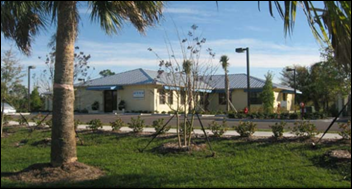 Charlotte Behavioral Health Care will implement the SmartCare EHR from Streamline Healthcare Solutions at its four locations in Punta Gorda, FL.
BetterPT and PromptEMR join forces to offer physical therapy clinics integrated software that includes EHR, RCM, practice management, and patient engagement capabilities.
---
People

Vijay Kotte (DaVita Medical Group) joins R1 RCM as EVP of physician services.
---
Other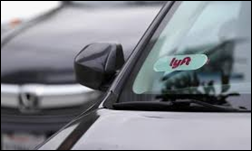 This seems like a good add-on to social determinants of health software: Lyft launches the Jobs Access Program to give eligible users free rides to job interviews and workplaces during the first three weeks of employment. The company's healthcare endeavors already include partnerships with health systems and Medicaid programs to offer patients rides to and from medical appointments, and integration with appointment-scheduling software from companies like Everseat.
---
Sponsor Updates
AdvancedMD will exhibit at the APTA PPS event October 30-November 2 in Orlando.
Blog Post
---
Contacts
More news: HIStalk.
Get HIStalk Practice updates.
Contact us online.
Become a sponsor.