Top News

Officials in Seat Pleasant, MD announce a $200 million remote patient monitoring effort aimed at caring for those most at risk for COVID-19, especially senior citizens and those in underserved areas.
The city will give 300,000 citizens Internet-equipped tablets with access to geriatric-focused telemedicine services from EagleForce and patient portal capabilities, including prescription data. The tablets will also interface with the city's Smart City Hub, automatically alerting health officials to chronic illness or virus symptoms and the need for additional resources.
---
HIStalk Practice Musings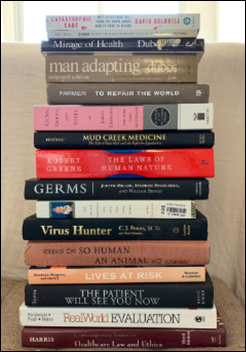 I've come across several folks sharing virus-related and/or public-health-inspired reading recommendations. Health & Human Rights Strategies founder and CEO Nicole Fisher shares her stack above. Click here for her larger twit pic.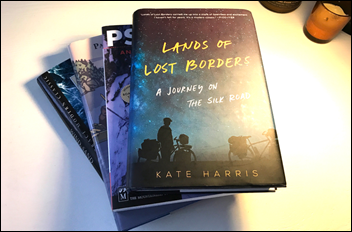 Need to reach for something that will take your mind off of things? Adventure Journal recommends these five books.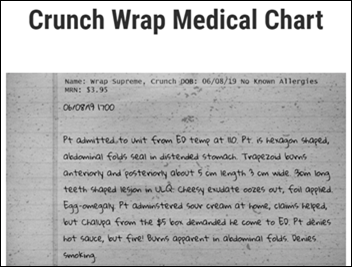 And finally, if you're looking for something totally out of left field, check out the Taco Bell Quarterly. (Warning: The language can be a bit spicy.)
---
Webinars
March 25 (Wednesday) 1 ET: "Streamlining Your Surgical Workflows for Better Financial Outcomes." Sponsor: Intelligent Medical Objects. Presenters: David Bocanegra, RN, nurse informaticist, IMO; Alex Dawson, product manager, IMO. Health systems that struggle with coordinating operating rooms and scheduling surgeries can increase their profitability with tools that allow for optimal reimbursement. This webinar will identify practices to optimize OR workflows and provider reimbursement, discuss how changes to perioperative management of procedures can support increased profitability, and explore factors that can impede perioperative workflow practices.
March 26 (Thursday) 12:30 ET. "How to Use Automation to Reduce 'My EHR is Slow' Complaints." Sponsor: Goliath Technologies. A common challenge is that a clinician is ready to work, but their technology is not. EHRs can be slow, logins not working, or printers and scanners are offline. Troubleshooting these end user tickets quickly is nearly impossible, especially in complex environments that might include Citrix or VMware Horizon. This webinar will present real-world examples of how leading health systems are using purpose-built technology with embedded automation and intelligence to proactively anticipate, troubleshoot, and prevent end user performance issue across their IT infrastructure and EHRs.
Previous webinars are on our YouTube channel. Contact Lorre to present your own.
---
Acquisitions, Funding, Business, and Stock

Aledade CEO and former ONC lead Farzad Mostashari, MD posts a tweet thread about the dire financial impact COVID-19 will have on independent practices. His main points:
Physicians are telling patients to stay away from practices, resulting in fewer visits and decreased payments, which then lead to layoffs.
Productivity is taking a nosedive in areas of outbreak as infected employees move to self-quarantine and practice owners worry about paying out sick leave and making payroll.
An emphasis on telemedicine visits has practices scrambling to implement new technology to conduct visits at lower reimbursement rates.
---
Announcements and Implementations

InteliChart adds EVisit's telemedicine capabilities to its Healthy Outcomes patient engagement software, including a pre-configured COVID-19 workflow that features virtual screening, triage, and treatment available for free through July.
---
Government and Politics
CMS will grant exceptions for reporting requirements and data-submission extensions for healthcare providers participating in Medicare quality reporting programs.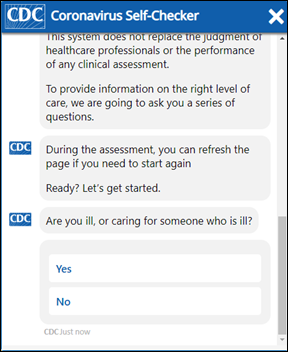 The CDC incorporates Microsoft's Healthcare Chat Bot into its COVID-19 online self-assessment tool.
Following its decision to expand access to telemedicine services for Medicare beneficiaries, CMS publishes a Telehealth Toolkit for General Practitioners.
As companies like Carbon Health, EverlyWell, and Nurx announce the release of testing kits for COVID-19, the FDA warns consumers that it has not approved any for at-home use.
---
Telemedicine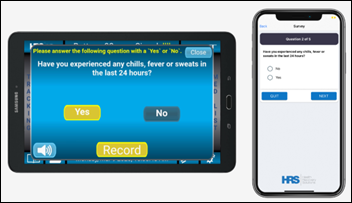 Health Recovery Solutions announces GA of a COVID-19 remote patient monitoring kit that includes software, tablet, several Bluetooth devices, and relevant clinical pathways.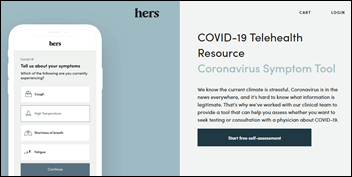 Online care companies Hims and Hers launch online COVID-19 screening assessments.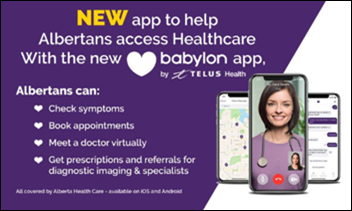 Health officials in Alberta, Canada, institute new billing codes to ensure physicians are paid equally for virtual and face-to-face visits. The move comes after physicians voiced their frustration with Alberta's launch of a free telemedicine app from Telus Health that they said undermined the virtual care services already in place at their practices, which were reimbursed at lower rates than in-clinic visits.
---
Other
HHS partners with Walmart to open drive-thru virus-testing locations at two of its stores in Chicago. The pilot phase will initially cater to healthcare workers and first responders, and process up to 150 tests per day.
Apple updates its Siri virtual assistant with information from the CDC and HHS to help users with questions about COVID-19.

Laura Jordhen, MD shares COVID-19 advice after working in Shanghai's United Family Xincheng Hospital as chief of its family medicine department:
In Shanghai, we have enough PPE to meet our needs. My message to U.S. family physicians has been that you can't combat this alone. It needs regional coordination. It needs planning for what if — for example — your rural care team is ill? If you're in a physician shortage area and your physician has been exposed and is out for 14 days, what is your contingency plan? This crisis requires groups and health systems to come together. They can say, "We're not seeing cough and cold patients at clinics A, B and C; they all go to clinic D because it has all the masks." That's how you can be good stewards of your resources. It's a really different way of organizing care.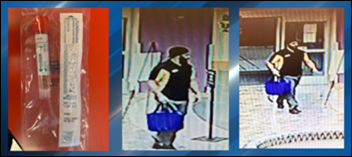 A thief poses as a delivery man to steal 29 COVID-19 testing kits from El Rio Health Center in Tucson, AZ.
---
Sponsor Updates
PerfectServe offers clients free COVID-19 automated patient and family outreach software and free services to implement best practices.
Blog Posts
---
Contacts
More news: HIStalk.
Get HIStalk Practice updates.
Contact us online.
Become a sponsor.