Top News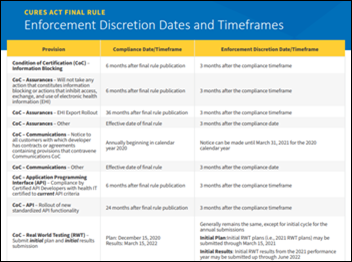 CMS, ONC, and the HHS Office of the Inspector General announce they will, to varying degrees, delay enforcing compliance with final interoperability rules so that healthcare stakeholders can focus on COVID-19-related operations.
Most relevant to this audience may be ONC's new timeframes for software developers.
---
HIStalk Practice Musings
I haven't had any personal experience with COVID-19, aside from the economic impact on various family members. I have, however, seen its indirect effects – both positive and negative on local, non-COVID patients: A friend has been at her wits' end trying to find care for her 85 year-old father in-law as he recovers from several strokes. She's told me his regular doctors have refused to see him because they are apparently no longer seeing patients above the age of 65. She was so relieved to find a home health agency that offers in-person and virtual visits to fill in his care gaps for the time being. On the flip side, my neighbor's emergency gall bladder removal earlier this week probably went more smoothly than in non-Covid times of care. He didn't wait long in the emergency room and his surgery, thankfully routine, happened not long after he was admitted. His wife was not thrilled that she couldn't visit him, though. Given that the hospital he went to is in one of the top five counties for COVID cases, I hope to eventually ask him about any noticeable changes to its operating procedures/standards of care.
Speaking of counties, I've found the daily COVID-19 statistics released by my state's department of public health invaluable in helping me understand how the virus is impacting my community. I've been visiting its COVID-19 landing page daily for about a month now, and it's been interesting to see how reporting of the data has changed as cases and testing have increased. They now seem to be entering a leveling-off phase, which is encouraging, though I'm not enough of a data-whisperer to infer that we've definitely flattened the curve. Thankfully, data is non-partisan.
---
Webinars
April 28 (Tuesday) 1 ET: "COVID-19: Managing an evolving patient population with health information systems." Sponsor: Intelligent Medical Objects. Presenters: Julie Glasgow, MD, clinical terminologist, IMO; Reeti Chauhan, senior product manager, IMO. IMO recently released new novel coronavirus descriptors to help clinicians accurately record diagnoses and also created free IMO Precision COVID-19 Sets to help identify and analyze patients with potential or documented infection. The presenters will discuss these new tools and describe how to use them optimally.
Previous webinars are on our YouTube channel. Contact Lorre to present your own.
---
Acquisitions, Funding, Business, and Stock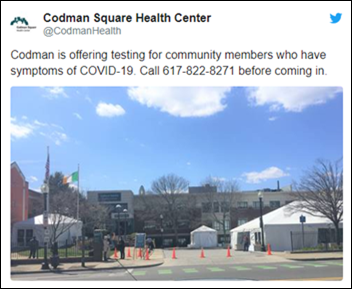 Massachusetts League of Community Health Centers CEO James Hunt, Jr. says recent federal grants will keep the state's 52 centers going for another six weeks, and that billions of dollars will be needed to keep programs stable over the next three to six months. Thirty-two centers are preparing to launch widespread COVID-19 testing and contact tracing efforts, despite a shortage of PPE.
---
Announcements and Implementations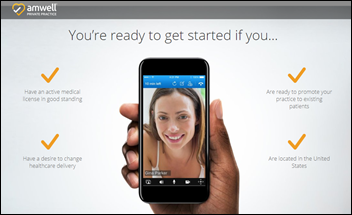 Amwell announces GA of white-label telemedicine capabilities for physician practices.
The National Association of Free & Charitable Clinics will offer member organizations access to Updox's telemedicine software and services.
---
Government and Politics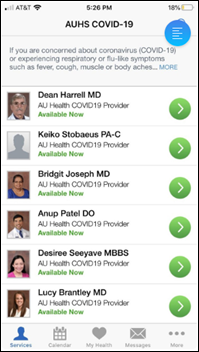 The State of Georgia expands a COVID-19 screening app developed by August University Health System to residents statewide. Those who qualify can make testing appointments with the department of public health through the app. Patients who test positive will then be asked to self-report symptoms and whereabouts through a portal developed by Google and MTX Group. Officials say data from the portal will be essential to boots-on-the-ground contact tracing efforts.
---
Research and Innovation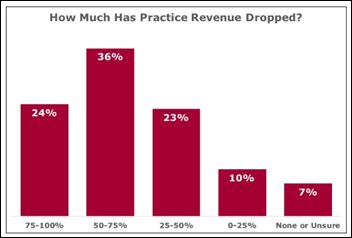 An informal survey of 2,000 physicians conducted during a call-in Texas Medical Association COVID-19 Town Hall finds that:
Twenty-four percent have lost between 75% and 100% of their revenue since the pandemic began.
Thirty-six percent have lost between 50% and 75% of their revenue.
Twenty-three percent have lost between 25% and 50% of their revenue.
Forty-one percent need more data on testing and testing options.
Nearly 75% began using telemedicine for the first time as of March 1.
---
Other

Value-based care practice management company Primary PartnerCare procures 5,000 N95 masks for the 100 independent physicians within its New York-based network. Sixty percent of its practices are still operating. A PCP study conducted in mid-April found that just under 50% of surveyed practices have enough patient volume and cash on hand to stay open through mid-May.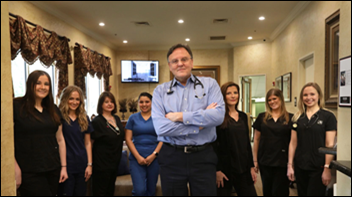 In Texas, Bent Tree Family Physicians President and CEO Guy Culpepper, MD expresses his frustration with the state of independent practice during COVID-19, the effects of which have forced him to furlough his entire staff and apply for a small business loan:
We believed that we would be receiving a loan from the government CARES program, so we kept working as hard as ever, actually much harder. Our phone calls overflowed with non-billable patient questions and problems. And we returned calls 24 hours a day. We preventing hundreds of people from going to the ER. We flattened the curve.

We did everything we thought we were supposed to do. We applied for a loan properly and on time at our long time bank, BB&T. But the $350 Billion dollars of small business loans went too quickly to other businesses, like Ruths Chris and Potbelly's. We didn't get a loan.

I don't know why America's essential workers, like BTFP, were not treated as essential loan recipients. I guess I trusted the system too much.
---
Contacts
More news: HIStalk.
Get HIStalk Practice updates.
Contact us online.
Become a sponsor.