Top News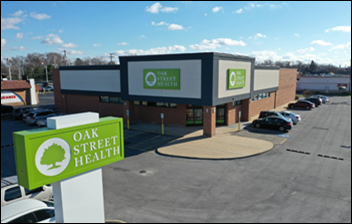 Renaissance Capital reveals that primary care company Oak Street Health confidentially filed for a $100 million IPO at the end of last year. The Chicago-based company serves Medicare patients in eight states.
While it may be a bit like comparing apples to oranges given their slightly different business models, it's worth noting that primary care company One Medical raised $245 million during its IPO at the beginning of this year, and has seen its stock surge from $14 to over $40 a share in the ensuing months.
---
Webinars
None scheduled soon. Previous webinars are on our YouTube channel. Contact Lorre to present your own.
---
Acquisitions, Funding, Business, and Stock

In Canada, clinic operator and EHR vendor Well Health Technologies will acquire the cybersecurity services of Cycura for $1.9 million.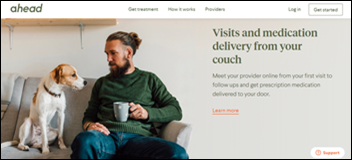 Mental healthcare startup Ahead raises $9 million in a funding round led by online B2B pharmacy company Truepill. The company operates its own clinics and offers virtual visits with its employed psychiatrists. It also offers prescriptions filled and delivered by Truepill through its patient portal.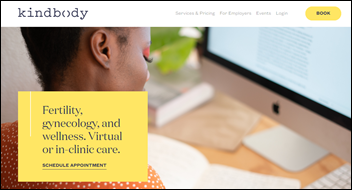 Technology-enabled women's care company Kindbody raises $32 million in a Series B round led by Perceptive Advisors. The business, which has raised $63 million so far, will use its latest investment to continue its national expansion and establish an international presence.
---
Announcements and Implementations
Puerto Rico-based consulting firm Bienestar Health Group will offer its ambulatory customers MTBC's TalkEHR as a white-labeled solution.
---
Government and Politics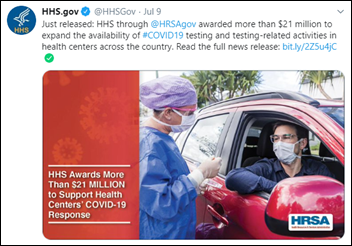 HHS awards $21 million to health centers across the country, with the majority going to expanding COVID-19 testing efforts.
---
Research and Innovation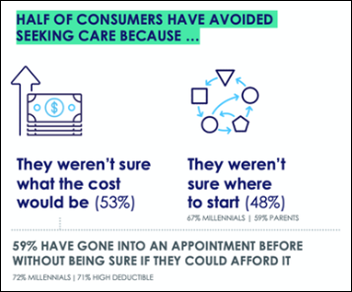 A survey of nearly 2,000 consumers finds that half have avoided seeking care in recent months, a circumstance no doubt related to the fact that most report not knowing the cost of treatment until months later and that every step of the care process is a chore. Not one survey-taker gave any of the survey's 29 tasks a score of "effortless." Findings like these, while not surprising, make me glad Walmart Health is right down the road. Up-front pricing and easy scheduling of same-day appointments, coupled with the fact that the medical director was poached from a well-known health system, make it an almost effortless choice for my basic healthcare needs.
Prescription delivery company MedMinder develops a telemedicine-enabled pill dispenser that enables users to connect with members of their healthcare team via touchscreen, connect with other devices via Bluetooth, and view information about their medications.
A Black Book survey of 4,400 providers finds that just 26% of primary care physicians have been satisfied with telemedicine visits during the pandemic, compared with their more-pleased colleagues in behavioral health and other specialties. Top concerns with virtual visits include a lack of interoperability and enough data for care continuity, reimbursement parity, and the generation of useless data. Respondents feel that less than 10% of visits will be conducted virtually once the COVID-19 crisis is over.
---
Other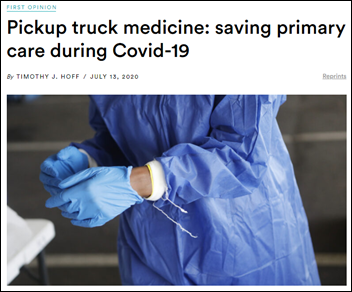 STAT offers a thoughtful glimpse into the ways primary care physicians in New York kept caring for patients during the early days of the pandemic, often resorting to technological workarounds like setting up WiFi hotspots in their parking lots so that patients could park and engage in virtual visits.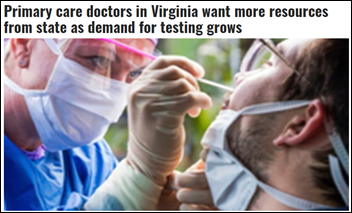 Physicians across the country are still dealing with PPE shortages, as local news reports in Virginia and Maine attest. "Practices are still reusing the same N95 mask that they've had for the last month, two months," says pediatrician Sandy Chung, MD. "The places that do sell us PPE, it's at three to five times the normal cost. So at the same time that practices have reduced revenue because of all the reduced visits, we're being asked to pay extra."
---
Contacts
Mr. H, Lorre, Jenn, Dr. Jayne.
Get HIStalk updates.
Send news or rumors.
Contact us.