Top News
Canadian primary care company Well Health Technologies strengthens its presence in the US with the pending acquisition of CRH Medical Corp. for $369 million. CRH provides anesthesia services at 69 ambulatory surgery centers and gastrointestinal clinics across 13 states.
Well Health, which is one of Canada's largest EHR vendors, acquired San Francisco-based primary care company Circle Medical for $14 million in September.
---
HIStalk Practice Musings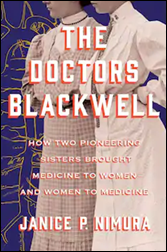 Dr. Jayne reminded readers last week of National Women Physicians Day, which occurs on February 3 to honor the birthday of Elizabeth Blackwell, who in 1849 became the first woman to achieve a medical degree in the United States. Readers may want to check out "The Doctors Blackwell," which recounts the journey of Elizabeth and her sister, Emily, to becoming physicians.
---
Webinars


February 24 (Wednesday) 1 ET. "Maximizing the Value of Digital Initiatives with Enterprise Provider Data Management." Sponsor: Phynd Technologies. Presenters: Tom White, founder and CEO, Phynd Technologies; Adam Cherrington, research director, KLAS Research. Health systems can derive great business value and competitive advantage by centrally managing their provider data. A clear roadmap and management solution can solve problems with fragmented data, workflows, and patient experiences and support operational efficiency and delivery of a remarkable patient experience. The presenters will describe common pitfalls in managing enterprise information and digital strategy in silos, how to align stakeholders to maximize the value of digital initiatives, and how leading health systems are using best-of-breed strategies to evolve provider data management.
Previous webinars are on our YouTube channel. Contact Lorre to present your own.
---
People

EQHealth Solutions names Mac Fuselier (David Raines Community Health Centers) CFO.
---
Research and Innovation
Canadian researchers find that virtual visits accounted for 71% of all visits between March and July of 2020, a dramatic increase compared to the 1.2% of virtual visits that occurred during the same timeframe in 2019. Nearly 33% of patients would prefer virtual care as their first point of contact after the pandemic.
---
Other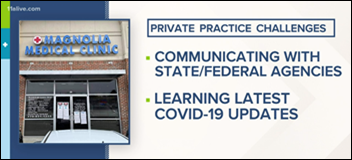 In Gwinnett County, Georgia, Magnolia Medical Clinic co-owner Ravi Shah, MD tells the local news that his practice's biggest challenges during the pandemic have been staffing and a lack of funding to hire more people, fighting price gouging for PPE, communicating with state and federal health agencies, and staying on top of COVID-19 updates. Shah says they are committed to moving forward, even when stretched thin because of staff COVID diagnoses or quarantining. His father and practice founder Suresh Shah was hospitalized for COVID for one month – the only time in 30 years he's missed more than a week of work.
Fast Company looks at the healthcare industry's shift toward telemedicine and the increasingly likelihood of financially struggling practices and burnt out physicians to make the leap to full time digital care. It also points out that traditional telemedicine companies like MDLive and Doctor on Demand are now having to think beyond urgent care services to differentiate themselves from competitors and traditional practices that have gone digital. Incorporating primary care services, where a patient sees the same physicians for treatment, seems to be the shiny new differentiator companies like Amwell and Teladoc are pursuing.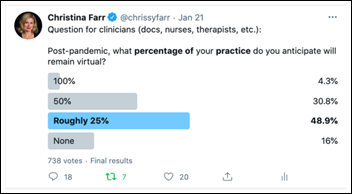 Meanwhile, this article serves as a reminder that many patients and practitioners will always prefer in-person appointments. The hype around telemedicine will likely wane as healthcare facilities begin to eventually see a more consistent mix of virtual and in-person patients. "Most people still want to see people," says Private Medical founder Jordan Shlain, MD. "And that goes both ways, with the doctors and the patients."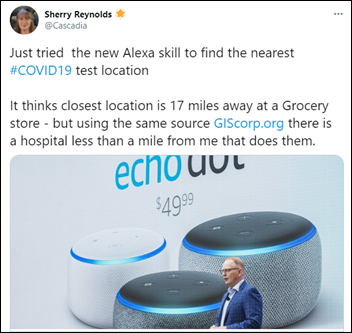 Amazon adds a new Alexa feature that helps users find the nearest COVID-19 testing site.
---
Sponsor Updates
Nordic, for the third year in a row, is the only firm with a rating higher than 90 across seven or more "Best in KLAS" categories.
Medicomp Systems CMO Jay Anders will present at Health Datapalooza February 18.
Blog Posts
---
Contacts
More news: HIStalk.
Get HIStalk Practice updates.
Contact us online.
Become a sponsor.