Top News
Ambulatory health IT vendor CareCloud reports record Q3 revenue of $38.3 million, a 21% increase over Q3 2020. The company attributes the numbers to organic growth and the June acquisitions of Santa Rosa Staffing and MedMatica Consulting – now known as MedSR.
MTBC acquired CareCloud in January 2020 for $17 million in cash and $41 million in total consideration.
---
Webinars
November 9 (Tuesday) noon ET. "The Next Generation of Identity Resolution in Healthcare." Sponsor: Verato. Presenters: J.P. Lugo, solution architect, Verato; Nick Orser, solution architect, Verato. This webinar will provide an overview of person-matching in healthcare, how challenges can be overcome with Verato Referential Matching, and how person-matching technology can support Customer 360, marketing, analytics, IT, and more.
November 10 (Wednesday) 1 ET. "Too Important to Fail: How to Bring Better AI to Healthcare." Sponsor: Intelligent Medical Objects. Presenters: Dale Sanders, chief strategy officer, IMO; Marc d. Paradis, VP of data strategy, Northwell Health. It's relatively easy to obtain healthcare data and build an AI demo, but getting AI to perform reliably and with meaningful impact is much harder. However, strategies exist for delivering AI products to commercial markets. This fireside chat will review the status of AI in healthcare; discuss the vital importance of data quality, methodological rigor, and product focus; and explore what this means to the startup and investor world.
November 11 (Thursday) 1 ET. "Increasing OR Profitability: It May Be Easier than you Think." Sponsor: Copient Health. Presenters: Michael Burke, co-founder and CEO, Copient Health; David Berger, MD, MHCM, CEO, University Hospital of Brooklyn at State University of New York Downstate Health Sciences University. The OR is a hospital's biggest source of revenue and its costliest resource, yet it often sits idle because of unfilled block time even as providers with cases ready to book lack access. AI-powered emerging technologies can help fill unused OR time and provide decision support to structure workflows and optimize block allocation. This webinar explores the biggest challenges to profitability faced in the OR and the fastest, most impactful changes a hospital can make to address them.
Previous webinars are on our YouTube channel. Contact Lorre to present your own.
---
Announcements and Implementations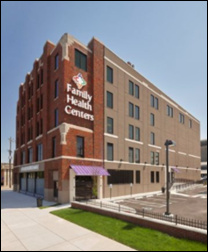 Family Health Centers will transition to EClinicalWorks at its eight facilities in Louisville, KY.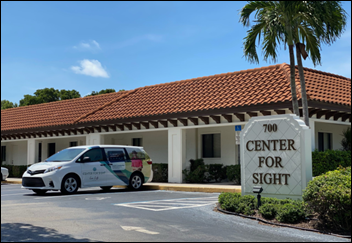 US Eye, a Southeastern network of 50 offices and five ambulatory surgery centers, selects Nextech's IntelleChartPro EHR.
---
Research and Innovation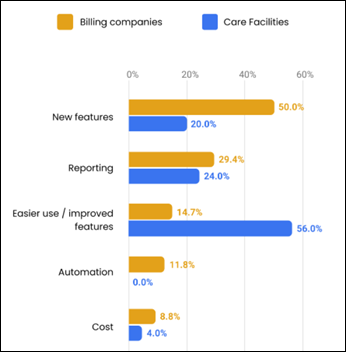 A LightningMD survey of 200 medical billers and providers finds that, when it comes to satisfaction with medical billing software, end users most want new features, improvement of existing features, and improved reporting functionality.
---
Other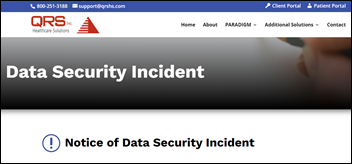 EHR and practice management vendor QRS Healthcare Solutions has announced it was the victim of a cyberattack in August that compromised a server dedicated to the patient portal of several customers. QRS began notifying patients on behalf of its customers in late October.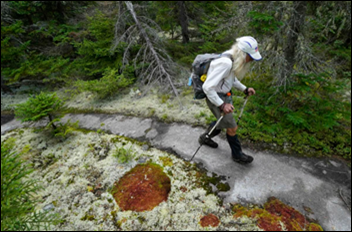 Eighty two year-old retired optometrist M.J. "Sunny" Eberhart becomes the oldest person to hike the Appalachian Trail. Known on the trail as Nimblewill Nomad, Eberhart hiked the trail out of order to take advantage of good weather conditions. He averaged eight hours of trekking a day. Eberhart is no stranger to hikes, having hiked from the Florida Keys to Northern Quebec, from Newfoundland to Chicago, and from Chicago to California on Route 66.
---
Sponsor Updates
Blog Posts
---
Contacts
More news: HIStalk.
Get HIStalk Practice updates.
Contact us online.
Become a sponsor.