Top News
Well Health Technologies acquires CognisantMD, a Canadian developer of patient engagement and referral software, for nearly $14 million.
---
HIStalk Practice Announcements and Requests
Thanks to Healthwise for recently supporting HIStalk Practice. Click the logo for more information.
---
Webinars
December 8 (Wednesday) 1 ET. "What Lies Ahead for the EHR's Problem List." Sponsor: Intelligent Medical Objects. Presenters: James Thompson, MD, physician informaticist, IMO; Deepak Pillai, MD, MBA, physician informaticist, IMO; Jonathan Gold, MD, MHA, MSc, physician informaticist, IMO. The EHR problem list can be cluttered with redundant, missing, and outdated diagnoses, and displays don't always help clinicians process the available data correctly. The presenters will discuss how improvements in creating, maintaining, and displaying problems could reduce errors and decrease the cognitive load of clinicians while continuing to optimize reimbursement.
December 9 (Thursday) 1:30 ET. "Cone Health: Creating Extreme Efficiencies in Surgical Services." Sponsor: RelayOne. Presenters: Wayne McFatter, RN, MSN and Sharon McCarter, RN co-directors of perioperative services, Cone Health. The presenters will discuss how they have empowered the entire surgical care team, including vendor representatives, to get real-time access to surgery schedules and case requirements in the palms of their hand. RelayOne CEO Cam Sexton will also present the findings of a recent study of 100 hospital leaders regarding their operating room optimization plans for 2022.
December 14 (Tuesday) 1 ET. "Using Cloud to Boost AI and Enterprise Imaging." Sponsor: CloudWave. Presenters: Larry Sitka, MS, VP/CSIO of enterprise applications, Canon Medical Informatics; Jacob Wheeler, MBA, senior product manager, CloudWave. Enterprise imaging has remained a holdout of data center complexity despite the benefits the cloud offers. The presenters will discuss innovative ways to reduce complexity and lead with disruptive technology using AI, enterprise imaging, and the cloud.
December 15 (Wednesday) 1 ET. "Improve Efficiency, Reduce Burnout: Leveraging Smart Clinical Communications." Sponsor: Spok. Presenters: Matt Mesnik, MD, chief medical officer, Spok; Kiley Black, MSN, APRN, director of clinical innovation, Spok. The presenters will identify the technologies that most often contribute to clinician burnout, then explain how improving common clinical workflows can help care teams collaborate better and focus on what they do best—taking care of patients. They will describe how a clinical communication and collaboration platform can automate clinical consults and code calls to alleviate burnout.
Previous webinars are on our YouTube channel. Contact Lorre to present your own.
---
Acquisitions, Funding, Business, and Stock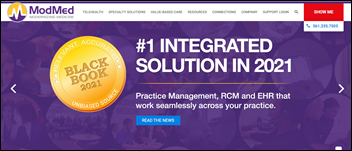 Ambulatory health IT vendor Modernizing Medicine officially rebrands to ModMed.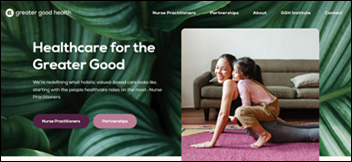 Greater Good Health launches as a network for nurse practitioners that will focus on offering NPs value-based care training, technology tools, clinical resources, and professional connections. Its goal is to equip NPs with the tools and connections they need to alleviate staffing shortages in primary care. Founder and CEO Sylvia Hastanan has spent time at GE Healthcare, DaVita Medical Group, and Optum.
---
Announcements and Implementations
Allied Digestive Health in New Jersey selects billing and patient engagement software from Athenahealth.
The Virginia Healthcare Association will implement I2I Population Health's PriZim analytics to help its members improve their access and quality initiatives.
---
Government and Politics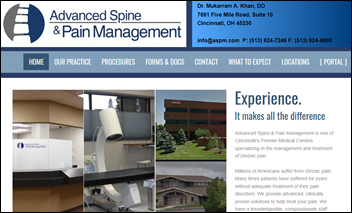 Advanced Spine & Pain Management in Cincinnati will pay HHS $32,150 to settle allegations that it failed to provide a patient with a copy of his medical records in a timely manner.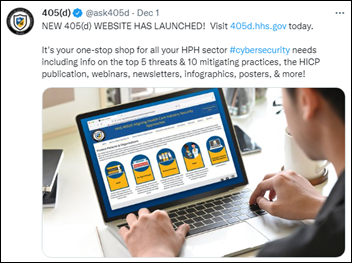 HHS launches a cybersecurity resource website associated with its Aligning Health Care Industry Security Approaches Program.
---
Research and Innovation

The Patient-Centered Outcomes Research Institute allocates $23.5 million for research projects that will use virtual care technologies to help patients with smoking cessation, pain management, and depression.
---
Other
Gulf Power and PanCare Health (FL) surprise local school telehealth nurse Amber Hartman, LPN with a Christmas lights display. PanCare Florida Telehealth Director Brandon Luke, who nominated Hartman for the holiday makeover, says, "She's great, all of the parents, faculty, the principal, the students … everyone loves her."
---
Sponsor Updates
Blog Posts
---
Contacts
More news: HIStalk.
Get HIStalk Practice updates.
Contact us online.
Become a sponsor.