Top News
Surgeon General Vivek Murthy, MD releases an advisory on addressing and combatting health worker burnout. The advisory offers fairly in-depth action items for stakeholders across the care continuum including provider organizations; federal, state, local, and tribal governments; payers; and healthcare technology vendors. Sadly, it seems that, according to Murthy, health IT companies are still struggling with:
Designing technology to serve the needs of health workers, care teams, and patients across the continuum of care.
Designing platforms with the goal of interoperability at the outset.
Strengthening integration of data across different platforms and health sectors.
Improving seamless storage of and access to health data.
---
Webinars
None scheduled soon. Previous webinars are on our YouTube channel. Contact Lorre to present your own.
---
Acquisitions, Funding, Business, and Stock
Well Health Technologies combines its EMR Group, billing and RCM, and several digital application businesses into its new Provider Solutions Business Unit.
---
People

Elation Health names Amanda Melander (Athenahealth) SVP and head of marketing.

Scott Weingarten, MD (Cedars-Sinai) joins Vytalize Health as chief value officer.
---
Other
Drummond Group launches a pediatric health IT certification and pilot initiative that will help vendors comply with the ONC's voluntary EHR certification requirements. Pilot participants include NextGen, Office Practicum, and PCC. The pilot will wrap up in July, after which Drummond Group will finalize test scripts based on recommendations from ONC, HL7, and ARHQ.
Marketplace looks at the increasing urgency with which healthcare practices are messaging patients to leave online reviews. "Tone-deaf timing," as one patient put it, is a big turn off, as is the feeling that patients are being badgered to do a practice's marketing for them. Zen Media CEO Shama Hyder advises practices to wait one to two days before sending review requests: "You don't want to go so long that a patient has completely moved on with their life and forgotten about their experience. Or worse yet, had a rough experience and already decided to share that on a public forum."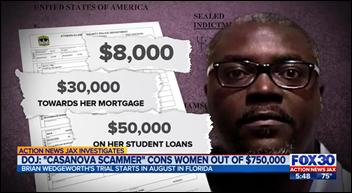 Brian Wedgeworth, aka the "Casanova Scammer," pleads guilty to 25 counts of wire fraud, mail fraud, aggravated identity theft, and money laundering after a five-year stint of swindling money from more than 30 women. Wedgeworth's schemes involved posing as a doctor and convincing his victims he needed money to pay off his medical practice's debts.
---
Sponsor Updates
Nordic posts another episode of its monthly "DocTalk" series titled "Soft Interoperability.
Nordic publishes a video titled "Modernizing Healthcare Data Infrastructure with the Cloud."
Nordic transitions the Tasman brand, and its presence in Europe and the Middle East, to the Nordic global brand.
Blog Posts
---
Contacts
More news: HIStalk.
Get HIStalk Practice updates.
Contact us online.
Become a sponsor.