Top News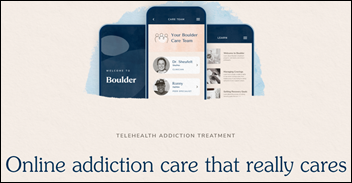 Substance use disorder telemedicine startup Boulder Care raises $36 million in a Series B round that brings its total funding to $50 million.
The Oregon-based company, launched in 2017 by CEO Stephanie Strong, now has 100 employees. It offers its app-based program directly to consumers and by referral from providers and other healthcare organizations.
GeekWire reports that the company got a "boost" during the pandemic when the federal government waived the requirement for an in-person visit for providers to prescribe Suboxone, which is used to treat opioid addiction. It's a situation similar to the one in which now-embattled telemedicine company Cerebral found itself in with regard to its easier ability to prescribe medications without an in-person visit. That company, founded just two years ago, now faces federal scrutiny for its prescribing practices.
---
Webinars
None scheduled soon. Previous webinars are on our YouTube channel. Contact Lorre to present your own.
---
Acquisitions, Funding, Business, and Stock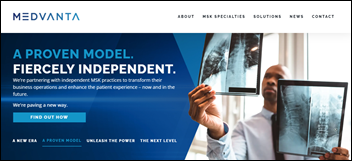 MedVanta launches as a managed services organization designed to help independent orthopedic and musculoskeletal practices thrive. The founders have based the new company's business model on The Centers for Advanced Orthopaedics, an independent medical group that they launched in 2013.
---
Government and Politics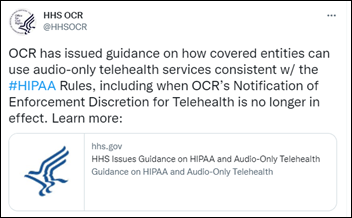 HHS issues guidance on how covered healthcare entities can conduct audio-only telehealth appointments in a HIPAA-compliant manner.
---
Research and Innovation

An Athenahealth survey of 743 physicians finds that satisfaction with interoperability-enhancing technology is lacking when it comes to sharing information with providers outside of their EHR network. Not surprisingly, 80% of respondents find this lack of data-sharing capabilities stress-inducing. Surveyed physicians believe a lack of coordination among different facilities and a lack of desire among EHR vendors are the biggest contributors to the interoperability issue.
---
Other

Geoffrey Fowler, The Washington Post's technology columnist, attempts to provide some clarity around the health data-mining practices of companies like patient intake software vendor Phreesia, which uses the data of consenting patients to serve up pharmaceutical ads related to their specific health histories and current issues. Patients who opt out of the data-mining practice (Phreesia doesn't release that figure) aren't supposed to see any difference in their ability to use the company's technology. But as one doctor jadedly told a patient, one of Fowler's sources, "Your information is all over the web anyhow!"
---
Sponsor Updates
Blog Posts
---
Contacts
More news: HIStalk.
Get HIStalk Practice updates.
Contact us online.
Become a sponsor.