Top News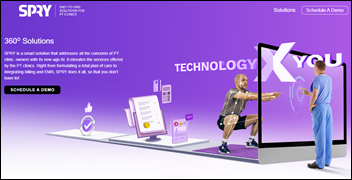 Physical therapy-focused practice management software startup Spry raises $7 million in a funding round led by Eight Roads Ventures.
---
Webinars
July 12 (Tuesday) 1 ET. "Digital Data Stewardship for Trusted, High-Quality Data Exchange." Sponsor: Clinical Architecture. Presenter: Carol Graham, MS, RN, product manager, Clinical Architecture. Organizations face challenges in ensuring that the patient data they received and send is consistent, accurate, and usable. Use cases include receiving multi-source data across health information networks with variation in formats and content; merging and de-duplicating provider, payer, and research data; uplifting legacy data for current use cases and formats; and normalizing and formatting data for public health surveillance, quality measure reporting, and providing directly to the patient. This webinar will cover Pivot, a comprehensive Digital Data Steward solution that orchestrates format harmonization, content (vocabulary) normalization, de-duplication, and data quality validation into a single solution.
Previous webinars are on our YouTube channel. Contact Lorre to present your own.
---
People

DispatchHealth promotes Reza Alavi, MD (Optum) to president of its Advanced Care hospital-at-home program.
---
Announcements and Implementations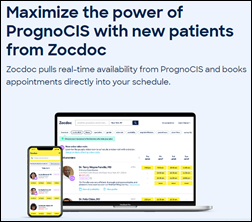 Bizmatics integrates Zocdoc's appointment finder and booking software with its PrognoCIS EHR.
Therapy Brands makes its pediatric Fusion EHR, practice management, and billing system available to physical, occupational, and speech therapy practices serving adult patients.
---
Research and Innovation
Patient preferences for online conveniences are growing, according to a Phreesia survey of 4,136 patients:
An average of 83% say they'd book or reschedule an appointment online if given the option.
Sixty-four percent prefer to see providers who offer online check-in; 29% consider it a must-have when selecting a provider.
Seventy percent would opt for online payments if given the option.
Nearly 90% have digitally messaged their physician; 41% say it's also a must-have.
---
Other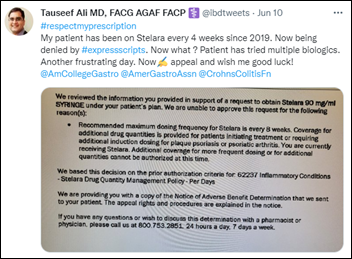 The American Medical Association highlights physician (and patient) frustrations with prior authorization denials. Several, including Tauseef Ali, MD have taken to Twitter to post de-identified denial letters: "Patients 'love it – and they get very excited and encouraged that there is a doctor who is advocating on their behalf.'"
Other physicians take a more satirical route. I'd label it as comedy if patient lives weren't on the line.
---
Sponsor Updates
AdvancedMD recognizes Product Developer Kylie Jensen with a FIT Award.
Nordic posts DoctTalk Ep. 106, "Redefining health for a new era of care."
Blog Posts
---
Contacts
More news: HIStalk.
Get HIStalk Practice updates.
Contact us online.
Become a sponsor.