Top News
Kins announces a seed funding round of $7.2 million. The Boston-based company offers its virtual and in-home physical therapy programs to payers and directly to consumers. CEO Dan Smith was formerly head of Asics Digital, which included overseeing the development and management of the footwear company's RunKeeper app.
---
Webinars
July 12 (Tuesday) 1 ET. "Digital Data Stewardship for Trusted, High-Quality Data Exchange." Sponsor: Clinical Architecture. Presenter: Carol Graham, MS, RN, product manager, Clinical Architecture. Organizations face challenges in ensuring that the patient data they received and send is consistent, accurate, and usable. Use cases include receiving multi-source data across health information networks with variation in formats and content; merging and de-duplicating provider, payer, and research data; uplifting legacy data for current use cases and formats; and normalizing and formatting data for public health surveillance, quality measure reporting, and providing directly to the patient. This webinar will cover Pivot, a comprehensive Digital Data Steward solution that orchestrates format harmonization, content (vocabulary) normalization, de-duplication, and data quality validation into a single solution.
Previous webinars are on our YouTube channel. Contact Lorre to present your own.
---
People

Virtual musculoskeletal medical practice Vori Health names John Walsh (Zipari) CTO.
---
Government and Politics

CMS announces the Enhancing Oncology Model, a new five-year payment program designed by the Center for Medicare and Medicaid Innovation that will incentive oncology practices to improve the delivery of high-quality, coordinated care, including social support, and improves patient and caregiver support. Participating practices will provide enhanced services that include patient navigation, care planning, collection of electronic patient-reported outcomes, and screening for social needs.
---
Research and Innovation
A survey of 50 leaders at FQHCs across the country finds an overwhelming majority are determined to remain independent, and nearly 75% are willing to work with similar organizations and pool data for greater insights into workforce and service line trends, patient populations, payment models, and the impact of regulatory requirements and Medicaid expansion.
---
Other

Interesting: I noticed a local McDonald's advertising telemedicine benefits as part of a hiring push. Turns out the company offers full- and part-time employees access to virtual care benefits that include 10 free urgent or mental healthcare visits per year. I wonder how many employees take advantage of the benefit. Having been self-insured now for several years, I also wonder how common telemedicine is as a benefit included within a health plan or as an employer add-on. Is it par for the course these days, or definitely a perk? Readers, please weigh in.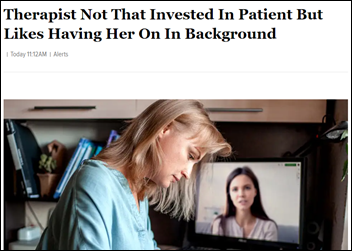 Hopefully, telemedicine hasn't become so routine that The Onion's portrayal of virtual care providers is anywhere near accurate.
---
Sponsor Updates
The Health Information Resource Center recognizes Healthwise with seven Digital Health Awards for its medical illustrations and health education videos.
Medicomp Systems releases a new Tell Me Where It Hurts Podcast, "On Innovation with Dr. Nick van Terheyden."
Blog Posts
---
Contacts
More news: HIStalk.
Get HIStalk Practice updates.
Contact us online.
Become a sponsor.