Top News

Carequality expands its interoperability framework to allow the participation of federal agencies. The expansion comes courtesy of updated agreements with existing member EHealth Exchange, which offers federal agencies HIE capabilities.
Implementers of the Carequality framework includes customers of ambulatory HIT vendors like Athenahealth, EClinicalWorks, NextGen, PCC, Allscripts, and Epic.
Mr. HIStalk interviewed Mariann Yeager, CEO of The Sequoia Project, Carequality's parent organization, earlier this year.
---
Webinars
August 10 (Wednesday) 12:30 ET. "Navigating healthcare's data quality challenge: An actionable discussion." Sponsor: Intelligent Medical Objects. Presenters: Alastair Allen, CTO, Better; Dale Sanders, chief strategy officer, IMO. Achieving a consolidated patient record is challenging in an environment of hospital M&A, where EHR rip-and-replace projects are expensive and HIEs and FHIR connectivity haven't significantly accelerated progress. The underlying problem is that systems don't speak the same language due to a lack of comprehensive, persistent clinical terminology and data standards adoption. UK-based Better offers a unique, FHIR-based approach to integrating disparate EHR data. The presenters will explore how to improve clinical data quality and how interoperable information can be used to support patient safety, reimbursement, and population health management.
Previous webinars are on our YouTube channel. Contact Lorre to present your own.
---
Announcements and Implementations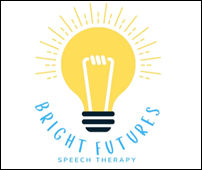 Bright Futures Speech Therapy in San Diego selects Kareo's EHR, practice management, and billing software.
---
Research and Innovation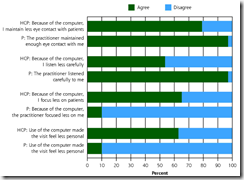 A study of 59 end users and 1,000 patients finds there's a bit of a disconnect between perceptions of EHR utilization: Just one third of clinicians felt that patients perceived EHR use to be a positive experience. The majority of clinicians reported that, because of the EHR, they maintained less eye contact, listened less carefully, and focused less on their patients – all of which they felt contributed to less personal appointments. Patients felt otherwise, with nearly 92% reporting that their clinician's use of an EHR was positive.
A survey of 1,000 patients finds that they typically give a practice four chances before seriously considering switching providers. Ease of payment, ability to make online appointments, digital access to medical records, and receptiveness to new technology were cited as factors that help to retain patients.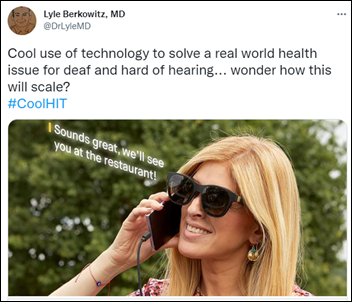 Innovators develop XRAI Glass, smart glasses for people who are deaf or suffer from hearing loss that use augmented reality to convert audio into captions that are displayed in front of the wearer's eyes.
---
Other
Summer's not over yet: AMA members recommend five novels and eight nonfiction books to add to your summer reading list.
We still have Internet (in case those venomous possums come calling).
---
Contacts
More news: HIStalk.
Get HIStalk Practice updates.
Contact us online.
Become a sponsor.