Top News
Drummond Group, the certifying body for ONC's Health IT Certification Program, launches a Pediatric Health IT Certification program to help health IT vendors advance pediatric EHR capabilities.
---
HIStalk Practice Musings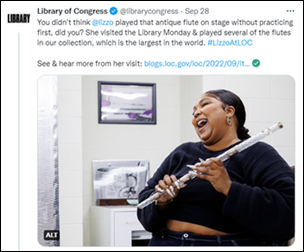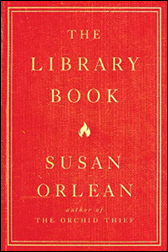 The Library of Congress' recent tweet thread documenting Lizzo's visit and tour of the library's antique flute collection reminded me of Susan Orlean's "The Library Book," which I read several weeks ago. It's a history of the Los Angeles Central Library, and pays special attention to the fire that nearly forced its closure back in the 80s. Orlean wove in the library's history, from its founding in the early 20th century and the variety of eccentric head librarians who took it in several different directions, to its vast collections of all sorts of things you'd never think a library would have. It's worth a read if, like me, you've been in and out of libraries since before you could read.
I had no idea October is National Book Month: UTHealth Houston clinical psychologist Jennifer Bahrman says that reading a book for just 10 minutes a day will lead to greater intelligence, longer memory, improved relaxation, higher scores, more empathy, and increased success. No wonder a book at the beach (not to mention a book at bedtime accompanied by a bit of chocolate) puts me in such a relaxed mood!
---
Webinars
October 12 (Wednesday) 1 ET. "In Praise of the Problem-Oriented Medical Record (POMR)." Sponsor: Intelligent Medical Objects. Presenters: Amanda Heidemann, MD, CMIO, KeyCare; Amber Sieja, MD, senior medical director of informatics, UCHealth and Ambulatory Services; Jim Thompson, MD, physician informaticist, IMO. The problem-oriented medical record – initially developed in the 1960s by Lawrence Weed, MD – brought important structure to paper charting, and in particular, the problem list. Yet, today, the tool that was once the gold standard for organizing and making sense of patient history is often cluttered and unmanageable. Fortunately, tools and strategies exist to help make the problem list more meaningful, helping to synthesize patient data, highlight insights, and support patient care. The expert panel will share their experiences with POMR, including documentation practices and tools to improve workflows and efficiency, the impact of POMR and charting on the overall health of a patient, and the challenges and obstacles clinicians face when practicing POMR and charting and how they can be overcome.
October 18 (Tuesday) 2 ET. "Patient Payment Trends 2022: Learn All The Secrets." Sponsor: Mend. Presenter: Matt McBride, MBA, co-founder and CEO, Mend. Many industries offer frictionless payments, but healthcare still sends paper bills to patients who are demanding modern conveniences. This webinar will review consumer sentiment on healthcare payments, recent changes to the Telephone Consumer Protection Act that create opportunities for new patient financial engagement, and new tactics to collect more payments faster from patients.
Previous webinars are on our YouTube channel. Contact Lorre to present your own.
---
Announcements and Implementations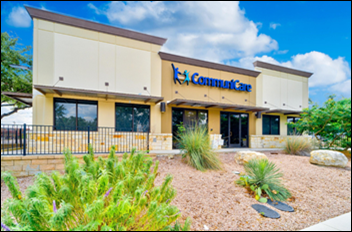 CommuniCare implements EClinicalWorks across its 22 sites in Texas.
The New Mexico Behavioral Health Services Division will work with consulting firm Via Positiva to help local providers adopt the Certified Community Behavioral Health Clinic model, a federal program designed to ensure access to coordinated and comprehensive behavioral healthcare.
---
Research and Innovation
A healthcare satisfaction survey of 1,000 consumers finds that 41% will change providers because of poor patient engagement, while 38% would consider changing due to a lack of personalization. When it comes to non-traditional healthcare settings, just 10% of seniors feel comfortable with telemedicine, while 66% would feel comfortable visiting retail clinics.
---
Contacts
More news: HIStalk.
Get HIStalk Practice updates.
Contact us online.
Become a sponsor.