Top News
Behavioral health EHR vendor CentralReach opens a 25,000 square-foot collaborative work space in the Bell Works development in Holmdel, NJ. The company currently employs nearly 400 people, all of whom work remotely, and plans to hire an additional 100 in the coming months.
---
Webinars
None scheduled soon. Previous webinars are on our YouTube channel. Contact Lorre to present your own.
---
People

J. Paul O'Haro (Advantedge Healthcare Solutions) joins PracticeSuite as COO.
---
Announcements and Implementations
Stigler Health & Wellness Center and Central Oklahoma Family Medical Center, both FQHCs located in Oklahoma, selects tech-enabled lung cancer screening and follow-up care coordination services from Oatmeal Health.
---
Government and Politics

HHS seeks feedback on a proposed rule concerning the confidentiality of substance use disorder patient records. According to @JodiDaniel, the rule would implement provisions in the CARES Act, align part two written consent with HIPAA authorization and clarify how consent can enable use and/or disclosure for treatment and payment, and align enforcement with HIPAA enforcement.
---
Other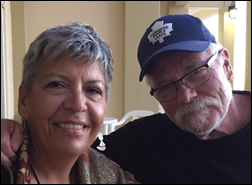 Canadian couple Michael and Theresa Linklater take to social media to offer interested, local physicians a $1,000 "bribe" to take them on as patients. The money will actually be donated to a charity of the physician's choice. Linklater, who has a chronic heart condition, and his wife have joined the province's physician waiting list, but aren't hopeful they'll be taken on anytime soon: "Some have been on the waiting list for four or five or seven years. It isn't a list, it is a parking lot. I'm 73, I might not have seven years left to wait. Some people can get a doctor through friends or business contacts but the rest of us are waiting."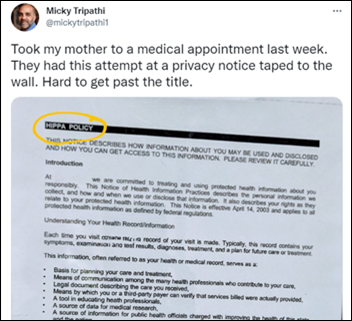 SMH … You have to wonder how long this has been there.
---
Sponsor Updates
AdvancedMD publishes an e-guide, "Billing Options for the Modern Practice."
EClinicalWorks publishes a new customer success story, "Brookhaven Heart &MD365: Streamlining Patient Engagement and Intervention with RPM."
Blog Posts
---
Contacts
More news: HIStalk.
Get HIStalk Practice updates.
Contact us online.
Become a sponsor.