Top News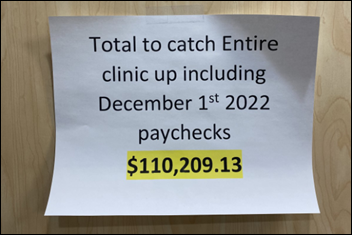 Advance Care Medical employees in Clarksville, TN voluntarily close the clinic after corporate owner Healthcare Solutions Management Group stopped paying them on October 1. HSMG has attributed the delay in payments to "corporate finance restructuring," though it has sent employees partial payments through Zelle and Cash App over the last week.
The clinic's water and power have also been intermittently shut off due to lack of funds. Staff say that while they still come into the office several hours a week to process medication refill requests, they can't access the clinic's EHR because the bill for its service has also not been paid.
HSMG Chairman and Interim CEO/CFO Justin Smith told one employee via text, "I can't ask anyone to stay or even believe in us anymore. Things haven't gone our way. And it's not fault of yours! You guys' rock. We messed up."
---
Webinars
None scheduled soon. Previous webinars are on our YouTube channel. Contact Lorre to present your own.
---
Acquisitions, Funding, Business, and Stock

Kidney care management company Interwell Health launches managed services for nephrology practices that include payer analytics, practice review, debt cost insights, and expense control.
---
Government and Politics

CMS publishes a proposed rule that would require some payers to implement digital prior authorization processes, shorten the time frame to reply to PA requests, and establish payer-to-payer data exchange, among several other requirements. CMS estimates that these policies would save physician practices and hospitals over $15 billion over a 10-year period.
---
Research and Innovation
A Wolters Kluwer Heath survey of 1,006 consumers finds that 61% foresee receiving primary care services at retail clinics and pharmacies rather than primary care practices. More than half would seek care from a pharmacist if it was less expensive than seeing a traditional provider.
---
Other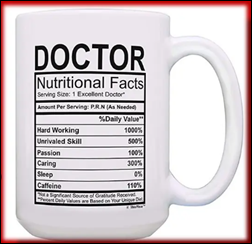 Looking for the perfect gift for the physician in your life? Check out these "10 Can't Miss Doctor Gifts Worth Giving (or Having." Should you opt for the mug above, I highly recommend filling it with Marylee's peppermint mocha, courtesy of CoverMyMeds resident barista Marylee Dunbar. And don't skimp on the whip cream! (I recently discovered peppermint-flavored whipped cream at my local big box retailer.)
---
Sponsor Updates
Nordic releases a new episode of its DocTalk series.
Blog Posts
---
Contacts
More news: HIStalk.
Get HIStalk Practice updates.
Contact us online.
Become a sponsor.