Louisiana continues its efforts to advance the use of electronic medical records. Governor Bobby Jindal signs a new law establishing an EHR loan program that gives the state government authority to apply for and administer $25 million in federal stimulus funds and $5 million in state monies.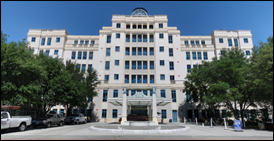 Cook Children's Health Care System (TX) collaborates with athenahealth and Microsoft to provide athenaClinicals and athenaCollector for its 350 providers. Cook Children's will also implement the Amalga Unified Intelligence System (UIS) 2009 to create a community-wide patient record. In addition, the purchasing organization of Cook Childrens, PedsPal, will offer preferred pricing for the athenahealth solutions to its 1,100 affiliated physicians.
Ophthalmologists may want to consider delaying a decision on buying an EMR, according to AAO's medical director for health policy. The words of caution from Dr. William L. Rich stem from the fact that no ophthalmology-specific EMRs are currently CCHIT-certified. Rich believes that without certification, eye care providers will be unable to qualify for any stimulus money. The AAO is also urging Congress to delay the incentive programs until CCHIT-certified eye care EMRs become available. Obviously Rich and the AAO are convinced CCHIT-certification will be a requirement for stimulus funds, even though the ONC has yet to clarify that point.
Three Wichita, KS health clinics will benefit from over $2 million in federal stimulus money, a portion of which will be used to fund EHR projects. The clinics serve low-income and underinsured patients.
A Kaiser Permanente paper concludes specialty care physicians can improve the health of high-risk patients by reviewing EHRs and pro-actively providing e-consults and treatment plan recommendations with primary care physicians. A reader had asked Mr. H for his impressions, to which he shared: "I truly believe that once the pain of getting EMRs running as data collection appliances is over (meaning we've got data collection clerks known as doctors and nurses in place, which is the 'pain' part), the benefit will be incredible." More insight here.
About 45,000 US physicians could each receive up to $63,750 in Medicaid incentive payments if they demonstrate meaningful use of an EHR and at least 30% of their patients are Medicaid recipients. This according to a study by The George Washington University. Total dollars from taxpayers: about 2.8 billion.
After a mere two-year partnership, Sermo and the AMA are in the midst of a nasty divorce. Sermo published the results of a survey in which its members expressed declining support for the AMA. Seventy-five percent of the doctors said they are not AMA members and 89% claim the AMA does not speak for them. The AMA critics charge that the organization has not advocated for them on a number of policy issues. The Sermo folks also dislike the fact that the AMA makes millions of dollars licensing CPT codes. Someone smarter than me will have to explain why the world is not big enough for both organizations.
Epocrates announces a new OTC drug module that can be loaded on mobile computing devices.
In what would be a boon for EHR vendors, CMS  considers expanding PQRI to include data on quality measures submitted from EHRs, rather than simply claims data. CMS is determining if it is feasible to include the EHR-based reporting mechanism in the 2010 PRQI program.
Arizona Governor Jan Brewer signs a bill making it harder to successfully sue emergency medical providers for malpractice. The new law raises the legal burden of proof required to win legal claims of negligent care.
In an article highlighting the leadership of Massachusetts in digitizing healthcare, ECW's Girish Navani says his company is hiring twice as fast as it would have without the economic stimulus and will add 200 new employees this year. John Halamka, CIO at CareGroup Healthcare System, is quoted as saying his state has an EMR adoption rate between 30 and 50%, which is significantly higher than the national average.
President Obama names Dr. Regina Benjamin US surgeon general. Benjamin is a family physician from Alabama who established a rural health clinic in an underserved shrimping community. The clinic was destroyed in Hurricane Katrina, rebuilt, and then burned down right before it was to re-open. She's also served as president of her state's medical society and last September won a $500,000 "genius award" from the John D. and Catherine T. MacArthur Foundation.