From Axing Al: "Re: MGMA and the Integrated Digital Physician Educational Pavilion. You'll want to check out the Integrated Community EHR demonstration site in the exhibit hall. The AC Group is sponsoring it."  The demonstration is to include two communities and total of six different physician practices using six different forms of clinical documentation, including CCHIT-certified EHRs, hybrids, and DRT-enabled documentation. I'll definitely be stopping by.
From Evan Steele: "Re: trinkets and logos. I hope you will stop by the SRS booth and stock up on the SRS Nemo fish. This is a perennial favorite among conference attendees. Also, our booth graphics this year consists solely of a collage of 106 client logos on a 20-foot-wide by 8-foot-high display. We believe that no other vendor in the conference hall can confidently display this many happy client logos at their booth. Please stop by and take a look." Thanks, Evan. One can never have too many Nemo fish.
Aprima Medical Software (originally iMedica) partners with Intelligent Medical Objects (IMO) to offer IMO's medical code and terminology mappings, as well as its vocabulary products, to clients.
Blue Shield of California makes $29.6 million available for pay-for-performance bonuses. Medical groups and IPAs can qualify by demonstrating the performance of quality care using such measures as diabetes care, patient experience, managing ER visits, and deployment of IT.
Provider's Choice Medical Billing, a billing service serving 170 physician offices, selects HealthFusion as its clearinghouse and claims provider.
Two-thirds of providers think that adopting new technologies will improve patient care. At least that is the opinion of IT companies serving healthcare providers. I suppose that IT companies do have conversations with clients to understand why they are adopting new IT, which gives the survey some validity. Over 80% of the providers using electronic records claim they added EMR to improve patient care, save time, and improve efficiencies.
CCHIT announces that vendors and developers can start applying for modular certification programs focused on meeting meaningful use requirements. The Preliminary ARRA 2011 program is limited to meaningful use standards spelled out in the ARRA legislation and will provide a certification label identifying which objectives the EHR technology supports. CCHIT is also launching its 2011 Certification program.
Routine use of electronic health records can improve the quality of preventive care and help manage chronic disease in primary care practices, according to a primary care study.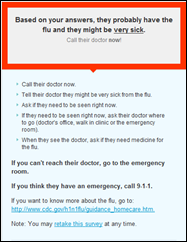 Microsoft enters the H1N1 scene (months after Google) and introduces a new Web site designed to help people assess their need for medical attention. The site is based on the triage procedure used at Emory University. I talked a sick friend through the short assessment and, based on her symptoms, we told informed she might be "very sick" and needed to call her doctor "now!" (Interestingly, she had chatted with the doctor's nurse, who told her it sounded like H1N1 and the best thing for her was to stay home, drink fluids, and call back if symptoms got worse.) I suspect if the masses read enough messages like the one above, hospitals will be forced to invest in more tents to treat flu patients.
More details emerge about the laptop stolen from the car of a BCBS employee. Officials now say the laptop had a file that contained identifying information for every physician in the country that has a contract with a Blues-affiliated insurance plan. The names, addresses, tax IDs, and NPI numbers for about 850,000 doctors were compromised. Of those, about 187,000 use their Social Security number as their tax ID or NPI number. A BCBS official calls it "an unfortunate mistake."
Physicians with Massachusetts General Hospital's outpatient clinics are trying to reduce wait times using new active-tag RFID technology. Patients are asked to wear a wrist coil with a tag and clinicians click on the tags as patients move through the clinic. The process is more efficient that manual tracking and patients are compliant with the process when told it is helping doctors to find ways to spend time providing better care. I guess. But seems kind of big brother-ish, doesn't it?
The use of smart phones by physicians is expected to increase from 64% today to 81% by 2012. A more "mature" and proficient physician audience will emerge and the Internet will become physicians' primary professional resource. Look for physicians to use their smart phones for everything from administrative tasks to patient monitoring.
At this week's Health 2.0 conference, various start-up companies showed off new technologies to change the way doctors and patients interact. For example, Hello Health is a service practices can use to communicate with patients. The company claims it can decrease the number of receptionists and nurses by half. VisionTree gives patients the ability to complete medical histories online, request prescription refills, and make appointments over the Web. RelayHealth offers doctors and patients the ability to communicate online and share health information. Physician can also write electronic prescriptions and share information with other doctors. AAFP advisor David Kibbe predicts that eventually providers will need a single platform that can all use, rather than a variety of different applications.
The Mafia is increasingly taking part in Medicare fraud because of the easy money and shorter prison terms relative to other crimes. Scammers focus on billing Medicare for medical equipment and drugs that patients never received or needed. Medicare fraud can net at least $25,000 a day while risking a relatively modest 10 years in prison if convicted on a single count. Much faster money than dealing cocaine, which carries the risk of life in prison. I see a TV series waiting to be made.