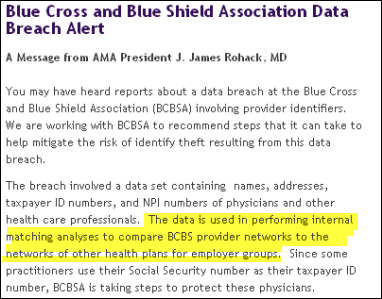 From Sherman's Auntie "Re: data breach. I read your bit about CalOptima and found this article. Read carefully this line: 'The data is used in performing internal matching analyses to compare BCBS provider networks to the networks of other health plans for employer groups'. Boy, if the docs did that, the FTC would be on them in a heartbeat! Talk about possible price fixing 10 different ways." AMA President J. James Rohack, MD posts a note to on the AMA website, assuring members they are doing all they can to help CalOpima rectify its recent "lost claims" issue. Did he really mean to suggest BCBS is doing some price fixing?
Chip Hart sent over a link to the Office Practicum blog. Take special note of the October 23rd and 24th posts, which detail how Dr. Greg Anderson and one assistant dispensed 112 H1N1 flu vaccines AND fully documented the patients' charts in a mere four hours. He estimates that without EHR, the same process would have taken about 18 staff hours to complete.
Whether you are or are not a regular reader, make sure you are signed up to receive automatic e-mail notifications for our new posts (see top right corner of the page). We publish HIStalk Practice 3-4 times a week.
Mednax pays an unnamed cash amount for a two-physician neonatology practice in Louisiana. The purchase marks Mednax's ninth medical practice acquisition this year.
St. Paul Eye Clinic (MN) selects SRS EMR for its 15-provider group.
GE Healthcare's Medical Quality Improvement Consortium (MQIC) is submitting anonymous clinical data to the CDC to provide H1N1 tracking information. MQIC is a repository of de-identified clinical data captured from GE's Centricity EMR users. MQIC sends updated data collected from 14 million record patient records to the CDC every 24 hours. Great use of EMR data, though I wonder if the patients are aware their de-identified clinical data is being used for this purpose. Or, if they need to know.
Healthcare ratings company Health Grades reports a 33% rise in quarterly revenue compared to last year to $13.3 million. Net income grew from $1.3 million to $1.8 million.
John Tooker, executive VP and CEO of the American College of Physicians, announces his resignation. He will stay on the job until a replacement is named, likely within the next six to 12 months.
If you are looking to purchase an EMR, sell an EMR, or simply want to know more about the subject, here is a must-read guide. The Texas Medical Association, in cooperation with the Physicians' Foundation, releases Electronic Medical Record Implementation Guide: The Link to a Better Future, 2nd Edition. The comprehensive report includes EMR readiness assessments, details on ARRA, factors to consider in the selection process, sample pricing, recommended contract wording, implementation suggestions, and more. Don't miss this if are searching for an EMR. And if you are a selling EMR (especially if you are a newbie), this should be a must-read.
Finding a one-size-fits-all Meaningful Use definition seems to be quite a challenge for the Health IT Policy Committee. Members realize that many of the clinical and quality measures that are appropriate for primary care physicians are not applicable for specialists. So, the wait for final recommendations continues. Meanwhile, there are plenty of providers content to maintain their wait and see stance.
Coming up with recommendations for iPhone applications is definitely less complicated. Here's nice list, complete with product summaries and pricing.
Our friends at Hayes Management just posted their fall newsletter, full of solid HIT recommendations for practices and hospitals. I checked out the article entitled  "Scanning Solutions for EMR Implementations," which provides an extensive scanning strategy checklist, as well as guidance on different ways to organize the scanning process. If you need a chuckle, peruse the article on HIT System Selection, which includes one of Mr. H's typically irreverent quotes.