From Seeker of Truths: "Re: ARRA funding. All the EHR vendors I'm talking to lately tell me that practices can get their money right now. I've heard it so much that I'm beginning to doubt what I know to be true! Am I the only one?" I suppose I shouldn't be surprised to hear that some vendors may be saying ARRA money is available today. Technically the government is handing out some money, though none of it has yet flowed to providers for their meaningful use of a certified EMR. Perhaps someone needs to remind those vendors that we're still waiting on the final definitions for meaningful use and certified EMR.
The AMA expresses concern that easily accessible patient records could lead to a decline in care as doctors avoid the sickest patients to improve quality performance scores. I thought the AMA was suppose to advocate for physicians, not diss them. But, I agree that unintended consequences could occur as we rely more on EMRs to measure quality care improvement. I prefer to be optimistic that most doctors will remain more concerned with providing quality care than performance ratings.
Desert Cardiology (AZ) selects Medfusion for its patient-to-provider online communications solutions. Desert Cardiology is a six-location, 10-provider practice.
Hayes Management Consulting announces that more than 50,000 providers are now using its MDaudit Professional compliance audit software. They also just introduce a hospital version of the product.
Healthpac Computer Systems contracts with Alpha II to resell Alpha II's ClaimStaker claims scrubber software to Healthpac's office-based physician clients.
Shares in athenahealth hit a two-year high Friday afternoon after the company stated expectations of annual revenue growth (30%) and profits (40%) through 2014.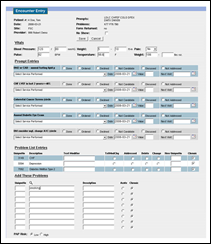 Cielo MedSolutions partners with DrFirst to provide e-prescribing functionality for practices using Cielo's Clinic clinical quality management system. Dr. First's Rcopia solution will be fully integrated into the Cielo Clinic application.
The Bureau of Labor Statistics says the healthcare sector added 28,500 jobs in October, including 4,800 jobs in physician offices and 10,000 in hospitals. A separate survey finds that 95% of the hospital CEOs claim they have a shortage of physicians, with a vacancy rate of 11%. In other words, more than one in 10 physician job openings are unfilled.
Related problem: if 40 million people suddenly get health insurance, rural areas don't have nearly enough primary care doctors to see them. The reason is obvious: the doctors go into specialties and geographic areas where the pay is better.
The California Nurses Association, the MA Nurses Association, and some members of the United American Nurses combine to form National Nurses United. The new entity represents over 100,000 nurses.
The UK's Medical Defence Union warns doctors not to respond to "flirtatious approaches" form patients on  social networking sites like Facebook. The MDU advises members of the importance of keeping relationships with patients on a "professional footing." Could be that the Brits remain more formal than us since I haven't heard any official warnings on this side of the pond.
Quantros and Allscripts integrate their respective products to create a Web-based care management solution.
The latest story of greed in healthcare comes from Canopy Financial, who provides software to help manage HSAs. Canopy filed for bankruptcy protection after the FBI began looking into alleged fraudulent financial statements that were created as part of a $75 million investment scheme. Co-founder Jeremy Blackburn recently resigned as president after the allegations came to light and his assets have since been frozen. KPMG first discovered the potential fraud after realizing Canopy was claiming that its financial statements were audited by KPMG. In fact, KPMG had never been retained by Canopy to audit its financials. Perhaps one day Blackburn and Charles McCall will have a chance to be roommates.