From Grizzled Veteran: "Re: EMR for neuro. Most vendors can easily handle the needs of a neurologist. It isn't that complex." I have to agree with Grizzled Veteran here. Unless you are planning to use extensive neurology-specific templates for charting at the point of care, a good number of vendors should be able to accommodate your needs. Obviously you'd want to avoid the niche vendors that focus on specific and unrelated specialties, e.g, pediatrics, oncology, urology.
Physicians working in hospital-owned outpatient facilities will be eligible for stimulus incentive payments, assuming they demonstrate meaningful use of EHRs. Congress passed a new bill which gives more physicians the ability to quality for funds, including an additional 13-17% of family physicians. Physicians working primarily in the ER and in inpatient settings are still excluded.
Congressmen Patrick Kennedy and Tim Murphy introduce legislation allowing behavioral, mental health, and substance abuse treatment provides to qualify for meaningful use of EHRs. If the intent of HITECH was to improve the quality of care through the use of HIT, why would you want to exclude the mental health providers?
mPay Gateway says more than 800 physicians signed up for its patient payment system during the first quarter of 2010.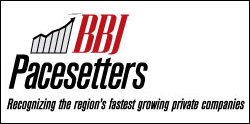 eClinicalWorks makes the annual Boston Business Journal Pacesetters list of the 50 fastest growing private companies in Massachusetts. eCW ranked number nine, based on revenue growth.
In addition to revenue growth, eClinicalWorks has grown its staff and is in need of space to expand its headquarters. The company tentatively plans to stay in Westborough, MA with a move to another in-town site.
Microwize Technology earns honors as the best Value Added Reseller for Lytec in 2009.
EBM IPA (NY) selects MedAZ EHR, PM, and billing services for its 100 physician members. EBM IPA will also deploy the MedAZ PRH portal.
Managed care insurance provider AmeriHealth Mercy Family of Companies wants to help connect RECs with small physician practices. AmeriHealth, which covers Medicaid patients in several states, believes that providing these practices with extra support, including education on technology adoption, will ensure more practices remain in the AmeriHealth network.
Danville Polyclinic (IL) selects Sage Intergy EHR for its 40-provider practice. The clinic already employs Sage Practice Management and Practice Analytics.
Immediate Care at Stanford Medical Park, North Garrard Family Medical Center, and Ephraim McDowell Lancaster (KY) go live on the the Medical and Practice Management Suite by LSS Data Systems. The practices will share clinical data with Ephraim McDowell hospital, which runs MEDITECH.
ELLKAY takes advantage of what's sure to become one of HIT's fastest-growing segments: EMR conversions. ELLKAY announces a new conversion division focused on EMR-to-EMR data extraction and conversion services.
CMS takes steps to expand its current Medicare provider enrollment system and make it easier for physicians to register for meaningful use incentives. CMS awarded a $1.6 million contract to CGI Federal to make updates to the Provider Enrollment Chain Ownership System.
Here's an interesting thought: could providers be liable if they fail to take into account information patients provide vis-à-vis a personal health record or an e-mail?  Is it too much to expect doctors to dissect every bit of of digital information coming their way, especially as we connect provider/lab/hospital in a community? One of the many questions pondered in this article about the future of medical data.
GE announces Q1 results, which included overall EPS of $.16 and first quarter revenue of $36.6 billion. Healthcare had a "strong quarter" with orders of $3.8 billion, up 5% from the previous year. US orders were flat.
The children of a deceased patient drop their lawsuit against an ER doctor they claim allowed their father to die in order to steal his Rolex watch. A jury also found the doctor not guilty of grand theft. The California Medical Board is still investigating the doctor, however, to determine if he illegally prescribed himself a stimulant two days before the watch incident.
A data security expert warns that practices need to address system security issues each time an employee leaves. Practices should not only block access for former employees, but also consider if the ex-employee shared passwords with remaining employees. Excellent point here:
"You wouldn't let [departing employees] leave with the keys to the clinic. You shouldn't let them leave with the keys to the data."
A New York plastic surgeon now holds the world-record for Donkey Kong. He sounds a wee bit obsessed with the game: he has a full-size arcade machine in his Manhattan apartment and spends hours playing each evening. To prove he won fair and square, he had to videotape the inside of the machine before the game, video the actual game, and video 29 other things. Incidentally, researchers have found a correlation between gaming and a proficiency in laparoscopic surgery. Regular gamers are apparently 27% faster than non-gamers and commit 37% fewer errors. Guess I am New York-bound for my next nip and tuck.