From Anonymous: "Re: EMR bug. Major vendor releases a version of clinical software with a bug that causes patient assessment information to be saved on another patient's chart. End users have no way of knowing which assessment is correct and/or where the lost information is located. Support comments: 'I apologize, but … the developers did not create the utility to drill down to specifics and us at Client Support have no way of helping the client as much as we would like, to identify the correct assessment or modification. If your agency utilizes (a) warehouse, you could query the answers from the assessment. Other than that, there is no other way.' I'm no Deborah Peel, but come on! This is scary. Have other end users experienced this sort of problem? I remember seeing something similar in an EMR 8-9 years ago, but in today's environment, I find this shocking."  Readers? I agree that it's scary and we should be far better than this by now. I can hear the rants of the FDA advocates as I type.
Humana and BCBS-RI top the 2010 PayerView Rankings, an annual report that examines how well health insurers are paying physicians. The data, which is pulled from athenahealth's athenaCollector platform, indicates insurance companies are paying physicians an average seven days faster than last year, and denying 12-18% fewer claims. Humana led in the major payer segment, though BCBS-RI was the highest ranked overall payer. The rankings are based on insurers' financial performance, administrative performance, and transaction efficacy. Full list here.
HIT vendors continue to announce the availability of their applications on the iPad. EMR and medical transcription service provider MxSecure is the latest to jump on the iPad bandwagon, saying its MxChart EMR systems is now iPad compatible. Before long, we'll be better off compiling lists of applications that won't run on the iPad.
Another hot trend: vendors offering special finance programs to help providers add EHR in time to achieve Meaningful Use objectives. NextGen announces an option for new practices to signing up for EHR over the next month: deferred payments until 2011 and pay zero interest for two years.
Here is some technology all my doctors need. MedWait Time is a Web-based tool that allows patients to check to see if their doctor is behind schedule. Up to two hours before their appointment, patients can see if their doctor is running late, and if necessary, receive instructions for a new arrival time. This detail can be accessed via the Web or as a text message. The service is reasonable $50 a month, but, requires that staff manually update wait-time information. Sounds like a great marketing tool for practices.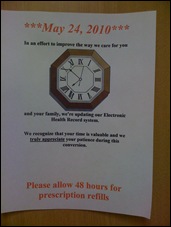 Speaking of doctor office visits, I accompanied a family member on a visit last week and stealthily took this photo. The practice was computer-less over the weekend while their old EMR was converted to GE Centricity. Monday morning I spoke to a receptionist, who shared that things were going well, though the staff was still trying to figure out how to navigate patients' charts.
Davis County Hospital (IA), Paynesville Area Hospital (MN), and Renville County Hospital and Clinic (MN) select McKesson's Practice Partner Patient Records EHR and PM for their employed and affiliated physicians.
CCHIT extends 2011 Ambulatory EHR certification to a few new products, including meridianEMR version 4.2, NeoMed EHR 3.0, Nortec EHR 7.0.
A local paper reports that patient electronic medical records were temporarily unavailable at the local OSF Medical Group offices. I wonder if the general public really cares, or if it was just a slow news day? In any case, a spokesperson says no care was compromised and the cause was undetermined. OSF runs Epic.
OmniMD signs a co-branding partnership agreement with BalineMD, giving BalineMD the opportunity to market OmniMD products. Meanwhile, Tech Data Corporation signs up as the latest reseller for gloStream, a developer of  EMR and PM systems.
The 72-year old former president of American Lung Association of Washington is accused of prescription fraud and his medical license is suspended. Police say the doctor was writing prescriptions for a 22-year-old woman who was not his patient in exchange for sexual contact. Pathetically sad.
Use of EMR systems may help physicians determine if patients are filling prescriptions, according to one author of a recent Harvard Medical School study. The researchers found that at least 20% of first-time patient prescriptions were never filled, but, suggest the use of technology could improve prescription adherence.
We'll soon be posting the latest responses to HIT Vendor Executive question. The question: If you could give David Blumenthal one piece of advice, what would it be? You can bet a few of the answers are colorful!