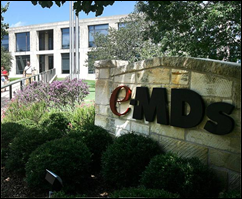 The local paper highlights Austin, TX-based eMDs and its success selling PM and EMR to 1-10 physician practices. The 230-employee company is expecting $30 million in revenues this year and is experiencing record sales almost every month. I liked the comments from a physician who installed e-MDs eight years ago. He attributes his practice's  high employee retention to the success of the EMR and believes it takes a few years of collecting patient data to achieve valuable clinical insights:
"You start seeing the beauty of it a few years down the road. The (patient) data starts talking back to you."
MedWest Health Systems (NC) selects Allscripts EHR and PM for its 60 employed physicians. MedWest also plans to offer a hosted solution to 200 independent physicians in the region. Meanwhile, Erie County Medical Center (NY) chooses Allscripts EHR for 100 of its physicians. Erie will connect the Allscripts system to Meditech.
Vohra Wound Physicians contracts with athenahealth for its athenacollector services. Vorha is a network over over 100 physicians specializing in wound care needs of patients in nursing homes and rehabilitation centers.
Epocrates files for a $75 million IPO, just in time for its planned fall rollout of an EMR. Epocrates actually attempted an IPO in 2008, but pulled back because of poor economic conditions. The company posted $93.7 million in revenue for 2009, up 12% from the previous year, with profits of $7.7 million (up3%). However, the company had a small dip in its y/y revenues for Q1 and a $855,000 loss.
Buffalo Medical Group (NY) implements Midmark IQecg and IQstress into its diagnostic services. The practice reports that the solution, which interfaces with its Epic EMR, saved an estimated $50,000 in employee time in its first year.
A big welcome and thank you to Culbert Healthcare Solutions, our newest HIStalk Practice Platinum Sponsor. CHS is a professional services firm specializing in operations management, revenue cycle, clinical transformation, and IT for healthcare. IDX veteran Rob Culbert is the company's founder and president and his management team has deep healthcare and HIT experience. CHS has particular expertise in applications from Allscripts, Epic, GE Centricity, NextGen, and eClinicalWorks. Many thanks to the Culbert folks for helping to  keep the lights on at HIStalk Practice. 
digiChart names Bob Allen its National Director of Sales and Stephen Faris VP of Technology. Most recently Allen was VP of sales in McKesson's Physician Practice Solutions segment; Faris was CTO for Healthgate Data Corp. digiChart also announced plans to move its headquarters from Nashville to nearby Brentwood, TN.
The American Osteopathic Association installs Karen J. Nichols, DO as its first female president. Nichols, by the way, is a big advocate of spreading patient-centered medical homes.
Excellus BCBS finds the e-prescribing rate in upstate NY jumped from 12%  in 2009 to 17% in the first quarter of this year. Will other regions of the country report similar trends? Bet so.
Castle Connolly, the organization that compile the Top Doctors publications, says it will develop standards to recognize physicians who have decided to incorporate the Meaningful Use of HIT into their practices.
The use of EHR tools appears to increase screening of Native American victims of domestic and sexual violence. A federally-funded project has found screening rates have risen from 4% in 2002 to 48% today under a coordinated program that included the use of EHR to integrate routine domestic violence assessments and screening reminders.
I'm typically not a fan of marketing hype that is masked as "news." That being said, I was intrigued by this article that features a Canadian doctor who seemingly likes his current EMR. The interesting twist is that he had been in practice in Louisiana but disliked the EMR so much that "it was part of the reason" he left the US. Wow — that must have been one really bad EMR! Anyway, the "American EMR system" used many point-and-click templates, unlike his current product that allows him to handwrite, dictate, voice-to-text, and type. I wonder if he tells his fellow Canucks that all American EMRs are as bad as the one he hated — and if his peers believe him.