CHRISTUS Health selects athenahealth's EHR, Collector, and Communication for its 150 providers and 40 clinics. They've been an athenahealth client for several years, having run athenaCollector at several sites. Interestingly CHRISTUS owns and operates multiple clinics within Walmarts, which at one time required its in-store clinics to run eClinicalWorks.
A janitor makes $40 selling 14 boxes of patient records to a recycling center. Unfortunately, he apparently stole them from the ambulatory care center where he worked and now faces felony commercial burglary charges. Officials say the records contained no personal medical information.
HHS approves a third ONC-ATCB: InfoGard Laboratories, which has extensive certification experience in a number of areas. InfoGard will compete with CCHIT and Drummond Group in the race to certify EHRs. No word yet on the company's pricing or procedures.
Speaking of certification, Addison Health Systems, Inc., developers of the EHR WritePad, says it has applied for accreditation with The Drummond Group. The company points out that its e-prescribing partner will be CCHIT-certified, so WritePad will have certification from both Drummond and CCHIT. While technically I'm sure it's true, I hope the company doesn't spin the certification story in such a way as to confuse the average buyer.
Meanwhile, CCHIT opens its ONC-ATCB application process. The cost for complete EHR certification and testing: $34,300 for eligible provider products and $32,500 for inpatient software. I think it would be fun to compare the pricing model for all three of the selected ONC-ATCBs; I've reached out to them for details. Stay tuned.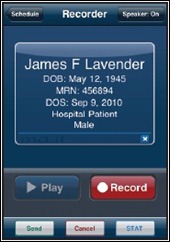 Here's a new dictation tool for the iPhone. MD-IT releases iConnect, an app that allows physicians to select patients from an appointment scheduling list and dictate directly into their iPhone. Recordings are electronically uploaded to the MD-IT platform for transcription.
Covisint acquires DocSite, a developer of clinical decision support and quality performance management tools. The acquisition will strengthen Covisint's offerings for ACOs and HIEs.
Speaking of ACOs, as doctors wait for the government to clarify particulars on this new model of care, ACO experts recommend that physicians consider which providers with which they would prefer to align and begin tracking their own utilization and quality of care. An EMR helps in this area, but may not provide enough details to assess costs and quality or track patient ER visits and hospitalizations. At a minimum, practices should consider tracking some of this information in a spreadsheet and to monitor quality metrics.
TriageLogic introduces Office Triage Solution, a Web-based application to help practices manage incoming calls using decision-tree support tools.
Despite an overall decline in patient visits, physician offices continue to add more jobs. The Bureau of Labor Statistics says 5,300 jobs were added in August. For the summer, 9,300 new positions became available. Some theories for the counter-intuitive trend: practices are ramping up for potential increases in patient volumes as a result of health reform; they are betting that additional clinical staff will attract more patients and thus generate more revenue; and, as the threat of Medicare cuts loom, physician offices are hiring now in anticipation of spending freezes later in the year.
Deloitte Center for Health Solutions provides a comprehensive overview of several medical home pilots and offers insights into the future of the model. Researchers conclude that health IT plays a big role in the medical homes model and say it's an essential front-end investment. Overall physician adoption will be a challenge, in part due to physician resistance to the use of health information technology in diagnostics, treatment planning, and routine patient interaction.