MGMA concurs with just about everyone else that the proposed ACO rule is unacceptable as written:
Based on feedback received from our members, including those who participated in the PGP demonstrations, as well as similar private sector contractual arrangements, MGMA believes the ACO shared savings model may not be viable as a national strategy unless significant program policies are modified when final rules are promulgated.
MGMA says out that the program is too complex; the development and on-going costs are too high relative to potential benefits;  the benefits are too uncertain and too small; and the regulatory risks too substantial.
Molina Healthcare picks GE Centricity Practice Solution as its primary EMR/PM platform for its 16-state healthcare system.
Nuesoft Technologies and Point and Click Solutions collaborate on the College Health Technology Pathway Program to educate college health professionals of the potential risks of hosted systems. Nuesoft CEO Massoud Alibakhsh offers this warning:
Hosted ASPs take a client-server and provide users remote access via the Internet. This is akin to putting wings on a car and expecting it to perform like a jet airplane. This is not what a client server is intended to do, and unless they can guarantee the fault tolerance and security protocols in place, you are taking chances with your data.
eClinicalworks says that 15 of its clients have received EHR incentive checks from CMS.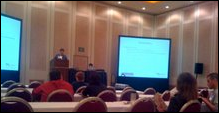 Now that it's June, it's time to consider potential vacation destinations. Why not attend a user group meeting with your favorite EMR vendor? Here are a few upcoming events:
Amazing Charts User Conference, Biltmore Hotel, Providence, RI, June 2-5
Sage Summit, Gaylord National Hotel & Convention Center, Washington, DC, July 10-15
e-MDs User Conference & Symposium, AT&T Center, Austin, July 28-30
Aprima National User Conference, Hilton Lincoln Center, Dallas, August 4-7
Allscripts Client Experience, The Gaylord Opryland Resort, Nashville, August 29-31
Greenway PrimeLEADER, Gaylord Palms Resort & Conference Center, Kissimmee, FL, September 8-11
SRS User Summit, Hilton, Woodcliff Lake, NJ, September 21-23
eClinicalWorks National Users Conference, JW Marriott Desert Ridge Resort, Phoenix, October 1 – October 4
HIMSS teams up with an attorney to answer questions on Meaningful Use for one of its monthly publications. Great idea, however, the answer to this question is a bit confusing:
Q: When an eligible physician is employed by a group practice, who gets the EHR incentive money, the individual doctor or the practice?

A. The answer is most likely yes if the physician and group have a traditional physician employment agreement.
Huh? The attorney does go on to explain that physicians can reassign their payments to their employment or other entity, so the less-confusing  answer is that the money could go to either.
As Mr. H mentioned last night, it's a slow news period and lots of readers seem to be taking some time off. Mr. H is quite the slave driver, however, so we are still working hard at it. Drop me a note if you have anything juicy to report, words of encouragement, summer vacation suggestions, and/or need my shoe size. And thanks for reading.