The VA's troubles show no signs of being swept under the rug. The "secret waiting list" allegedly kept at a Phoenix VA facility, as well as the dozens of deaths attributed to its long wait times, has opened a flood gate of justified scrutiny at local, state, and national levels. President Obama convened a press conference to address the issue, saying it's time to bring "the VA into the 21st century – which is not an easy task." U.S. Rep. Tim Walz (MN) has taken a proactive approach in light of the findings from Phoenix, and asked for an accounting of wait times at VA facilities throughout the state. He pointed out during his tour of facilities that "[o]ur nation's veterans bled enough on the battlefield. They don't need to bleed at home for preventable errors that could have been fixed with leadership and collaboration." A national audit of VA facility wait times is underway.  It's a shame that this Memorial Day will likely see the nation focused on how poorly many veterans are being cared for.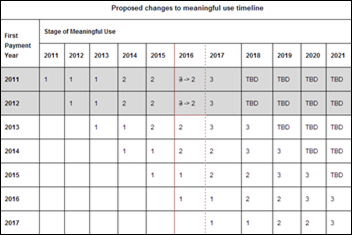 CMS and ONC publish a proposed rule that would slow down the Meaningful Use program by extending Stage 2 through 2016 (starting Stage 3 in 2017) and allowing providers to attest for FY2014 using a 2011-certified EHR. National Coordinator Karen DeSalvo, MD seemed to express concern that EHR vendors would not have their products certified under the 2014 criteria in time, referring to users who would miss the dates "through no fault of their own," while the bill referred to "availability and timing of product installation, deployment of new processes and workflows, and employee training." Public comment on the proposed bill will be open for 60 days.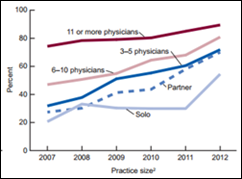 HHS and CDC release the National Ambulatory Medical Care Survey, which finds that 71.8 percent of office-based physicians reported using an EHR in 2012, up from 34.8 percent in 2007. The survey's findings aren't unexpected in the areas of EHR adoption and utilization. Larger practices have adopted more robust systems more consistently, while smaller and solo practices have struggled to keep up. More interesting are the facts that between 2007 and 2012:
Physicians working in practices owned by a medical or academic health center increased by 140 percent.
The difference in adoption of a basic EHR between the largest practice size category and solo practices increased to 39.2 percent, suggesting solo practitioners may face unique challenges to EHR adoption.
Electronically sending prescriptions to the pharmacy had the largest percentage increase in availability of the 11 EHR features measured.
The survey was conducted via in-person interviews and mail-in forms (an irony hopefully lost on no one).

The NAMC Survey results line up nicely with findings from a new Surescripts report on e-prescribing, which reveals that the total volume of prescriptions routed electronically have increased 44 percent, up from 570 million in 2011 to 788 million in 2012.

A more recent survey from the Commonwealth Fund finds that EHR adoption by federally qualified health centers more than doubled from 2009 to 2013, with 93 percent of them running an EHR and 75 percent meeting Meaningful Use requirements. The FQHCs say their biggest EHR-related problems are undertrained staff and loss of productivity.

The federal government considers a national "biosurveillance" system that will give it near real-time access to the private medical information of citizens in the name of national security. Citizens Council for Health Freedom warns that the proposed system, which could potentially pull data from EHRs, would allow the federal government to monitor an individual's behavior before, during, and after any government-defined health "incident," and that "anything and everything could become a health threat by the government's standards."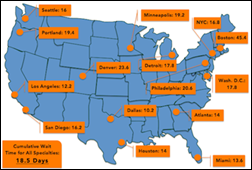 A survey finds that patients in Boston experience the longest wait times of the 15 metropolitan markets studied. New patients in the area typically wait just over 45 days to schedule a doctor's appointment. Denver and Philadelphia take the second and third spots, respectively. Given the fact that Boston is known as a hotbed of healthcare IT and yet its numbers are double that of the other two cities, you have to wonder what sort of systemic problems are taking place, i.e. doctor shortages.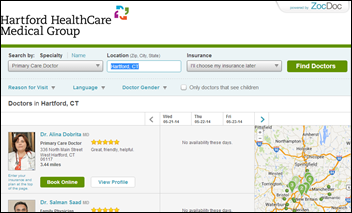 While Hartford, CN, was not one of the markets surveyed for its wait times, the Hartford HealthCare Medical Group obviously realizes shorter wait times are a patient draw. The group announces that patients can now book a primary or specialty care appointment within 24 hours online or by phone. Its online appointment-booking tool is powered by ZocDoc.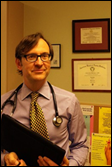 This article suggests that physicians like Gregg DeNicola, MD are increasingly paying attention to and acting upon online reviews. After realizing that new patients were canceling appointments because of reviews, DeNicola and his staff at Caduceus Medical (CA) decided to stop ignoring them and instead embraced them. Patients who respond positively to in-office surveys are now asked to leave reviews on Yelp, and practice staff now monitor online reviews daily in an effort to respond to any negative comments in a timely manner. Physicians would do well to take a proactive stance when it comes to online reviews, if only to become more aware of how their "brand" is perceived by patients.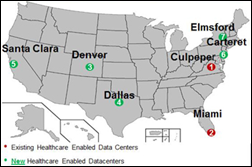 Verizon expands its HIPAA-compliant, healthcare-enabled services, adding five data centers and a wider range of related cloud and data center infrastructure services. The expansion brings its total data centers to seven, now nationwide.

Practice Fusion launches Insight, a free tool that analyzes portions of 81 million de-identified patient records. The analytics tool can potentially provide early signs of seasonal disease outbreaks, shifts in chronic conditions, and diagnoses trends for select patient populations. A paid version offers more detailed analysis, including the market share of drugs within certain subpopulations.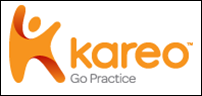 Kareo receives a 2014 Red Herring Top 100 North America award for its innovation, technologies, and commitment to software. The company is among a group of 100 awarded the distinction each year.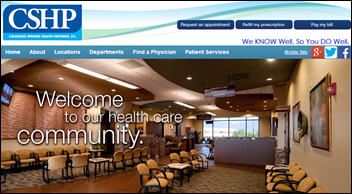 Colorado Springs Health Partners (CO) selects CodeBaby's patient engagement portal solution to offer its patients easier online access to services, and to help it meet Meaningful Use objectives. CSHP seems to be fairly digitally savvy, offering an iTriage symptom checker on its homepage.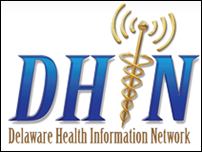 Delaware Health Information Network and Halfpenny Technologies partner for the delivery of clinical results to DHIN's enrolled practices using the EHRs of the physicians and Halfpenny's integration technology. Founded in 2007, DHIN is the nation's first statewide health information network, and serves nearly 100 percent of Delaware's providers.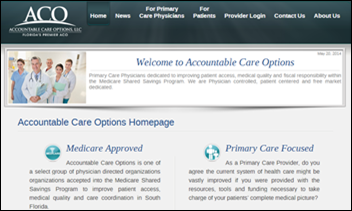 Accountable Care Options and its physician network earn a $4.2 million bonus from CMS as part of its participation in the Medicare Shared Savings program. The organization achieved a 100-percent quality score and saved Medicare $8 million as a result of its focus on wellness and prevention, and better management of patients with chronic conditions. ACO, which entered the savings program in 2012, was one of only 28 other accountable care organizations to receive a bonus payment.